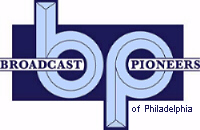 (Left to right) Joe Pellegrino, Howard Eskin, John Clark, Vince Papale
Scott Franzke, Tom Brookshier and Bill Campbell
Broadcast Pioneers Luncheon, Bala Goilf Club, Philadelphia
Wednesday, January 16, 2008
Our first luncheon for 2008 was on Wednesday, January 16th. Our topic was everything sports. This time, IT WAS A SPORTS SPECTACULAR and our biggest sports event of the year! Everyone who's anyone was there. Our moderator for this exciting, stupendous event was Broadcast Pioneers member Joe Pellegrino.
Included in our fantastic panel was:
Tom Brookshier, former Eagles player & former CBS-TV sportscaster
Bill Campbell, legendary Sports Dean of Philadelphia radio & television
John Clark, NBC 10 Sports Anchor and native son of the Delaware Valley
Howard Eskin, WIP Sports Radio's Afternoon Drive telephone talk host
Scott Franzke, play-by-play announcer for the Philadelphia Phillies baseball team
Vince Papale, former Eagles player (the movie "Invincible" was based on his life)
Before our exhilarating sports spectacular, we celebrated a birthday, that of WRTI, founded by Broadcast Pioneers member John Roberts in 1948. That's 60 Years of Temple broadcasting! Making the presentation of the plaque was Broadcast Pioneers Vice-President Jerry Klein, WRTI's last student station manager. Tobias Poole, the station's Operating Director accepted the award and made a few remarks.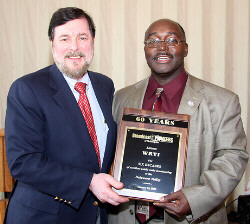 (Left to right) Jerry Klein & Tobias Poole
Broadcast Pioneers Luncheon, Bala Goilf Club, Philadelphia
Wednesday, January 16, 2008
We have complete audio of the presentation of the plaque to Tobias Poole, representing WRTI. Listen to what they said!
It all took place on Wednesday, January 16th, at the beautiful and historic Bala Golf Club, 2200 Belmont Avenue (across the street from the State Police) in the Wynnefield section of Philadelphia. It's only minutes away from Channels 6 & 10 and the radio stations in Bala Cynwyd. Plenty of free parking!
Meet and greet (networking) started at 12 noon with a full-course lunch including salad, coffee or tea and dessert being served at 12:30 pm. The cost was only $25 per person and was open to all our members, any person in the industry and all associated fields; both people now active and retirees. You did NOT have to be a member to attend.
Here's complete audio of the event. It's divided into two segments for faster loading onto your computer. However, the segments will roll directly from one into the other with little delay. Listen!

From the official archives of the Broadcast Pioneers of Philadelphia
Photos originally donated by Broadcast Pioneers member Jerry Klein
© 2008, Broadcast Pioneers of Philadelphia
All Rights Reserved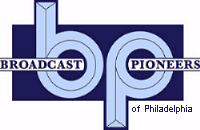 The e-mail address of the Broadcast Pioneers of Philadelphia is pioneers@broadcastpioneers.com