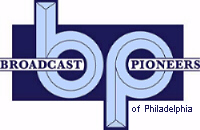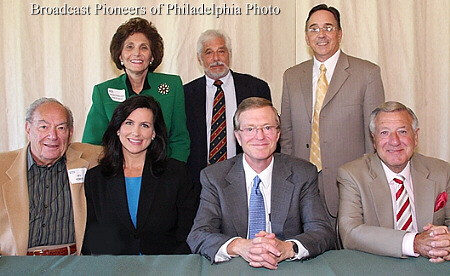 (Left to right - back row) Marciarose Shestack, Jay Lloyd and Bill Roswell
(Left to right - front row) Irv Homer, Dawn Stensland, Terry Ruggles & Bill Baldini
Broadcast Pioneers Lunchon
Bala Golf Club, Philadelphia, Pa.
Wednesday, October 15, 2008
Photo taken by Broadcast Pioneers Vice-President Jerry Klein
Again, another big luncheon that comes right out of today's headlines. We found out "How Stations cover elections & what they do on election night."
Our moderator was Broadcast Pioneers member Jay Lloyd, who covered over 70 different elections during his time as a reporter for KYW Newsradio.
On our panel was:
Bill Baldini, former NBC 10, WCAU-TV News Reporter
Irv Homer, radio talk show host & 1972 Vice-Presidential Candidate
Bill Roswell, Director of News & Media for KYW Newsradio
Terry Ruggles, Morning News Co-Anchor for NBC 10, WCAU-TV
Marciarose Shestack, first major market news anchor (Channel 3)
Dawn Stensland, 10 pm News Co-Anchor for Fox 29, WTXF-TV
Plus, we had another one of our trivia quizzes where winners won a DVD of classic TV shows. Also, our resident funny guy, Les Waas showed us what a candidate that tells the truth is really like.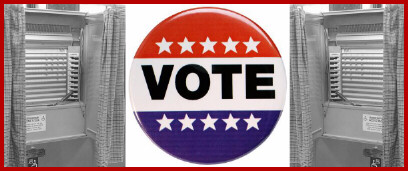 This all took place on Wednesday, October 15th, at the beautiful and historic Bala Golf Club, 2200 Belmont Avenue (across the street from the State Police) in the Wynnefield section of Philadelphia. It's only minutes away from Channels 6 & 10 and the radio stations in Bala Cynwyd.
Meet and greet (networking) starts at 12 noon with a full-course lunch including salad, coffee or tea and dessert being served at 12:30 pm. There's also a crudité and cheese table. Cash bar available! Call a friend and ask them to come to this fantastic luncheon.
COMPLETE AUDIO!
Listen with Real Audio!
Listen with Windows Media Player!
Best quality is the Real Audio Version!
This audio is divided into two parts. The audio rolls. That is, once you have the audio playing, your computer will automatically switch to part two at the proper time. For those using DSL or cable connections, the time between segments will be short (a second or two). Those using a dial-up connection, the time will be longer. This is normal.

From the official archives of the Broadcast Pioneers of Philadelphia
Photo originally donated by Broadcast Pioneers member Jerry Klein
© 2008, Broadcast Pioneers of Philadelphia
All Rights Reserved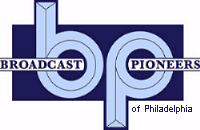 The e-mail address of the Broadcast Pioneers of Philadelphia is pioneers@broadcastpioneers.com