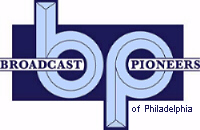 You came out to meet and greet in person (and wish them well): Terry Ruggles, Ed Cunningham, Walt Hunter, Gary Papa, Tom Brookshier and our Person of the Year, Kal Rudman.
The Broadcast Pioneers of Philadelphia hosted our 16th annual "Hall of Fame & Person of the Year" banquet at the beautiful and historic Bala Golf Club, 2200 Belmont Avenue in the Wynnefield section of Philadelphia on Friday evening, November 16, 2007. Reception was at 6 pm with a tasty dinner served at 7 pm.
Our "Person of the Year" for 2007 was Broadcast Pioneers member Kal Rudman, a Vice-President for our organization.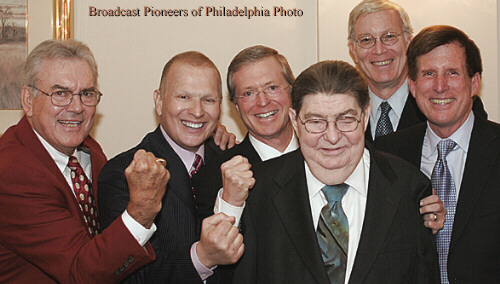 (Left to right) Tom Brookshier, Gary Papa, Terry Ruggles
Kal Rudman, Ed Cunningham & Walt Hunter
Bala Golf Club, Philadelphia
Friday, November 16, 2007
On that same evening, we also honored our "Hall of Fame" inductees which were:
Tom Brookshier, former Eagles football player & Channel 10/CBS Sportscaster
Ed Cunningham, producer & air talent for WHYY-TV and WHYY Radio
Walt Hunter, investigative reporter for CBS3, KYW-TV
Gary Papa, Sports Director for 6abc, WPVI-TV
Terry Ruggles, news anchor for NBC10, WCAU-TV
We also inducted posthumously:
Ed Bradley, former WDAS and CBS-TV news reporter
Sam Bushman, well-known publicity expert in Philadelphia
Lee Dexter, creator and puppeteer of "Bertie the Bunyip"
Jack Hyland, former News Director for WFIL-TV, Channel 6
David L. Kurtz, founder and former owner of B101
Max M. Leon, former owner of WDAS AM & FM
Plus, at this banquet, Pretty, Perky Peggy King sang a very special song dedicated to all our honorees plus a nice little tune just for our Person of the Year. Peggy was the girl singer on "The George Gobel Show" which was seen on NBC-TV and CBS-TV in the fifties and sixties. As usual, she was accompanied on the piano by member Dr. Bucky Clark.
Our invocation was done by W. Carter Merbreier You may know him better as Captain Noah. Preceding Carter was Jane "Pixanne" Norman with a patriotic song.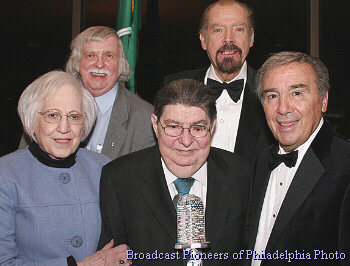 (Left to right) Lucille Rudman, President Gerry Wilkinson, Kal Rudman
and our MCs, Bill "Wee Willie" Webber & Pat Delsi
Bala Golf Club, Philadelphia
Friday, November 16, 2007
This event was our annual fundraiser that generates funds for college student scholarships awarded in the spring. This past April, the Broadcast Pioneers of Philadelphia gave away eight $1,000 scholarships because of last year's generosity.
Here's complete audio of the event. Listen to what our honorees said that evening:
Tom Brookshier
Ed Cunningham
Walt Hunter
Gary Papa
Terry Ruggles
Kal Rudman

From the official archives of the Broadcast Pioneers of Philadelphia
Photos originally donated by Broadcast Pioneers member Bob Kravitz
© 2007, Broadcast Pioneers of Philadelphia
All Rights Reserved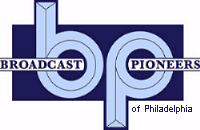 The e-mail address of the Broadcast Pioneers of Philadelphia is pioneers@broadcastpioneers.com