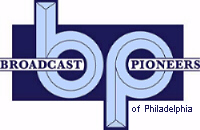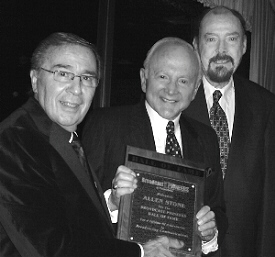 (Left to right) Pat Delsi, Chair of the Hall of Fame/Person of the Year Committee
Allen Stone, 2006 inductee in our Hall of Fame
Bill "Wee Willie" Webber, our 2006 "Person of the Year"
The Bala Golf Club, Philadelphia
Friday, November 17, 2006

This fundraising event raised more money for scholarships than ever before. It was the highest amount in the history of our organization. Thanks to everyone who made the evening a huge success!
Took some digital photos at the banquet? E-mail to us, some of your favorite shots for possible use on our website.
Everyone who was anyone came out to meet and greet: Bill Baldini, Monica Malpass, Larry Mendte, Allen Stone and Bill "Wee Willie" Webber.
The Broadcast Pioneers of Philadelphia hosted our 15th annual "Hall of Fame & Person of the Year" banquet at the beautiful and historic Bala Golf Club, 2200 Belmont Avenue in the Wynnefield section of Philadelphia on Friday evening, November 17th. Reception was at 6 pm with a tasty dinner being served at 7 pm.
This year's "Person of the Year" was our own Bill "Wee Willie" Webber, former President and Chairman of the Board of our organization. Also at this dinner, we inducted four outstanding broadcasters into our "Hall of Fame."
They are:
Bill Baldini, Reporter for WCAU, NBC-10
Monica Malpass, Anchor for WPVI, Channel 6
Larry Mendte, Anchor for KYW-TV, CBS 3
Allen Stone, longtime announcer & newsman for WFIL
We also inducted posthumously into our Hall of Fame six additional persons who contributed so much to Philadelphia broadcasting. They were:
Mike Douglas, TV talk host (show originated from KYW-TV)
Philo Farnsworth, father of TV whose work was done here in Philly
Bill Hart, the legendary WCAU host and announcer
Dr. Charles Lee, well-known news commentator
Jessica Savitch, former KYW-TV and NBC-TV News Anchor
Alan Scott, veteran newscaster, kids host and announcer
Here's audio of the posthumous inductees
Rock & Roll Legend Charlie Gracie (and a member of the Broadcast Pioneers of Philadelphia) was there and entertained us with a few songs. We all remember Charlie and his chart topping hits of "Butterfly," "99 Ways," and "Fabulous." (As a teenager, Charlie used to sing "Get the Best, Get Sealtest" on "The Big Top" which originated here in Philadelphia from WCAU-TV and was carried over the CBS Television Network.
Each year, we start off our program with the singing of "God Bless America." This time, it was sung by "Pretty Perky Peggy King," a pop singer from "The George Gobel Show," which aired Saturday evenings on NBC-TV for five seasons and one season on CBS-TV.
Usually our invocation is done by our own W. Carter Merbreier (Captain Noah). However, the rascally ol' captain is still recovering from heart surgery and wasn't able to make it this year. A comentator for WCAU-TV and Radio in the sixties, Donald Barnhouse, now an area minister, took his place.
For a little fun, Les Waas introduced Bill Webber with a roasting. It was quite funny. Everyone loved the fun.
This fundraiser benefited our scholarship program. Monies raised from last year's banquet underwrote five different $1,500.00 scholarships for area college students.
Photos of the Event
AUDIO OF THE EVENT
Donald Barnhouse gives the invocation
Larry Mendte
Monica Malpass
Bill Baldini
Allen Stone
Les Waas introduces Bill Webber
Bill Webber
VIDEO EXCERPTS OF THE EVENT
Larry Mendte
Monica Malpass
Bill Baldini
Allen Stone
Les Waas introduces Bill Webber
Bill Webber

From the official archives of the Broadcast Pioneers of Philadelphia
© 2009, Broadcast Pioneers of Philadelphia
All Rights Reserved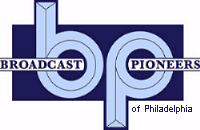 The e-mail address of the Broadcast Pioneers of Philadelphia is pioneers@broadcastpioneers.com