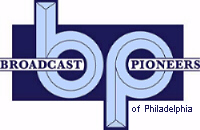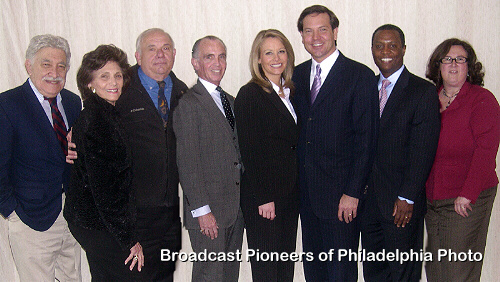 (Left to right) Dave Neal, Marciarose Shestack, Dick Sheeran, Michael Colleran
Susan Barnett, Chris May, Dave Huddleston and Susan Schiller
Broadcast Pioneers Luncheon, Bala Golf Club, Philadelphia
Wednesday, February 18, 2009
On Wednesday, February 18, 2009, the Broadcast Pioneers of Philadelphia saluted the Eyewitness News team. It all took place at the beautiful Bala Golf Club, 2200 Belmont Avenue in Philadelphia! Just minutes away from Channel 6 and Channel 10 and the radio stations in Bala Cynwyd.
Our moderator for the panel discussion was Broadcast Pioneers member Dick Sheeran who worked on Eyewitness News for over three decades.
Special introductory remarks were by Michael Colleran, President and General Manager of CBS3 and the Philly CW57 and he was welcomed by Captain Noah, W. Carter Merbreier.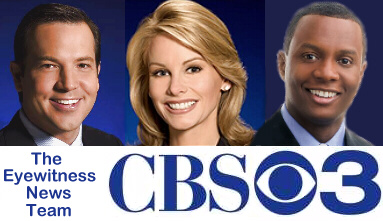 Our panelists were:
In part, we talked about the changes to local news in a digital age and the expansion of the Eyewitness News brand with the introduction of a 10 p.m. edition on The CW Philly 57 which started on Monday, February 2nd. Broadcast Pioneers member Dave Neal, a former producer at Channel 3, was on hand to tell us a little about his days at Eyewitness News.
Plus, Broadcast Pioneers member Trudy Haynes spoke LIVE on the telephone with Broadcast Pioneers member Al Primo who created the Eyewitness News format in 1965. And also on the phone, Broadcast Pioneers member Marciarose Shestack talked with George Sells, known to Philadelphians as George Caldwell (her former co-anchor).
COMPLETE AUDIO OF THE LUNCHEON!

From the official archives of the Broadcast Pioneers of Philadelphia
Photo originally donated by Broadcast Pioneers member Michael Muderick
© 2009, Broadcast Pioneers of Philadelphia
All Rights Reserved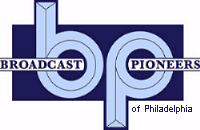 The e-mail address of the Broadcast Pioneers of Philadelphia is pioneers@broadcastpioneers.com