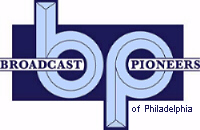 Our 5th Annual Broadcast Symposium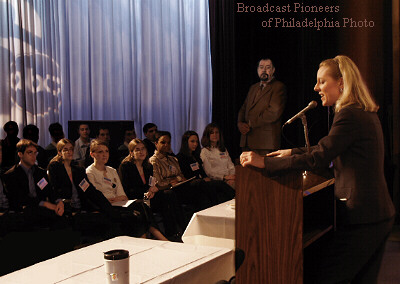 The 5th Annual Broadcast Pioneers Symposium
at the WPVI-TV Studios
Saturday, April 1, 2006
Once again, it was time for our annual Broadcast Pioneers Symposium. Area college students saw first hand a major market television station and listened to advice from their staff. This year, our 5th annual event was held at WPVI-TV, Channel 6. It all took place on Saturday morning, April 1st.
Our panelists were:
Amy Buckman, Action News anchor and reporter
Bill "Wee Willie" Webber, Radio & TV personality
Caroline Foy Welch, Vice-President of Programming
Linda Munich, Vice-President of Public Affairs
Lee Daniels, WPVI's Web Director
Rob Royal, Executive Producer of Special Projects
Mara Webb, Creative Services Producer
Pat Delsi, former owner of WSSJ Radio in Camden
Jamie Apody, Action News Sports Anchor
In our video clip, each of our panelists discussed "internships." Basically, they all said, "make sure you get one."
Each student was given a chance, if they wished, to sit at the Action News anchor desk and/or stand in front of the weather green screen. Here's a video package of that adventure.
Complete audio of the panel discussion is available on this website. We have encoded it to roll. That is, because of the length, the symposium audio is divided into 2 parts for faster loading. It will automatically "roll" from the first segment to the second. For DSL and cable users, this should be instantaneous. For dial-up users, there may be a short load at the beginning of both segments. This is normal. The symposium was moderated by Broadcast Pioneers' Board Member Keith Brand, a professor at Rowan University and an air personality from WXPN Radio.

From the official archives of the Broadcast Pioneers of Philadelphia
© 2009, Broadcast Pioneers of Philadelphia
All Rights Reserved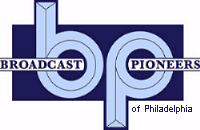 The e-mail address of the Broadcast Pioneers of Philadelphia is pioneers@broadcastpioneers.com