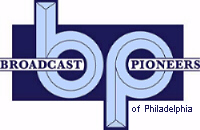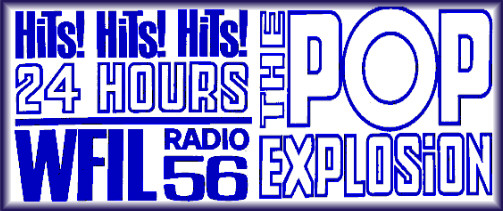 Our September 2006 luncheon was one not to be missed. It celebrated the 40th anniversary of the Famous 56, WFIL. The date: Wednesday, September 20, 2006.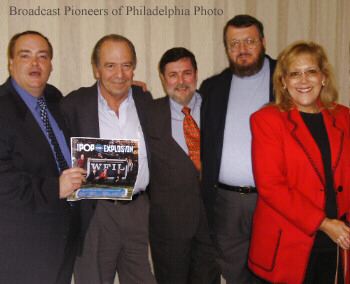 (Left to right) Bob Charger, Current WOGL Air Personality
Former WFIL Boss Jock Jim Nettleton
Broadcast Pioneers Vice-President Jerry Klein
Former WFIL Boss Jock Kris Chandler
Leigh Richards, former WFIL Jock, now on WXTU
Bala Golf Club, Philadelphia
Wednesday, September 20, 2006
On our panel was:
Jim Nettleton, Boss Jock from Famous 56
Kris Chandler, Boss Jock from Famous 56
Big Ron O'Brien, Boss Jock from WFIL, now doing afternoons on WOGL
Allen Stone, WFIL, Famous 56 newsman
Paul Norton, who stayed into the new format from the old one
Gene Vassall, General Sales Manager & creator of many of the WFIL promotions
Moderator: Bob Charger, Famous 56 oldies jock, now doing evenings at WOGL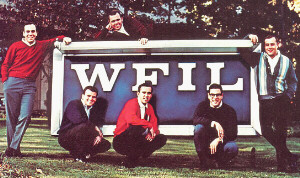 This luncheon was our biggest this decade. About 100 people were in attendance for our tribute to WFIL, Famous 56, America's Best Radio Station.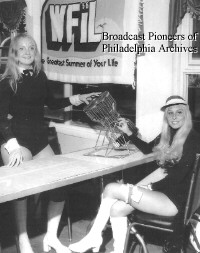 Here's complete audio of the event. The first speaker we hear is former Famous 56 newsman Ira Mellman who came up from Washington, DC. There, he's a news anchor for WTOP Radio.
The audio is divided into two segments. When the first segment is finished, the second half will start automatically. For those on DSL and cable connections, each segment should load instanteously. For those on dial-up, the loading time for each segment could be 10 to 20 seconds.
THE VIDEO
The video was encoded using "Surestream." There are two different video streams encoded into one file. One is for dial-up users and the other is for DSL and cable users. Your computer will automatically select the correct one.
We have now video excerpts from each of our speakers. First up is Ira Mellman, a former WFIL newsman and now with WTOP Radio in Washington, DC. Ira introduced our moderator and explained what, he felt, made WFIL, Famous 56 such a great radio station!
Our first speaker on this day was famed WFIL newsman Allen Stone, a member of the Broadcast Pioneers of Philadelphia. Allen tells us about the first days when Mike Joseph (who created the Famous 56 format) discussed the new sound with Allen.
Next to speak was Gene Vassall, General Sales Manager during the Famous 56 days. Gene spoke to us about the various WFIL promotions, most he created.
After Gene, we heard from WFIL's very first Boss Jock (Sunday morning, September 18, 1966). His name? Our very own Paul Norton, a member of our Hall of Fame.
Broadcast Pioneers member Jim Nettleton remembers former WFIL Boss Jock Long John Wade. Jim tells about a party at his house and a race to the station.
Watch what Jim Nettleton said!
Kris Chandler was next to speak. He tells us what he was taken from small market WAMS Radio in Wilmington and made into a WFIL Boss Jock.
Watch what Kris Chandler said!
Our last panelist was Big Ron O'Brien, a former Boss Jock who now does afternoon drive on WOGL, 98.1 here in Philadelphia. He mentions how WFIL, Famous 56 was the trend setter in Top Forty radio across the country.
Watch what Big Ron O'Brien said!
Bob Charger was our moderator and he was the last air personality ever to use the marketing line, "Famous 56" on the air. He tells us how he wanted to be a TV Kids' Host like Bill Webber or Sally Starr, drawing pictures and cartoons. Then he put away all that stuff and went after being a radio disc jockey.
Next is a recorded message from King George Michael from the set of his "Sports Machine" television show. He tells us how it really was.
Here's what George Michael said!
Over the past several weeks before this luncheon, we have received several e-mails from former WFIL people. Here's what they said!

From the official archives of the Broadcast Pioneers of Philadelphia
Special Thanks to Broadcast Pioneers member Roger Hendler
George Michael tape transfer by Omni 2000 & Broadcast Pioneers member Mike Nise
© 2009, Broadcast Pioneers of Philadelphia
All Rights Reserved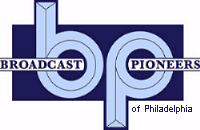 The e-mail address of the Broadcast Pioneers of Philadelphia is pioneers@broadcastpioneers.com