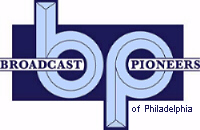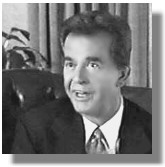 Dick Clark
1993
In 1993, Broadcast Pioneers member Ed Cunningham, a producer at WHYY-TV, Channel 12, Philadelphia, was called upon to come up with a follow-up show for the successful program, "Things That Aren't There Anymore."

Cunningham thought and thought and finally came up with a great title for the next show. He said, "Let's call it MORE THINGS THAT AREN'T THERE ANYMORE." Thus, the show was born.

In this episode, the show's producer spoke with Dick Clark. That's where the still above of Clark comes from.

The video clip shows the heavy studio door being removed from "Studio B," from the old WFIL-TV at 46th and Market Streets in West Philly. This was the studio where American Bandstand originated from when it was telecast from Philadelphia.

Watch the clip

The program was narrated, by the way, by Broadcast Pioneers member Bill Campbell.
From the official archives of the Broadcast Pioneers of Philadelphia
Photo and video clip courtesy of WHYY-TV, used with permission.
Permission granted by David Othmer, VP/Station Manager and Producer Ed Cunningham, a member of the Broadcast Pioneers
All rights for the "More Things That Aren't There Anymore" broadcast are retained by WHYY, Inc.
and cannot be used without the express, written permission of the copyright holder.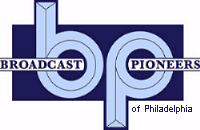 The e-mail address of the Broadcast Pioneers of Philadelphia is pioneers@broadcastpioneers.com