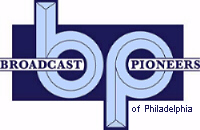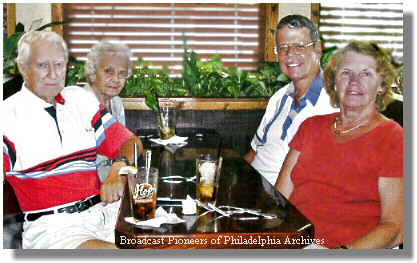 (Left to right) Bob Bradley and his wife, Rosemary
with friends, the Van Weeldens
Hops Restaurant, Clearwater, Florida
June 2006

Barbara Van Weelden, a visitor to our website e-mails:
I just visited the website that shows Bob as Buckskin Billy and read some of his background there. We met Bob and Rosemary Bouwsma while on vacation in the Caribbean in 1991, became friends and now that we all live in Florida, we see each other more frequently.

He has often talked about his broadcasting career and it was exciting to me to see him in his "Billy" characterization on the website.

Bob gave up his spring training work a couple years ago and now is still active leading discussion groups in his church.The enclosed photograph was taken at a restaurant near his home in Clearwater, FL in June of this year (2006).

From the official archives of the Broadcast Pioneers of Philadelphia
Photo originally donated by Barbara Van Weelden
© 2006, All Rights Reserved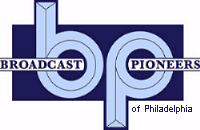 The e-mail address of the Broadcast Pioneers of Philadelphia is pioneers@broadcastpioneers.com