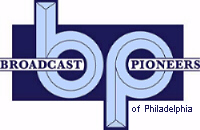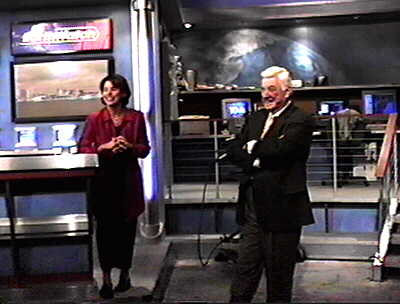 Kathy Orr & Herb Clarke
on the weather set at NBC 10
Broadcast Pioneers Symposium
Saturday, April 13, 2002
The Philadelphia Broadcasting Symposium - Spring 2002
The Broadcast Pioneers of Philadelphia in association with The Rowan University College of Communication presented Our Philadelphia Broadcasting Symposium - Spring 2002 for area college students, both undergraduate and graduate. One of the major broadcast venues in the Philadelphia media market, NBC 10, shared their success and expertise at this event. Attendeees learned from professionals how a successful major market commercial television station operated.

The date was Saturday morning, April 13, 2002 at the studios of WCAU-TV, City Line and Monument Road in Bala Cynwyd. Most speakers were from the staff of NBC 10. They included:
Chris Blackman, Vice-President of News, NBC 10, WCAU-TV
Tony Davis, Production Director, WOGL Radio
Pete Kane, Photojournalist, NBC 10, WCAU-TV
Darian Bagley, News writer/producer, NBC 10, WCAU-TV
Kim Zachary, Director of Human Resources, NBC 10, WCAU-TV
Larry Litwin, Ass't Rowan Professor of Communication, former KYW Anchor/reporter
During the half-day program, broadcast professionals shared their successes, expertise and advice with students. Those that appeared in addition to those listed above included Ed Papazian, president of Broadcast Pioneers; Pat Delsi, president of PDS Broadcasting and former owner of WSSJ Radio; and Herb Clarke, former NBC 10 weathercaster and current KYW Newsradio Garden Reporter. Herb took the students on a tour of the facilities.
Here's some VIDEO CLIPS of the event!
Here's some AUDIO HIGHLIGHTS of the symposium!
Broadcast Pioneers member Terry Ruggles was supposed to be our after lunch speaker. However, the station assigned him to other duties, and long-time WCAU, NBC10 reporter John Blunt came to address the students.
Listen to complete audio & see a video clip!
Also in the same building are radio stations, WPHT, 1210 on AM (the old WCAU) and Oldies 98, WOGL-FM (the old WCAU-FM). Tony Davis, Production Manager of the oldies outlet took us through the area. Broadcast Pioneers member Bob Charger was on the air at the time.

From the official archives of the Broadcast Pioneers of Philadelphia
© 2007, All Rights Reserved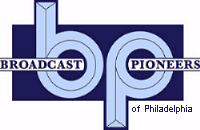 The e-mail address of the Broadcast Pioneers of Philadelphia is pioneers@broadcastpioneers.com