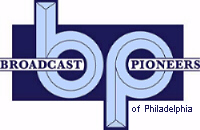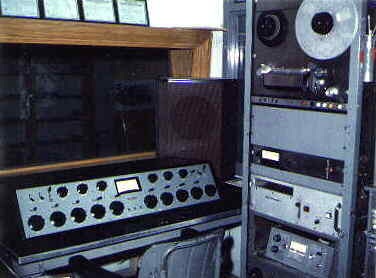 Audio Console & Rack
WHHS Radio
1970
In addition to the new (installed in 1970) Collins Audio Console (Model 212G), shown in the rack to the right is an Ampex AG-440 tape machine, a Spotmaster Cartridge Tape Machine (playback only), and a Tapecaster Cartridge Tape machine that had both record and playback capabilities.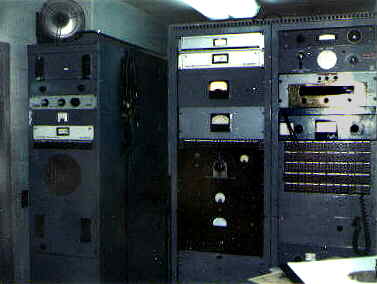 Racks
WHHS Radio
1970
The equipment racks (3) left to right contain:
A: Spare amplifiers, a Gates Program Equalizer for use with incoming remote lines from Bell Telephone's Hilltop Central Office (they had several permanently maintained Class "D" short loops) and within the school building itself, a CBS FM Volumax, monitor speaker, and patching. Note the polished patch cords hanging on side of rack.

B: A CBS Audimax III, a CBS Dynamic Presence Equalizer (DPE), an auxiliary VU meter panel, a VU meter for measuring gain reduction, an RCA Beat Frequency Oscillator Type 68-B, and RCA Noise and Distortion Measuring Equipment Type 68-C, and RCA Attenuator Panel plus additional amplifiers.

C: Off air monitor receiver, an EBS receiver, another VU meter with various functions to be monitored, patching, additional amplifiers, pads, power supplies, etc.
This info comes from Broadcast Pioneers member Charlie Higgins, who was a tech for many years at WCAU Radio and WFIL Radio. He also did double duty as WHHS' Technical Director. He also installed this facility.

From the official archives of the Broadcast Pioneers of Philadelphia
Photo originally donated by Broadcast Pioneers member Charlie Higgins
© 2007, All Rights Reserved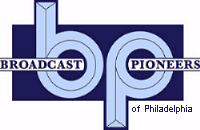 The e-mail address of the Broadcast Pioneers of Philadelphia is pioneers@broadcastpioneers.com