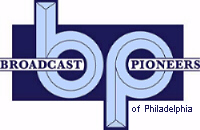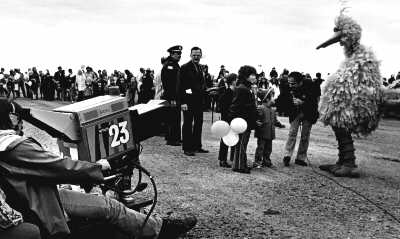 Diego Castellanos & Big Bird
WNJS-TV
Monday, October 23, 1972
(Click on the photo to see a larger version)

This picture was taken at the inauguration of service on WNJS, Channel 23. They started broadcasting on Channel 23 on Monday, October 23, 1972. The station is licensed to Camden, NJ and is part of NJN, the New Jersey Network.

Standing to the left of Big Bird (of Sesame Street fame) is Broadcast Pioneers member Diego Castellanos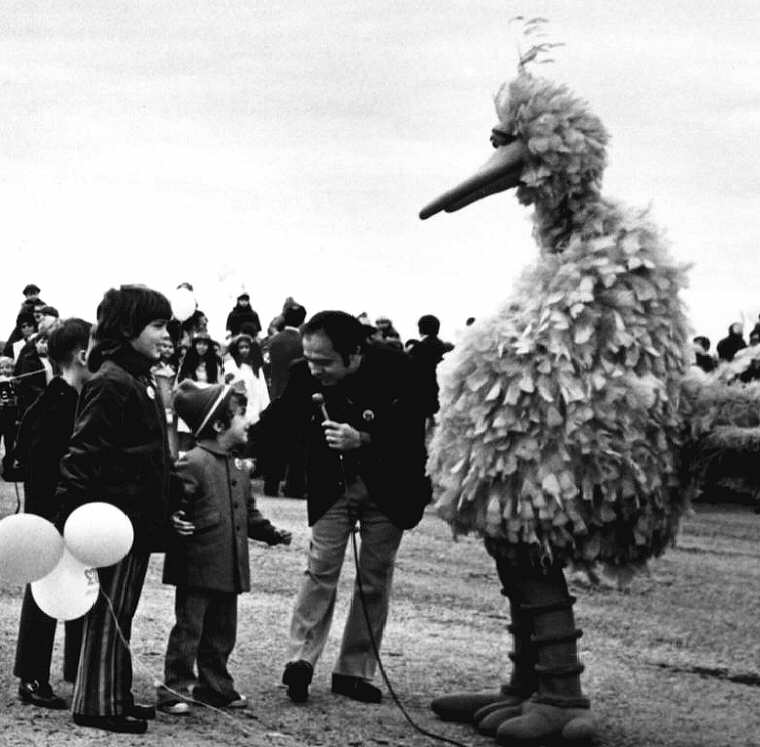 Diego Castellanos e-mailed:
As you probably know, what is known today as NJN (the New Jersey Network) started as the New Jersey Public Broadcasting Authority in the early 70s. Initially, it was only one station (Channel 52 in Trenton) which has remained the flagship station. Channel 23 was the first station added to the network. (Now there are 4 station in the network covering New Jersey which, of course, can also be seen in Philadelphia, Delaware, and New York.)

The inaugural ceremonies for Channel 23 took place at an airport in southern New Jersey. I believe it was the Millville Airport, just south of Vineland. I was the co-host of the inaugural ceremony, which was broadcast as a special. I used my connections with CTW (Children's Television Workshop) to bring Big Bird to the event.

The civilian standing next to the police officer in the photograph is Dr. Larry Frymire, the network's first Executive Director. In the photograph, I had just finished interviewing Big Bird and was now taking questions from children present. The little boy to whom I'm speaking in the photo was my own son, Chris, who will be graduating from law school in May of this year (2003).
For those of you who would like to see a close-up of the camera, here it is. We have not yet identified the camera operator.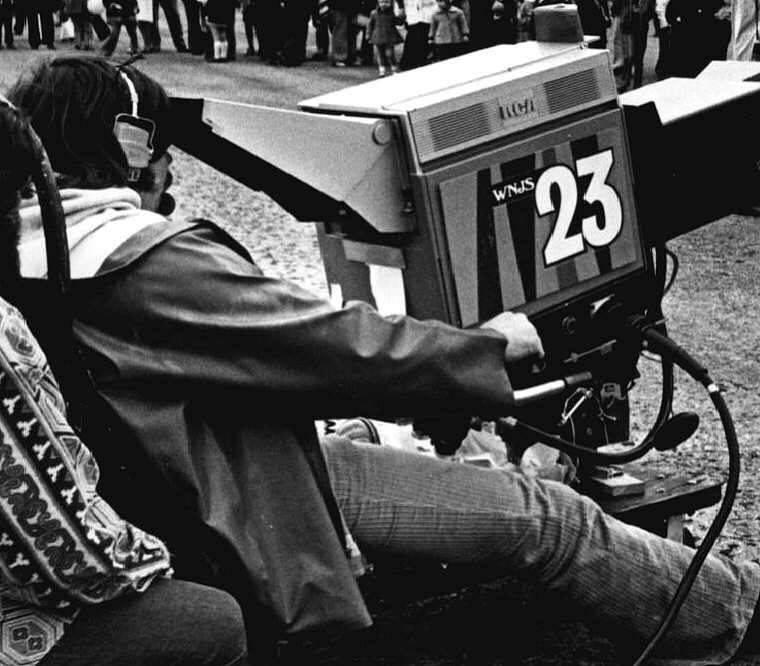 From the official archives of the Broadcast Pioneers of Philadelphia
Photo originally donated by Broadcast Pioneers member Diego Castellanos
© 2007, All Rights Reserved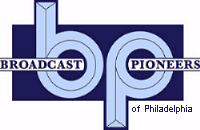 The e-mail address of the Broadcast Pioneers of Philadelphia is pioneers@broadcastpioneers.com