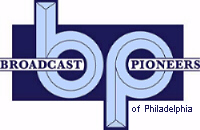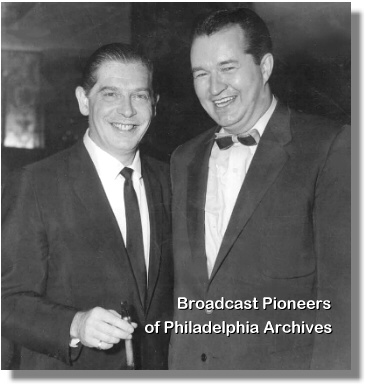 Milton Berle & Mac McGuire
at a cocktail party
1960

Mac McGuire was a local Philadelphia legend. In 1960, McGuire got together with another industry pioneer, Milton Berle.

Milton Berle, one of the pioneering legends of television known to a generation of devoted fans as "Uncle Miltie," was born on Sunday, July 12, 1908 in New York City as Mendel Berlinger. At the age of five, he won a Charlie Chaplin look-alike contest. Berle followed that with wins in various local amateur contests. Sarah, his mother, was a classic stage mother. She perpetually pushed her child to be a performing success.

Milton became a frequenter on the vaudeville circuit and also performed in minor roles in more than 50 silent films including the well-known "Perils of Pauline." During 1931, Berle played the New York City Palace Theater. He became the youngest master of ceremonies on Broadway, the Great White Way. Even before his TV success, he was one of the highest-paid comedians in show business, though most of America wasn't familiar with his work. However, it was on television in the late forties and the 1950s that Berle made his enduring mark.

"The Texaco Star Theater" featured Berle and guest stars. In what would become legendary comic skits, it debuted in 1948 and caught on with the public almost immediately. It was a Tuesday night fixture in homes across the nation. The program has been credited with helping to sell millions of first-time TV sets. Berle once said that he was responsible for a lot of TVs being sold. He said that when he came on television, his uncle sold his and his aunt sold hers.

Broadcast Pioneers member Gerry Wilkinson remembers that as a young child, his family had one of the only TV sets on his block. "Everyone would drop by on Tuesday evenings at 8 pm. That just happened to be when Berle was on Channel 3," said Wilkinson.

Berle also played a part in a well-known story in the Philadelphia Broadcast Pioneers circles. WFIL-TV (Channel 6) had a time salesman named Max E. Solomon, a member of the Broadcast Pioneers of Philadelphia. Max had been in broadcasting since the 1920's. It was 1951, during the peak of Berle's fame and Max walked into an appliance store to try to sell the owner some commercials. The owner told Max, "Don't even talk to me. The only commercial I'll buy is just before Milton Berle starts his show." Solomon told him "No problem." The owner said, "I bet there is a waiting list." Max said no and that the owner could start advertising the next Tuesday. The contracts were signed and Tuesday came and went. On Wednesday, the owner called Max E. Solomon and said that his commercial didn't run. Max said, "Sure, it did." The owner said that he watched Channel 3 from 7:45 pm (15 minutes before Berle came on the air) until after the show ended and didn't see his spot. Max replied, "Oh, you didn't say you wanted it to run on the same station that carried Berle." (The spot ran just before Berle's show started but on a different station. The advertiser wasn't charged for the air time.)

Berle was not supposed to be the permanent emcee of "The Texaco Star Theater." The hosts, which included Henny Youngman, Morey Amsterdam, and Jack Carter, were supposed to rotate. But, Berle proved the most popular host and was made permanent three months after the program started on June 8, 1948. Berle would do anything for a laugh. After the weekly opening from the Texaco Service Men, he would come out in a costume, sometimes in drag. Broadcast Pioneers member Gerry Wilkinson who was a toddler at the time remembers remarking, "that's the ugliest mommy I ever saw."

"There was a time ... when people didn't go out of their house on Tuesday night at 8 o'clock because Milton Berle was on," said Ed McMahon to CNN at Berle's 90th birthday bash in 1998. McMahon was a local TV announcer on Channel 10 in Philadelphia during the time of Berle's peak. In 1954, the program was retitled "The Milton Berle Show."

Berle once said, "I think laughter is very imperative. And …a good laugh is better than anything." Walter Winchell, a well celebrated newspaper columnist called him, the "Thief of Bad Gags." Berle was known for stealing jokes, a habit he readily admitted.

Known for his trademark cigars and for occasionally donning women's clothes to get a laugh, Berle was a mainstay on network TV for two decades, earning another nickname, "Mr. Television."

"The Texaco Star Theater" secured Berle's fame. NBC gave him a "lifetime contract" of 30 years in 1951. It paid him $200,000 a year (that's about $1,500,000.00 in today's money) whether he worked or not. In 1965, Berle asked for permission to work elsewhere and NBC cut his yearly salary to $60,000. The next year, a variety show starring Berle started on ABC-TV. It had little success running from September 9, 1966 to January 6, 1967.

Berle's career spanned 88 years in stage, film, radio, and television. He also wrote about 400 published songs. He won an Emmy in 1949 and was presented with another Emmy for lifetime achievement during 1979. He was one of the first members of the Academy of Television Arts & Sciences Hall of Fame and president of the Friars Club for more than a decade. He authored several books including "Milton Berle: An Autobiography" and "B.S. I Love You." In 1991, he was one of the first inductees into the International Comedy Hall of Fame.

Comedian Milton Berle, TV's first superstar (with a 61.6 share rating), died Wednesday, March 20, 2002 at his home in Beverly Hills, California. He was 93.

From the official archives of the Broadcast Pioneers of Philadelphia
Photo originally donated by Dennis McGuire, Mac's son
Written and researched by Broadcast Pioneers historian Gerry Wilkinson
© 2009, Broadcast Pioneers of Philadelphia
All Rights Reserved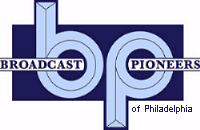 The e-mail address of the Broadcast Pioneers of Philadelphia is pioneers@broadcastpioneers.com