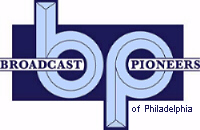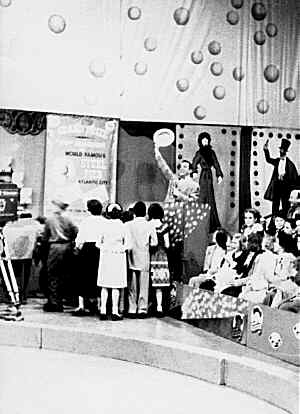 Gene Crane (raising the hat)
Contest Carnival
WCAU-TV
circa 1954

Broadcast Pioneers member Gene Crane has had many, many programs on WCAU-TV. One program that lots of folks remember was a show called "Candy Carnival" (later renamed "Contest Carnival). It aired on CBS-TV, originating from WCAU-TV from 1953 until 1957.

For a complete history of the Candy Carnival and Contest Carnival shows, please CLICK HERE!

These photos show Quaker as the sponsor, so they probably date from 1954 and were taken by Broadcast Pioneers member Mike Muderick's father, Manny. They were NOT taken as publicity photos but by someone who was in the studio audience.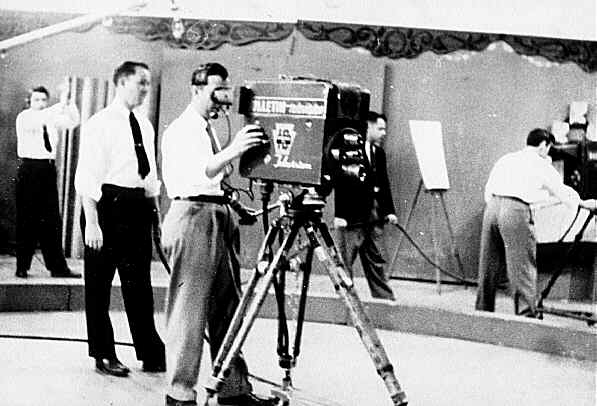 (left to right) Jesse Schooley, Dick Kane, Jim Graham or Bob Froelich, unidentified and Irv Gubin or Bob Forelich
Contest Carnival
WCAU-TV
circa 1954
Charlie Higgins has identified the cameraman on the left as being Jim Graham. Jim worked for the experimental W3XE television station run by Philco (a forerunner to WPTZ). Charlie believes that Graham worked there in the early forties. In the summer of 1941, W3XE went commercial using the calls WPTZ, so Jim's employment there may predate this change. Jim, according to Charlie, came to WCAU-TV when they first went on the air in 1948. As of September 2000, Jim Graham was still alive. The other camera operator was Bob Froehlich. Bob passed away on January 27, 1999.

Tony Verna, a long-time Producer at WCAU-TV e-mailed That's Bob Froelich on the left. He operated camera 2, which would have been on the right of camera 1 and just as nice a man. In those days...crew one did the show. Sometimes, Crew two. It looks like the day this was shot, crew 2 was doing the show, which means that the other cameraman may be Irv Gubin. It sure looks like the way he ran his camera.

The stage manager in the extreme left of this shot was Jesse Schooley. The stage manager at WCAU-TV was always called an A.D., for Assistant Director. WCAU-TV had another long time A.D. by the name of John Hetherton. Sadly, both men have passed away. We now think that the person between Jesse Schooley and Jim Graham is Dick Kane.
SEE MORE CONTEST CARNIVAL PHOTOS

From the official archives of the Broadcast Pioneers of Philadelphia
Photos originally donated by Broadcast Pioneers member Mike Muderick
© 2007, All Rights Reserved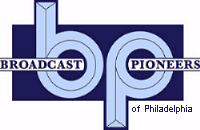 The e-mail address of the Broadcast Pioneers of Philadelphia is pioneers@broadcastpioneers.com