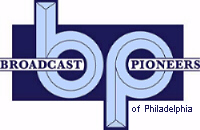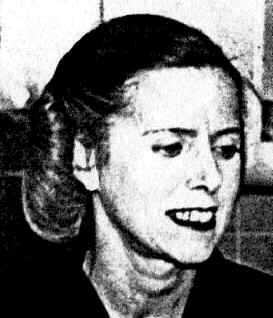 Deborah Adams
WFIL-TV
circa 1955

Here's four excerpts from "Features For Women" hosted by Deborah Adams. The programs were aired right after "Breakfast Time" which featured Broadcast Pioneers member Bill "Wee Willie" Webber. They were broadcast over WFIL-TV, Channel 6 in Philadelphia which was owned by the Philadelphia Inquirer at that time. The station is now WPVI.
While this broadcast was on television, we had only the audio. However, no known video of "Features For Women" is known to exist today so we feel quite lucky to have this audio.

While the first cut was labeled September 1958 and the second one was labeled September 1959, it is our feeling that both programs dated from September of 1958 (and that one was just mislabeled.) We are pretty sure about this.
Here's another show dating from December 1958 and Bill "Wee Willie" Webber can be heard at the beginning of the program. Remember, Bill's program preceded "Features for Women,' and the two shows, obviously originated from the same studio. We believe that the announcer at the beginning of cut two was Broadcast Pioneers member John Carlton who worked at the WFIL stations at that time.
Former President of the Broadcast Pioneers of Philadelphia Shelly Gross (he was a staff announcer at WFIL & WFIL-TV and later co-owner of the Valley Forge Music Fair) e-mailed: "Deb Adams had an administrative job at Channel Six when I joined in early 1949. Later, she did a women's show...."
Show #4 has not yet been dated but we feel that it probably was during 1958. This is the only "Features For Women" program that is available in both Real Audio and Windows Media formats.
Listen in Real Audio!
Listen in Windows Media!
During her time on TV, Deborah Adams lived by herself in an old house in Valley Forge. When she purchased the home, it was in need of repairs and improvements. Much of it was done by Adams herself. She built her own kitchen cabinets and added a new front porch. She laid a flagstone terrace and made kennels for her dogs out of an old chicken house on the property.

She was a graduate of the University of Pennsylvania's School of Architecture. She was expected to follow in her dad's footsteps and become an architect. She had two loves, acting and writing. Hailing from New England, her family disapproved of "going on stage." They wanted her to get a real job. She combined her talents and was named Advertising Manager of the export division of DuPont. From there, she moved to the WFIL stations as Merchandising Director. In 1955, her ten minute daily show was mainly cooking on Tuesdays, Wednesdays and Fridays. She was "Mrs. Fixit" on Mondays and Thursdays was "special guest" day.

Features for Women in 1958 and 1959 was 10 minutes long. It aired on Wednesday, Thursday and Friday from 10 am to 10:10 am, cutting Happy the Clown on those days from a half hour to 20 minutes. On Mondays and Tuesday, Happy was on from 10 am until 10:30 am. No one seems to know why Features for Women was only on three days a week. However, in April of 1953, it was on five days a week from 10:45 to 11 am. At that time, the program was described as "budget and household hints presented by Deborah Adams." In May of 1954, the show (15 minutes daily) was aired from noon until 12:15 pm. In October of 1954, it was still in the noontime slot.

During August of 1956, the program was 10 minutes long and aired daily at 1:50 pm. Deborah also did a couple other programs during her reign at WFIL-TV including "Mrs. Fixit" and "The Deborah Adams Show." "Mrs. Fixit" was airing 12 noon to 12:15 pm on Saturday in January of 1953.

In November of 1953, she was in a show called "The Woman's Page" and was aired daily from 2:15 pm to 2:45 and also featured Violet Hale. After that came "Bandstand" with Bob Horn and Lee Stewart. During that same month, on the ninth, "Features for Women" aired from 10:45 to 11 am. However, seven days later, the show was called "Mrs. Fixit" still featuring Deborah Adams.

By the way, FEATURES FOR WOMEN was the name of the Ladies section of The Philadelphia Inquirer which owned WFIL-TV at the time the show was on the air. In the 1951, there was a 30 minute program called "The Mixing Bowl," a show described by the Evening Bulletin as a "homemaker's program." It aired from 10 am to 10:30 am. The exception was on Tuesdays and Fridays when Features for Women took over the first 15 minutes and "The Mixing Bowl" on those days was only a quarter of an hour long. In 1958 and 1959, it did a similar thing with Happy the Clown. A little confusing, isn't it?

By the way, the first version of "Features for Women" aired in 1948 on Thursdays at 7:30 pm. This 15 minute broadcast featured original hosts LeRoy Miller and Frances McGuire. On the November 3, 1948, the program featured $40,000 in furs. That's about $370,000 in 2010 dollars.
------------------------------
Known Time Periods

November 3 to November 11, 1948 - 7:30 to 7:45 pm (Thursdays)
October 30 to November, 1951 - 10 am to 10:15 am (Tuesday & Friday)
April to November 1953 - 10:45 to 11 am (daily)
March 1954 - 12 noon to 12:15 pm (daily)
July 16, 1954 - 12:30 pm to 12:45 (daily)
October 1954 - 12 noon to 12:15 pm (daily)
July 1955 to August 28, 1956 - 1:50 to 2 pm (daily)
August 23, 1957 to 1959 - 10 am to 10:10 am (Wednesday thru Friday)
July 20 to August 5, 1960 - 8:50 to 9 am (Wednesdays thru Fridays)
September 1, 1965 - 9:15 to 9:25 am (Wednesdays)

From the official archives of the Broadcast Pioneers of Philadelphia
Audio originally donated by Broadcast Pioneers member Mike Muderick
Written and researched by Broadcast Pioneers historian Gerry Wilkinson
© 2010, Broadcast Pioneers of Philadelphia
All Rights Reserved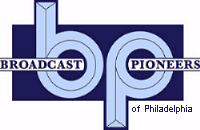 The e-mail address of the Broadcast Pioneers of Philadelphia is pioneers@broadcastpioneers.com