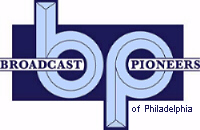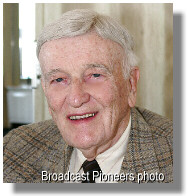 Broadcast Pioneers member Ed Harvey
Broadcast Pioneers Luncheon
Wednesday, February 21, 2007

Iowa born Ed Harvey was one of the pioneers of Philadelphia radio telephone talk shows. This Broadcast Pioneers member said that he was the first person in the Delaware Valley to actually put the caller on the air. Previously, the host would have to repeat what the caller said.
He has flown with the Navy's Blue Angels, and in a free-flying balloon that landed him in a prison yard. He had been at the helm of a nuclear submarine and danced with the Eskimos in Barrow, Alaska. He has interviewed refugees fleeing China, and broadcast the surrender of a Gereman submarine at the end of WWII. He has interviewed the captain and crew of a Russian "fishing trawler," later identified as an espionage ship by Naval Intelligence. From gang leaders to presidents, from Malcolm X to Mary Poppins (Julie Andrews), Ed Harvey has interviewed over 10,000 of the famous, the infamous, and others, all of whom were a part of American history.

In the nearly quarter of a century that he broadcast from the studios of WCAU (CBS) he hosted the morning show, "Here's Harvey," featuring a live band and male and female vocalists, hosted what he terms as the worst TV program ever," Fun and Fortune" on WCAU-TV. "Fortunately," he says, "Ed McMahon returned from duty in Korea and relieved me."

In 1960, he originated the first call-in talk show in the country, "The Talk of Philadelphia." That same year he broadcast the University of Pennsylvania and Philadelphia Eagles football games sitting alongside sportscaster icon, Bill Campbell. It was the last time the Eagles won it all.
Ed also did a talk show on WWDB (860 AM) and wrote columns for communications publications. Harvey started at WCAU Radio (now WPHT) in the early fifties and stayed for decades. His morning program in the fifties was a variety show with corny jokes and entertainment with a real band and singers. Slowly, the size of the group got smaller and smaller until there were just Ed, a piano player and a female singer. Ed pioneered the radio telephone talk format in Philadelphia and his program, "The Talk of Philadelphia" became a mainstay in Philly radio for many, many years.
After leaving WCAU, Ed Harvey applied for and received the vacant license for the old WXUR (AM) station at 690. Relicensed to Phoenixville, the station came back on the air as WYIS. He later sold the station, but the corporation that currently owns the broadcast outlet still bears his name, Harvey Broadcasting.
He's been on our board of directors for more than a decade and served 2 one year terms as Vice-President of the Broadcast Pioneers of Philadelphia. He was inducted into our Hall of Fame in 1998.
Ed and his wife, Marge volunteered their time for the ASB (Associated Service for the Blind) radio station here in town. Their radio program was heard twice monthly on the station.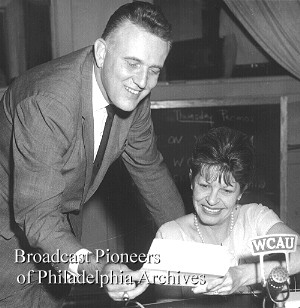 (Left to right) Ed Harvey with Martha Raye
WCAU Radio Studios
1964
Ed grew up in Iowa, the "Tall Corn State," which explains some of his on-the-air humor. He was graduated from Grinnell College, in Iowa, where he majored in journalism, serving as campus correspondent for both AP and UP, and was elected to the honorary journalistic fraternity, Sigma Delta Chi.

Ed's first job after college was at WBBM (CBS) Chicago where he wrote a network program, "Patterns in Swing." He held the position of News Editor, when he left WBBM to join the Navy. Ed entered the Navy as an Ensign, serving four years, including two years as captain of a Patrol Craft (PC 626). His ship participated in four invasions, and he was awarded the Legion of Merit during the action at Anzio, Italy. The exploits of his ship and its crew were broadcast on the CBS network program, "Front Line."

When Ed returned to the states, he was assigned to the Office of Public Information, Fourth Naval District, in Philadelphia. His major assignment was to represent the Navy at the Army/Navy "E" Awards ceremonies honoring those companies whose contributions to the war effort were outstanding. Ed received an honorable discharge from the Navy in 1946, leaving with the rank of Lieutenant Commander.

Upon discharge from the Navy, Ed and a fellow officer, Robert Wilder, opened a public relations office in Philadelphia. In the first year the firm obtained several accounts, some paying, others not. So it was a no-brainer for Ed to accept an offer from WCAU to host a morning show. How that happened is a story in itself, according to Ed. However, he never told us the story.

Ed was always active in community affairs, serving in a variety of volunteer positions. He was a member of the Service Academy Selection Board, a member of the Board of Governors of the Southeastern Pennsylvania Heart Association, hosting the annual Ed Harvey Golf Tournament for that organization. He served as a member of the Advisory Board of the Philadelphia County Board of Assistance, Chairman of the Fund Raising Committee of the Montgomery County Opportunities Industrialization Center (OIC) and president of the Suburban Public Relations Society.

Ed hosted an annual golf tournament for the alumni of WCAU, open only to the retired, "old geezers." It carries the irreverent title of "The Cadaver Open," drawing such prominent participants as Tom Brookshier, Frank Ford, Al Meltzer and Jack Whitaker. "Prizes for this outstanding event are snapped up every time the Dollar Store has a sale," said Ed.

Ed had three children, Susan Rhoades, Barbara Safaford, and James Harvey. He was married to the former Marge Wieting, whose radio program "Street of Dreams," kept listeners awake late at night for many years on WFIL-AM.
At 7 am on the morning of Wednesday, July 30, 2008, Ed Harvey passed away from cancer.
Broadcast Pioneers member and an inductee into our Hall of Fame, Bob Perkins e-mailed:
I'll always remember Ed for his great broadcasting talent, but one incident in which he was involved has always stood out with me, and that's because his was the last (Philadelphia) radio voice I heard before packing up and moving to Detroit in 1964. He had a great show on WCAU back in the day and he conducted interviews. I heard him interview Johnny Hartman prior to my leaving for Detroit the following day. Hartman and Coltrane had collaborated on their classic album, and it had become a hit.

When you do something major, like change your life by moving from one city to another, and there is a sidebar running beside this major event, you remember both. Naturally, the interview would be important to me, being a jazz buff even before I broke into radio. Well, I did break into this racket my second week in Detroit...and the rest is history.

I never mentioned the incident to Ed, because it may not have meant much to him. Now, I wish I had said something. Ed might have floored me by remembering the 44 year-old interview.

From the official archives of the Broadcast Pioneers of Philadelphia
Photo originally donated by Broadcast Pioneers member Bob Kravitz
© 2008, Broadcast Pioneers of Philadelphia
All Rights Reserved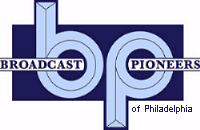 The e-mail address of the Broadcast Pioneers of Philadelphia is pioneers@broadcastpioneers.com