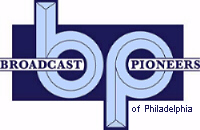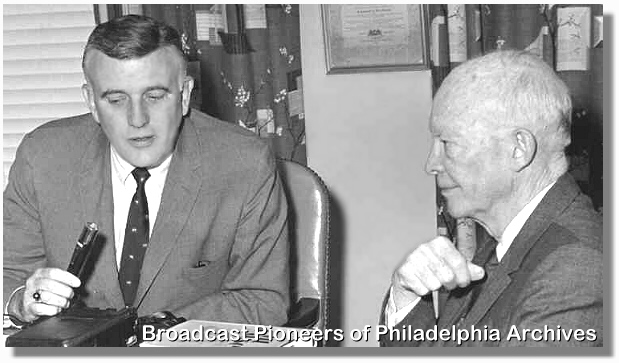 (Left to right) Ed Harvey and Dwight Eisenhower
Thursday, October 12, 1967

This picture was taken at Former President Dwight D. Eisenhower's office in Gettysburg, Pennsylvania and dates from October of 1967, about a year and a half before "Ike" died. He passed away on March 28, 1969. During his Presidency, President and Mrs. Eisenhower used the farm as a weekend retreat, a refuge in time of illness, and a comfortable meeting place for world leaders.
From 1961 to 1969, it was the Eisenhower's home during retirement. In 1967, President and Mrs. Eisenhower deeded their farm to the United States to be administered by the National Park Service as the Eisenhower National Historic Site. The interviewer was Broadcast Pioneers member Ed Harvey.
For years, we had this photo but not the audio. In 2009, hundreds of tapes that belonged to Ed Harvey were donated to us by his estate. We were delighted to find among these recordings this tape.
The original recording was done on a cassette recorder and then professional onto reel to reel audio tape for airing over WCAU Radio. Our audio was mastered off of that original air tape.
After listening to this historic recording, we needed to decide how we wished to present it to you. For some reason, the station didn't send an engineer with Ed. So it was Ed Harvey and President Eisenhower using one microphone, the one that came with the cassette machine. This was not the best of recording situations. To make matters worse, every time Ed (who held the mike) moved it back and forth, you would have noise. The noise which sounded like a half dozen clicks all put together was louder than the audio of the interview.
We needed to decide whether we wished to present it to you as originally recorded with this terrible noise or try to clean it up and make it much more enjoyable. We elected to go with the latter. There's a few places where we just couldn't remove the noise without affecting the content. On those occasions, we simply lowered the volume for a split second so that the noise would be suppressed and the audio conversation could be cut at a louder level.
We do NOT have an aircheck of the actual airing of the interview. So if someone recorded it off air and would like to donate a copy, we would love to receive it. The tape was aired the following day, Friday, October 13, 1967 on "The Talk of Philadelphia" on WCAU Radio. The program aired from 1 pm to 4 pm daily.
The interview runs about 28 minutes in length. At several places, Ed identifies himself and President Eisenhower. Why? Because the station inserted commercial breaks there and so after the break, they could roll right into the interview again. We left these places exactly as they were on the original air master.
Because of possible conflicts, Eisenhower resigned his rank as General before becoming president. After leaving office, on March 23, 1961, President Kennedy signed into law, a bill that restored Eisenhower's rank. Only George Washington and Dwight Eisenhower had their General military rank restored after serving the nation as President.
Because of this, when this interview took place, Eisenhower held the rank of General and that's why Ed Harvey kept referring to him as General instead of Mr. President.

From the official archives of the Broadcast Pioneers of Philadelphia
Photo originally donated by Broadcast Pioneers member Ed Harvey
Audio originally donated by the estate of Ed Harvey
Digital restoration of the audio done by Broadcast Pioneers historian Gerry Wilkinson
This recording does not fall under "fair use" in US copyright laws
© 2010, Broadcast Pioneers of Philadelphia
All Rights Reserved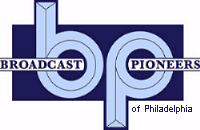 The e-mail address of the Broadcast Pioneers of Philadelphia is pioneers@broadcastpioneers.com