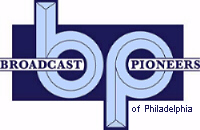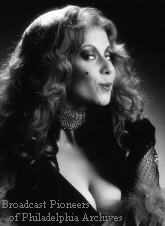 Karen Scioli as Stella
from "Saturday Night Dead"
KYW-TV

Karen Scioli may be best known for her portrayal of "Stella" (The Maneater from Manayunk) on KYW-TV's "Saturday Night Dead." The program aired at 1 am, right after "Saturday Night Live" from September 29, 1984 to February of 1990. Many personalities were on the show including John Zacherle, Jane "Pixanne" Norman, Bill "Wee Willie" Webber, Rip Taylor and Sally Starr.
On the show, she had several sidekicks including Bob Billbrough as "Hives," her faithful butler. Glenn Davish played Stella's Cousin Mel. The show was set in Stella's haunted condo and there were séances, moving furniture, reincarnation of characters and entrapment in a bottle of Mrs. Buttersworth pancake syrup. Also called "The Daughter of Desire," viewers sometimes wondered why there were so many bodies buried in her home.
In 1997, Karen and author Robert Dunbar wrote "Bats" in which Karen starred in a one woman show at the Society Hill Playhouse. It received Honorable Mention from the ALR New Play Search and made it into the semi-finals of the Pennsylvania State Theater's New Plays Festival.
Karen was featured in the film "Postcards from Paradise Park" in the year 2000. Six years later, she was featured in 2006's "American Scary" along with John Zacherle, Roland from Channel 10's "Shock Theater." Karen says that she was "an avid fan" of Zacherle's as a child.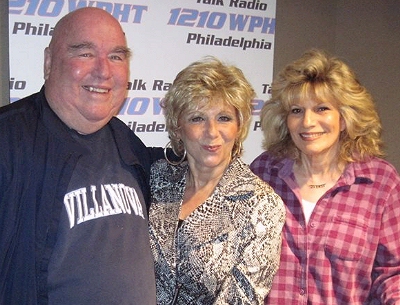 (Left to right) Broadcast Pioneers members Jim Murray, Karen Scioli as Rere Dinucci and Jackie Strauss
Jim, Jackie and member Steve Ross host "Remember When" on WPHT Radio
Saturday, September 14, 2013
Today, we know Karen Scioli as the amazing "Rere Dinucci" from WOGL's "Breakfast Club" with Ross Brittain and Valerie Knight.

From the official archives of the Broadcast Pioneers of Philadelphia
© 2006 & 2013, Broadcast Pioneers of Philadelphia
All Rights Reserved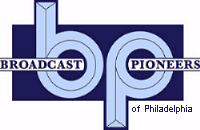 The e-mail address of the Broadcast Pioneers of Philadelphia is pioneers@broadcastpioneers.com