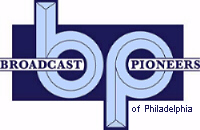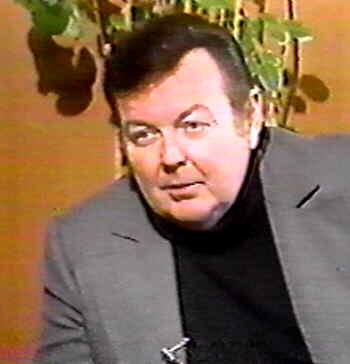 Broadcast Pioneers member Joe Earley
1982

There was a much loved program in Philadelphia for many years, that featured a mechanical man by the name of Mr. Rivets. Broadcast Pioneers member Joe Earley played him on four different Channel 3 programs.

There was a WPTZ program, "Let George Do It," which started in late 1951 and was hosted by Philadelphia TV personality George Skinner. We have not yet been able to establish a start date for the program but we do know that it was not on the air as of November 2, 1951 and was on by December 24th of that year. Shortly thereafter, the name changed to "Let Skinner Do It." Why? Well, no one can say for sure, but it is widely believed that pressure was put upon Channel 3 to change the program's name by the Mutual Broadcasting System. From 1946 to 1954, they aired a weekly 30 minute radio drama called "Let George Do It." Since the name of the broadcast was changed shortly after going on the air, it is generally accepted that it was done because of the name conflict with Mutual.

In the Spring of 1954, Skinner was doing "Let Skinner Do It," plus anchoring 15 minutes of news at noon and at 2 pm, "Skinner's Spotlight." Until June of 1952, the mechanical man was not part of the Channel 3 broadcast.

When Alan Scott took over (Spring of 1954), the show became "Let Scott Do It." Earley continued playing the part of Mr. Rivets, who had the personality of a 5 year old. Joe e-mailed that Stan Lee Broza, an old hand at WCAU for many years (and still host of the Channel 10 show, "The Children's Hour") was Program Director at WPTZ, Channel 3 in Philadelphia at the time. "In fact I'm sure it was Broza who coaxed Alan to come to Channel 3 to take over for George Skinner," said Earley. Scott got all three of Skinner's shows with "Skinner's Spotlight" becoming "Scott's Spotlight."

On Wednesday, April 21, 1954 at 7 pm, there was a special WPTZ, Channel 3 night at the Ceneter City location of the Gimbel Brothers Department Store. On hand were Rex Trailer, Pete Boyle, Jack Pyle, Alan Scott and Joe Earley as Mr. Rivets. Admission was free and it was a fundraising event for local charity.

No known audio of those programs exist. However, in 1954, some B&W footage was shot. Joe Earley told us that everything was live in those days. When either Scott (or Skinner) or Earley went on vacation, they shot black and white film clips so that it would seem like they both were there. Earley was never an employee of Channel 3. He worked free-lance so that when he took time off, it was always without pay. Joe always portrayed the "tin man" except for one time. Earley e-mailed: "...only once did someone take over for a week when I was on vacation, Charles Smith, a student at La Salle College at the time. I understand there was some kind of tin man on an ersatz western studio show before I showed up at WPTZ...." Maybe that's where the station got the idea.

The "Let Skinner Do It" and "Let Scott Do It" broadcasts (they aired in the 9 am to 10 am time period most of the show's life but did air from 11 am to 11:45 initially) were not really children's programs. It was a variety show (according to TV Guide) and aimed at the housewives at home. However, Mr. Rivets was added to give the shows some kid appeal. In that way, the little ones at home, might let Mom watch the TV while they waited for Mr. Rivets to appear. Broadcast Pioneers member Jane King, a.k.a Jane King Hall, was also part of the morning broadcasts. In May of 2001, we talked with Jane and she said that she was there mainly to do the commercials, but that she also had other parts on the broadcast, as needed.

When George left to go to New York City, he tried to work out a deal with the station to take the character "Mr. Rivets" (and Joe Earley) with him, according to Earley. However, the station said that they owned the rights and would not let Skinner use it in New York City. Since George would not be going to work at a Westinghouse owned station in New York (WPTZ was, at that time owned by Westinghouse), they didn't want their creative product used elsewhere. Thus, the idea was dropped by Skinner. However, after arriving in NYC, Skinner did develop the mechanical man theme into a character called Mr. Watts. This was done without Westinghouse's blessing, but the broadcast chain never forced the issue.

The Today Show (7 am to 9 am) which preceded "Let Scott Do It" had four availabilities for local news inserts; at 7:25, 7:55, 8:25 and 8:55 am. However, for awhile, Channel 3 used the last five minutes for something called "Today with Mr. Rivets." (The other three local newscasts were called "Today in Philadelphia.") When asked about this, Joe Earley said: "..."Today with Mr. Rivets" was a five minute tease at 8:55 as a lead-in to Let Scott Do It." Mr. Rivets did a little bit and the Scott show was heavily promoted.

A July 1955 advertisement referred to the show as"...something new and different every minute on Let Scott Do It. Fun and prizes for young and old alike." It also called Alan Scott, your "genial host."

From July 30, 1956 to August 2nd, the "Let Scott Do It" program originated part of the broadcast live from the New York Shipbuilding Company's yards in Camden, NJ. The cameras were already in place because on Saturday, July 28th, Channel 3 broadcast live the launching of the USS Van Voorhis live from that site.

In 1955, Scott and the Mr. Rivets character were so popular, that Stan Lee Broza (the Broadcast Pioneers of Philadelphia's first President) created a Saturday morning program from 9 am to 10 am called "Scott and the Mechanical Man." It was strictly a children's show. That program lasted for about a year and "Let Scott Do It" was last broadcast on Friday, December 21, 1956. By the time, the broadcast ended, the show had been telecast in color for several months.

At the beginning of 1956, ownership of Channel 3 changed hands. Westinghouse was forced to trade its TV station and KYW Radio for the NBC O&O stations in Cleveland. Westinghouse also received three million dollars in cash. After a court case, the government required that NBC return the Philadelphia stations to Westinghouse. However, in 1956 when Westinghouse took over in Ohio, they started a TV show similiar to "Let Scott Do It." It even had a mechanical man, according to Jerry Immel, an Atlanta voice over announcer.

Joe Earley e-mailed: I think "Let Skinner Do It" probably started in (1951 or) 1952. I started with Mr. Rivets after the Kovacs' morning show on NBC went off the air, probably (after) May... 1952. It was that summer I started as Mr. Rivets. Skinner's talkshow was already on the air, for how long I'm not sure. "Let George Do It" also rings a bell. I think that might have been the original title, but he had to change it for some legal reason. I vaguely remember something like that happening.

Joe Earley e-mailed again: I was Mr. Rivets. There were no other characters during Skinner's sojourn. When Scott took over, we really blossomed. In addition to Mr.Rivets, I played many different characters every day, depending on (the) story line, changing costume and makeup during cartoons and commercials. It was creating these characters (in the hundreds over the run of the show) that honed my skills in makeup and character development, which served me well in my historical re-creations in later years.

A print advertisement from July 1954 says: Want to brighten your mornings? LET SCOTT DO IT. Yes, Alan Scott, television's outstanding conversationalist, conducts a fascinating program every morning at 9:00. He discusses things of interest to every homemaker, plays good music and presents delightful cartoons and the amusing antics of the Mechanical Man whom the children love. Join Alan Scott, Jane King and the Mechanical Man every morning, Monday thru Friday, from 9:00 to 10:00. The whole family will enjoy "Let Scott Do It." Channel 3. WPTZ.

Joe Earley e-mailed: It was always "Mr. Rivets, the Mechanical Man." Sometimes, the Promotion Department would delete the" Mr. Rivets" and sometimes they would delete "The Mechanical Man." They weren't always that smart! The first half hour was Alan with talk or guests etc. with Jane King doing live commercials. The second half hour was Mr. Rivets and cartoons. Rivets and Alan would do funny bits, sometimes with story lines that would continue for the week, all ad lib from an outline. I would double in many different characters; great training for a young actor. Did all my own character make-up.

While Joe Earley was the one who really developed the Mr. Rivets character (it really blossomed during the Scott era), there was an earlier mechanical man on the show. Veteran broadcaster Ed Hunt tells us this story. He says that his cousin was Earle Gill, a Channel 3 staff announcer.

Between his junior and senior years in high school, Ed Hunt got a summer job at WPTZ, arranged by Cousin Earle. He portrayed a tin man called Mr. Ferris Rivets and was made out of parts borrowed from the old Ernie Kovacs' TV set. Cameraman Kenny Snyder was pressed into service as an actor who played a mad scientist. He created this tin mechanical man who, much like the Frankenstein monster, went totally out of control.

Hunt mentioned to us in an April 2004 telephone conversation that the little kids were afraid of Mr. Ferris Rivets. He was paid $5 a show ($25 a week). It was all cash and came in a little brown envelope from the so-called "Director's Fund." Del Hostetler was the program's director.

In August of 1952, Hunt reminded the station that he was returning to high school shortly after that date and would not be able to continue with the character. It was at that time that they tapped Joe Earley to join the cast. A new custom made suit was constructed especially for Earley who developed the character into the warm, child-like character that most of us fondly remember.
Ron Arcain, a visitor to our website e-mailed:
I enjoyed watching as a child, growing up in Camden and Pennsauken, New Jersey. I also remember a baby on one of the morning shows from Philly. They would show her in her playpen etc. I remember her name as being Miss Terry. I was wondering who she was and what she is doing now. She would be at least 50 now or even older. I can't remember exactly how old I was when I would see her on TV or what show she was on.
Miss Terry was, indeed, on "Let Scott Do It." She was born in April of 1953. Not alot of information is available about her. However, here's a photo of Terry during her 3rd birthday party. Look at the photo!
--------------------

Known TV Time Periods

December 24, 1951 - 11 am to 11:45, Monday thru Friday (Let George Do It)
1952 thru 1956 - 9 am to 10 am, Monday thru Friday (Let Skinner/Scott Do It)
1955 - 9 am to 10 am, Saturdays (Scott & the Mechanical Man)

From the official archives of the Broadcast Pioneers of Philadelphia
Text written and researched by Broadcast Pioneers member Gerry Wilkinson
Photo originally donated by Broadcast Pioneers member Mike Muderick
Picture used with the permission and authority of KYW-TV, Channel 3 in Philadelphia
© 2007 & 2011, Broadcast Pioneers of Philadelphia
All Rights Reserved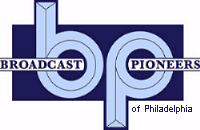 The e-mail address of the Broadcast Pioneers of Philadelphia is pioneers@broadcastpioneers.com