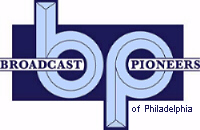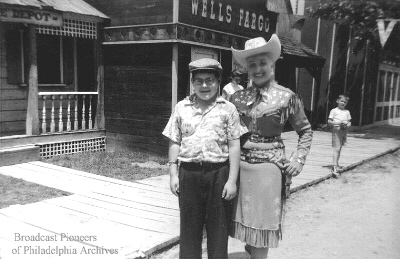 (Left) Ed Sciaky and Sally Starr (right)
Riverview Beach Park
Pennsville, New Jersey
1959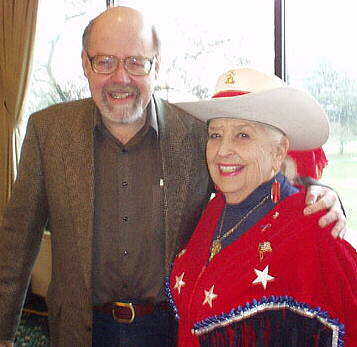 (Left) Ed Sciaky and Sally Starr (right)
Broadcast Pioneers Luncheon
Bala Golf Club, Philadelphia
Wednesday, March 20, 2002
One nice day in 1959, Broadcast Pioneers member Ed Sciaky and his mom took one of the Wilson Line cruise ships down the Delaware River to Riverview Beach Park in Pennsville, New Jersey. During their time at the park, they ran into Sally Starr who was making an appearance at her "Frontier Land."

Riverview Beach Park was located adjacent to the Delaware River on the eastern side of the waterway in Pennsville, New Jersey in the northwest corner of Salem County. It was on Route 49 (Broadway Avenue), just south of the Delaware Memorial Bridge (U.S. Interstate 295) which connects New Jersey to Wilmington, Delaware. By the way, it is the southernmost bridge on the Delaware. Pennsville is across the river from New Castle, Delaware.

The site is now used as a picnic area for neighboring residents, but at one time it was a well known amusement park. Originally called, "The Silver Grove Picnic Grounds," it was founded in 1883, a time when most amusement parks were started. It was part of the "Silver Grove Hotel." Visitors could have purchased ice cream and other goodies and eat under a large covered pavilion. It was a place where concerts, festivals and other activities were held.

In 1889, at an annual farmer's gathering, they installed a merry-go-round which was run by human beings pushing it. The next year, it became horse powered. In 1891, it was enlarged to include the merry-go-round which had become a permanent fixture. They also added swings, picnic tables, a dance area and later a place for silent motion pictures.

1914 saw the park being retitled, "Riverview Beach." In reality, Riverview Beach never did have much of a beach area but was more for boats. In 1922, it was renamed "the Riverview Beach Amusement Park." During that year, the park again added space by buying up a adjoining 30 acre farm. At that time, they added a slide, waterslide, toy hanging airplanes and a small Ferris wheel. In the mid twenties, there was a "Pig Slide" where a porker was sent down a slide into a pit of mud.

During the Great Depression (1936), an Olympic sized swimming pool was added as part of a public works program. It held a half million gallons of water and was built with a budget of $150,000, paid for by the federal government.

After World War II, many people took advantage of the huge excursion ships of Wilson Line which had been in business for a century or so. These boats ferried 800 passengers from Philadelphia to the park by traveling down the Delaware River to the now called "Riverview Beach Park." It was a short trip, about 34 miles and took about 75 minutes each direction. The company ran two ships; one was the SS Liberty Belle and the other was the SS Delaware Belle.

The park's roller coaster was called, "the Hummingbird." It was a wooden one referred to as an "out and back" model and was built in 1922 by Miller & Baker. Later, an additional one was added and called, "the Wildcat." There was also one called "The Deep Dipper." Other rides included an enlarged Ferris wheel, a caterpillar ride, a whip, battery powered racing car, a small railroad, pony rides and for awhile, zebra rides.

The park also had a miniature edition of a Mississippi showboat which ran on a large lake. You could also rent rowboats. The lake contained several small islands with various flower gardens. It had footbridges between the islands. It also contained a skating pavilion which featured roller skating.

The park also had a nice ballroom where weekly dances were held. Some Friday evenings, there were fireworks launched from the wharf or a barge nearby.

For several years in the late fifties and early sixties, TV legend Sally Starr (a member of the Broadcast Pioneers of Philadelphia), "Our Gal Sal" performed at the park with "Pal," her horse. That section of Riverview was called, "Frontierland." Sally has said, "It was one of the most beautiful places and times in my life."

During 1961, Wilson Lines decided to stop its ferry service. Now one had to travel by automobile or public transportation. In 1966, a terrible fire destroyed one of the roller coasters and their old mill. The park continued running but without on the roller coaster, which was never rebuilt. The next year, 1967, the park closed. 1968 saw the property transferred with the rides be dismantled and sold off to the highest bidder.

Now, this 63 acre area (about six blocks by four blocks) is a picnic park owned by the Township of Pennsville. It has no rides or amusements. Most of the lake still exists and a small, but nice children's playground was erected along with tennis courts, an old fasioned gazebo and a water fountain display. The "Riverview Beach Park" archway still straddles the entrance to the park from Route 49.

From the official archives of the Broadcast Pioneers of Philadelphia
1959 Photo originally donated by Broadcast Pioneers member Ed Sciaky
2002 photo originally posted on Sally Starr's website, photo taken by Peggy Ulatouski
Written and researched by Broadcast Pioneers member Gerry Wilkinson
© 2006, All Rights Reserved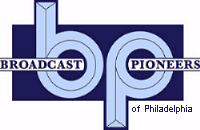 The e-mail address of the Broadcast Pioneers of Philadelphia is pioneers@broadcastpioneers.com