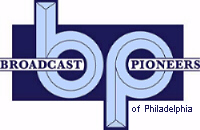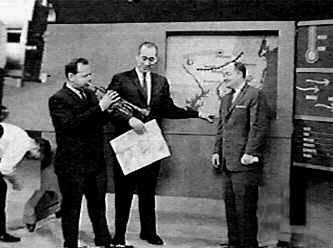 (Left to right) WRCV-TV, Channel 3 meteorologist Wally Kinnan
WCAU-TV, Channel 10 weathercaster Herb Clarke
and WFIL-TV, Channel 6 meteorologist Francis Davis
at the Channel 10 studios
circa 1960

On the 4 pm newscast on Wednesday, November 27, 2002, Broadcast Pioneers member Glenn "Hurricane" Schwartz did a tribute to legendary weathercaster Wally Kinnan. Wally worked at Channel 3 (then WRCV-TV) in Philadelphia from 1957 to 1965. Kinnan was Schwartz' inspiration to become a meteorologist. What is interesting is that the piece ran on Channel 10, a competitor. However, WRCV-TV, Channel 3 was owned by NBC during Kinnan's tenure in Philadelphia. When this report aired, WCAU, Channel 10 was owned by NBC.

During the piece, called a "package," Glenn mentions that Wally was "traded" to Cleveland for Mike Douglas. The long story is that Wally Kinnan's contract was with NBC, not Channel 3. When the FCC required Westinghouse and NBC to reverse the 1956 trade of stations (That's how NBC got Channel 3 in 1956), his employer, NBC, transferred him to their "new" Cleveland station. Since Westinghouse had owned that Ohio outlet where Mike Douglas' show was produced, he was transferred by his employer (Westinghouse) to their "new station in Philadelphia. It wasn't actually a trade. It was two employers transferring key employees to other locations.

From the official archives of the Broadcast Pioneers of Philadelphia
Permission for usage of photo & video for this website granted to the Broadcast Pioneers by WCAU, NBC-10
© 2006, All Rights Reserved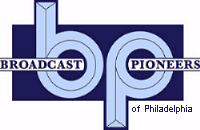 The e-mail address of the Broadcast Pioneers of Philadelphia is pioneers@broadcastpioneers.com