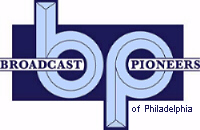 WGL Radio was Philadelphia's first licensed radio station. The call letters were assigned on Wednesday, February 1, 1922 and its license issued a week later on February 8th. The station was owned by Thomas F. J. Howlett and documents show that its address of record was 2303 North Broad Street in North Philadelphia. It was less than a half block from the famed Uptown Theater and four blocks from Temple University.

Some Internet websites have shown the address of this station as 2302 North Broad Street. However, we have found actual government documents showing the address as 2303 not 2302. We thereafter accept the 2303 North Broad Street as the correct address of the station.

WGL may have been an operation like WIAD which later became WDAS. In the early years, WIAD opearted from the living room of its owner's Ocean City, NJ home, Howard Miller. WGL was probably an operation like this.

WGL was the 42nd station licensed in the entire United States. Licenses back then were issued by the Bureau of Navigation, Radio Services Division, of the United States Department of Commerce. Philadelphia's next licensed station was WFI (forerunner to WFIL) issued on Saturday, March 18, 1922. WFI was the 90th station in the country. So one can see that WGL was certainly a pioneer not only in this market but also in our entire nation.

In the Radio Service Bulletin of March 1, 1922, the station is listed as being licensed at 250 and 300 meters. However, shortly thereafter, a government document shows that WGL was on the air by March 10, 1922 at 360 meters broadcasting news, lectures and concerts.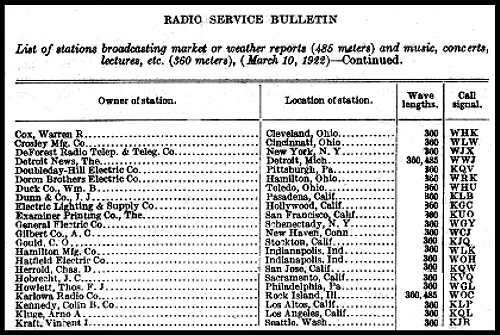 Later items show that it had stayed on the 360 khz allocation. There seems to be some question whether they stayed on that frequency once the government allowed stations to move to other dial positions. There have been reports that they may have moved to 261 meters or 330 meters. We cannot confirm either of these frequencies as belonging to WGL as of this time.

Page 267 of the Consolidated Radio Call Book, 4th edition, shows that in May of 1922, the date of publication, WGL had no broadcast schedule. It seemed to have broadcast at non-regular times. It could have also had a regular schedule but just not been listed.

However, a check of area newspapers shows WFI and WIP being on the air with a regular schedule. Keep in mind that at this time, the Philadelphia newspapers did not think it newsworthy to list radio programs initially. The first schedules were posted in the paid advertising for the department stores that owned WFI and WIP.

By the last spring of 1922, some newspapers were listing radio station schedules. None showed WGL Radio. However, the early listings were very sketchy and incomplete.

WGL may have been thought to not warrant space by the newspapers. Possibly, they were not listed because they did not purchase advertising space elsewhere in the publication. Gimbel Brothers Department Store, owners of WIP and Strawbridge and Clothier Department Store, owners of WFI, both purchased daily full-page ads in the local papers. That may have been enough incentive to give them free listings. However, when WCAU came on the air in late spring of 1922, they did get a little listing in the newspaper, but nowhere near as much space as WFI and WIP.

On December 31, 1924, WGL Radio was deleted from the government rolls as a licensed radio station. At the time of their departure, they were authorized to broadcast with a power of 500 watts.

Two years after the WGL call letters were surrendered back to the government, the call WGL was assigned to a New York radio station on January 3, 1927. On November 11, 1928, that station's call letters were changed to WOV. On that same date, the WGL call was reassigned to a Fort Wayne, Indiana station, which still operates on 1250 on the AM dial today.

In conclusion, our research has shown conclusively that WGL was not only the first licensed radio station in the city, but the first radio station to broadcast in this area with a government license. They beat WFI. They beat WIP. They beat everybody. THEY WERE FIRST!!!

From the official archives of the Broadcast Pioneers of Philadelphia
© 2007, All Rights Reserved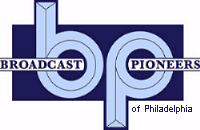 The e-mail address of the Broadcast Pioneers of Philadelphia is pioneers@broadcastpioneers.com