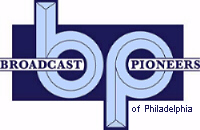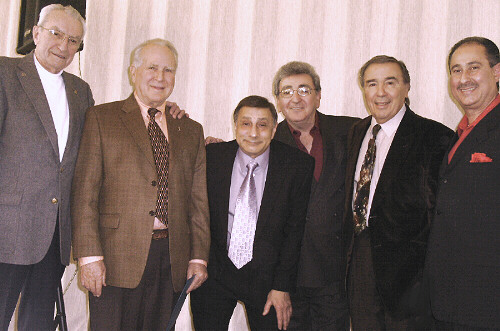 (left to right) Bill Russell, Lew Klein, Frank Maffei, Joe Terry, Pat Delsi & Tommy DiPietro
Broadcast Pioneers of Philadelphia Luncheon
Wednesday, March 21, 2007

Broadcast Pioneers member Lew Klein was our speaker at our March 21, 2007 luncheon. Lew was our 13th president and served in that office in 1975 and 1976. In 1982, Klein was our "Person of the Year" and inducted into our "Hall of Fame" in 1993.
Since Lew was involved with Bandstand, we felt that it's only fitting that we added to the program, Philly's own, "Danny & the Juniors" who performed for us at the luncheon. This group appeared on "American Bandstand" over 50 times over the life of the TV series. Frank Maffei & Joe Terry are new members of the Broadcast Pioneers and original personnel in Danny & the Juniors. Frank brought his cousin, Tommy DiPeitro along as part of the group. Member Corky Warren of WVLT Radio introduced the recording group.
Lew Klein was at Channel 6 in the infancy of television. He was a director, producer and executive producer of "American Bandstand." When Walter Annenberg sold off his TV stations, Capital Cities purchased Channel 6 and Lew Klein and his partner George Koehler (Channel 6's General Manager) bought the others forming Gateway Communications. Lew was also a professor of communications at Temple University for a half-century.
Lew was introduced by that rascally ol' Captain, W. Carter Merbreier. In 1967, Lew Klein and Carter (captain Noah) created "Captain Noah's Magical Ark" over a few drinks and an oyster lunch at the Union League. The show ran for over a quarter of a century.
It took place on Wednesday, March 21st, at the beautiful and historic Bala Golf Club, 2200 Belmont Avenue (across the street from the State Police) in the Wynnefield section of Philadelphia.
Lew Klein told us that he's going to ask Broadcast Pioneers member Ed Cunningham to come forward and speak for a minute or two about the history of children's hosts. Ed's most recent Channel 12 show is about Philadelphia TV Kids Show Hosts. This program was produced with the assistance of the Broadcast Pioneers of Philadelphia. Our president, Gerry Wilkinson, was the program's "project consultant."
Meet and greet (networking) started at 12 noon with a full-course lunch including salad, coffee or tea and dessert being served at 12:30 pm. Plus a crudité and cheese table. Cash bar was available! We must tell you, the food was WONDERFUL at this March luncheon!
Plus, we also had our "Salute to the Engineers and Technicians."

We honored members Bill Russell from Channel 6 and Ralph "Bud" Galow from KYW Radio.

It was a great time!
Our emcee for the "Salute to the Engineers and Technicians" was Broadcast Pioneers member Mike Nise. Mike's dad, Frank Nise was responsible in the transmission of the mixed audio version of the musical soundtrack, Fantasia, performed by the Philadelphia Orchestra. While the orchestra was here in Philadelphia, the audio was transmitted live to the Walt Disney studios in California where it was recorded.
COMPLETE AUDIO OF THE EVENT!
First, we started with our Salute to the Engineers and Technicians.
Listen to Bill Russell
Hear "Bud" Galow
Next, we heard from Danny & the Juniors. The lead singer, member Joe Terry talked about American Bandstand and what it did for their career.
Listen to what Joe Terry Said
Then we came to the main event, our speaker, the legendary Lew Klein. He was introduced by member W. Carter Merbreier, Captain Noah.
Hear What the Captain Said
Lew Klein spoke and brought along his former college student, member Ed Cunningham of WHYY-TV.
Listen to both of them
VIDEO CLIP!
Here's a video excerpt of what Lew said. In this clip, he talks about Broadcast Pioneers member Howard Jones who portrayed "Happy the Clown."
Watch the Video Clip

From the official archives of the Broadcast Pioneers of Philadelphia
Photo of Bill Russell originally donated by Broadcast Pioneers member Bob Kravitz
Other Photos originally donated by Broadcast Pioneers member Gerry Wilkinson
© 2007, Broadcast Pioneers of Philadelphia
All Rights Reserved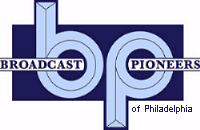 The e-mail address of the Broadcast Pioneers of Philadelphia is pioneers@broadcastpioneers.com