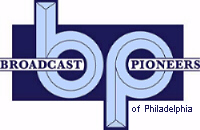 Broadcast Pioneers member John Facenda
Broadcast Pioneers Banquet
1971
In 1958 on WCAU Radio, Broadcast Pioneers member John Facenda was doing a 5-minute radio feature called, "Behind the Headlines." Here's one of those programs from 1958.
Be advised! The original tape made from the original transcription recording was full of pops, clicks and an extreme amount of surface noise (both hiss and hum). There were also major problems with skips and repeats in the audio where the original transcription was damaged. We have reconstructed and cleaned the audio. While it isn't perfect (not even close), it is audible and listenable. On the original, you could hardly hear John's voice and quite often, you had no idea what he was saying. We lost about 40 to 50 seconds of audio because of the skips and repeats and trying to make the program make sense. We feel that we have succeeded in keeping the original feel and message of the original broadcast.

From the official archives of the Broadcast Pioneers of Philadelphia
Photo originally donated by Broadcast Pioneers member Bob Dome
Audio originally donated by Broadcast Pioneers member Mike Muderick
© 2008, Broadcast Pioneers of Philadelphia
All Rights Reserved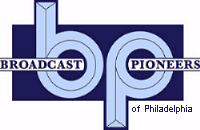 The e-mail address of the Broadcast Pioneers of Philadelphia is pioneers@broadcastpioneers.com