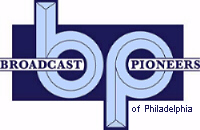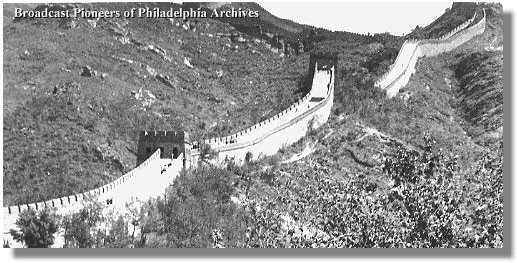 The Great Wall of China
1973
In the summer of 1971, it was announced that U.S. President Richard Nixon would visit "The People's Republic of China." The trip actually took place in late February of the next year, February 21st through the 28th. The American press covered the journey and here in Philadelphia, KYW Newsradio, less than 7 years old, also had coverage. What have here are some excerpts from the Nixon visit to China.
We have excerpts from three different days, Friday, February 25th through and including Sunday, February 27th. None of the KYW Newsradio newscasters have been identified. If you can help, please e-mail us.
FRIDAY, FEBRUARY 25, 1972
Our only report from that day takes place that evening, at 10:02 pm. One thing that is apparent to listening to these clips, the reports by news reporters were much longer and detailed than today. This 3:18 clip starts with a report from Group W's Jim McManus in the Chinese capital, Peking, now called Beijing. Mrs. Patricia Nixon did some shopping that day and ran into the wife of the Soviet ambassador (who said nothing to Mrs. Nixon). Next, there's report from the Soviet capital of Moscow.
William Brown of New York City, a visitor to our website e-mailed that he thought this clip was anchored by KYW Newsman Dan Marrow.

SATURDAY, FBERUARY 26, 1972
We have three excerpts from Saturday, the 26th. The first one dates from that afternoon, at 12:03 pm. This 3:10 excerpt brings us up-to-date on happenings that took place overnight (U.S. time).
At 1:06 pm, there's a report that talks about the art figures, swans, that President Nixon gave to Chairman Mao. Next, there were other things going on that day. Space was one of the topics. The USSR had Lunar 20, an unmanned vehicle which made a short stay on the lunar surface. The next day, the launch of Pioneer 10 (sometimes called Pioneer-F) was scheduled. Although it was actually launched until a few days later, there's a Jim Slade, Group W report about the U.S. spacecraft's mission. That report, itself, is 96 seconds long. Today, you would be lucky to hear 30 seconds.
Listen in Real Audio!
Listen in Windows Media!
Our final clip (3:43 in length) for Saturday comes from 5:07 pm and wraps up the day's activites (it would be the middle of the night in China).
Listen in Real Audio!
Listen in Windows Media!

SUNDAY, FEBRUARY 27, 1972
We have three clips from Sunday. The first one (4:10 in length) comes from 10:37 am. It deals with the South Vietnamese government's reaction to the President's trip to China.
Next from 3:04 pm, here's a 2:09 clip. Some news from China and more about South Vietnam's feelings about Richard Nixon's visit.
After a commercial break, the news about China continued with a report from Paris and other interesting information about the visit. This last clip is 4:43 in length.

From the official archives of the Broadcast Pioneers of Philadelphia
Audio originally donated by Broadcast Pioneers member Gerry Wilkinson
Photo originally donated by Broadcast Pioneers member Marciarose Shestack
© 2009, Broadcast Pioneers of Philadelphia
All Rights Reserved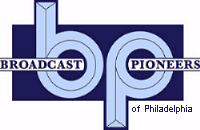 The e-mail address of the Broadcast Pioneers of Philadelphia is pioneers@broadcastpioneers.com