OFFICERS &
BOARD OF DIRECTORS
1971 - 1972 OFFICERS
Chairman of the Board
Bob Dome
President
Gene McCurdy

First Vice-President
Les Waas

Second Vice-President
WARREN KRAETZER
Third Vice-President
JOHN F. HORSTMANN, JR.
Treasurer
JO ORISTAGLIO
Legal Advisor
LAWRENCE D. BIELE, ESQ.
1971 - 1972 BOARD MEMBERS
Three Year Term
MAXWELL GLENN
LEW KLEIN
DR. LEON LEVY
PAT STANTON
LEN STEVENS
GEORGE WALSH
Two Year Term
WILLIAM BANKS
CHESTER COOPER
LAWRENCE COOPER
JERRY LEE
MAX M. LEON
One Year Term
WILLIAM BERRY, III
WALT ERICKSON
BERNARD KRAMER
HELEN LIPKIN
--------------------
Advisory Board

Thelma Melrose Davies
John Morgan Davis
Bob Dome
Raymond Green
Ralph Lopatin
Note: While we do not have an actual list of board members for this year, we do have minutes from a May 1972 board meeting where it lists who was in attendance. Also, we know how the structure of the organization worked at that time so we were able to reconstruct a list of the board.
COMMITTEES
PERSON OF THE YEAR
Bob Dome
John Horstmann
Sally Burns
Jo Oristaglio
Les Waas
George Walsh
STORY (Salute To Our Responsible Youth)*
Thelma Davis
Bob Dome
Ray Green
Helen Lipkin
PENSION FUND**
Chet Cooper
Bob Dome
Bernard Kramer
* This was a committee that worked with the STORY organization to honor young people. STORY was not actually part of the Broadcast Pioneers of Philadelphia.
** This committee looked into the possibility of establishing a pension fund for members (for a fee). It later proved to be not cost effective.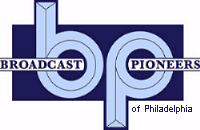 The e-mail address of the Broadcast Pioneers of Philadelphia is pioneers@broadcastpioneers.com