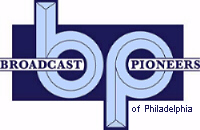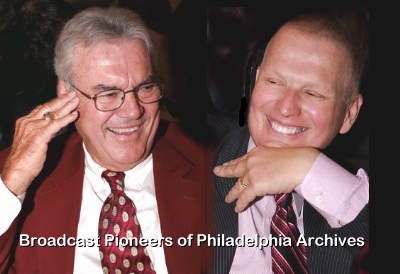 (left to right) Tom Brookshier and Gary Papa
Broadcast Pioneers of Philadelphia Banquet
Bala Golf Club, Philadelphia
November 16, 2007
On Friday, November 17, 2007, we held our annual Broadcast Pioneers banquet where we induct the best broadcasters of our market into our Hall of Fame. Two of the inductees that evening were Tom Brookshier and Gary Papa.
From Gerry Wilkinson, our historian:
As I searched through our photo archive for a picture to use for our mystery snapshot for April 2012, I kept being drawn back to two photos, over and over. One was of Tom Brookshier and the other was Gary Papa.

These two were both fighters. No, not boxers, but they were people who wouldn't give up. Both fought cancer and both passed away from it. In fact, their deaths were only a half year apart. They both fought until the end.

Through my time with Broadcast Pioneers, I got to be really friendly with Tom. I only saw Gary occasionally, but wished that I knew him better. I'm sure I would have really liked him.

Anyhow, I kept being drawn back to these two photos over and over and finally decided to merge them into one picture for our mystery photo usage.

However, I thought you might also like to see the two original pictures. They were both good photos of good people.
Tom Brookshier
Broadcast Pioneers of Philadelphia Banquet
Bala Golf Club, Philadelphia
November 16, 2007

Gary Papa
Broadcast Pioneers of Philadelphia Banquet
Bala Golf Club, Philadelphia
November 16, 2007

From the official archives of the Broadcast Pioneers of Philadelphia
Photos originally taken by Broadcast Pioneers Board Member Bob Kravitz
© 2012, Broadcast Pioneers of Philadelphia
All Rights Reserved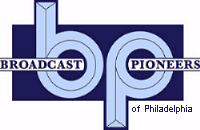 The e-mail address of the Broadcast Pioneers of Philadelphia is pioneers@broadcastpioneers.com