Funeral arrangements have been made. A Mass of Christian Burial will be held on Thursday morning, August 2nd at 10 am. The location is at the Cathedral Basilica of Saints Peter and Paul, 1723 Race Street (on the Parkway) in Center City Philadelphia.
Joe "Butterball" Tamburro passed away on Friday, July 27th at 10 am. A WDAS spokesperson said that Butter was at his Haverford home at the time of his death. They also stated that the 70 year old air personality had been battling complications from heart disease and diabetes. Butter leaves behind a wife, Cynthia and five adult children and many grandchildren.
Listen to Butter do a Butterball Dance commercial from 1970!
Joseph "Butter" Tamburro has been sending an atmosphere of warmth, emotion, and remembrance across the airwaves and into the hearts of faithful listeners for almost a half century.
An Italian-American from South Philadelphia, Butter (sometimes called Butterball) was always an avid radio listener and admirer of rhythm and blues. Aspiring to someday become a radio disc jockey, he played records at record hops around town for Broadcast Pioneers member Hy Lit, a legendary Philadelphia air personality.
In 1964, Butter was able to get his foot in the door of WDAS as an advertising salesman. He was nicknamed "Butterball" by Jimmy Bishop, the program director at the time. Sometime later, Butter became a part-time DJ and he began doing the first oldies show on black radio. Listeners loved both the oldies show and Butterball, and both have remained a hit on WDAS.
As Program Director for WDAS, Butter was highly attuned to what listeners wanted to hear and closely monitored the sound of the station. Working with the exceptionally skilled and professional WDAS disc jockeys, he was able to balance their talents to achieve high station quality and ratings. Extremely committed to the community, he worked diligently behind the scenes for many causes, yet he never seeks personal glory or recognition for his efforts.
"Butter" talked to his listeners rather than at them, which created special warmth that comes through the radio. People thought of him as a friend. He felt that the reason for the soothing sound in his voice is the fact that "I smile when I speak on the air."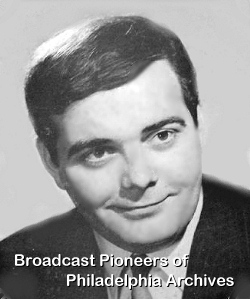 Joe Tamburro
1967
Throughout the years, Butterball has been honored for excellence and service by two of the City of Philadelphia's former mayors (W. Wilson Goode and William Green). The NAACP, F.B.I., Philadelphia City Council, Pennsylvania State Legislature, American Jewish Committee, Martin Luther King Center for Change, and numerous other organizations have also paid tribute to Joe Tamburro.
He has received awards and honors in the music industry from The Black Music Association, and from many trade publications such as R&R, Billboard Monitor, B.R.E. Magazine, Gavin Magazine, Impact and Jack The Rapper. Joe was the 1997 recipient of the Ken Garland Lifetime Achievement Award from the March of Dimes' A.I.R. Awards, and a 1997 Philadelphia Music Alliance inductee onto the Art Bank's Walk of Fame.
Joe was the 1998 recipient of the Salute to Excellence Award. However, of all of his various accolades, he held dearest the love he felt from his listeners that welcomed him into their homes each week as they listened to his broadcast and continued to support his show and WDAS-FM with high ratings.
Joseph Tamburro, born 1942, collected old records and classic cars. He once aspired to become a race car driver. He was also a skilled auto mechanic, a lover of good foods, and a connoisseur of restaurants.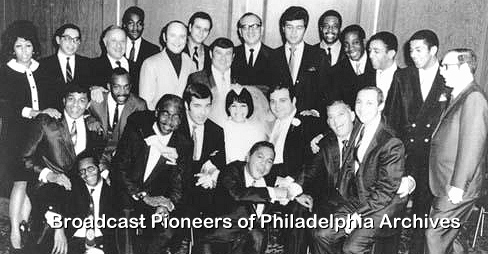 Wedding photo of Joe Tamburro
January 1968
(Photo originally donated by Broadcast Pioneers member Sam Lit & Hy Lit Technologies)
(Back row clockwise from left to right)
Singer Dee Dee Sharp, Alex Araco from Atco, record distributer Matty Singer (the Humdinger), Kenny Gamble, Larry Cohen from Jamie Records, Jerry Green of Lost Nite Records, "Broadway" Eddie Warhoftig, Al Melnick, owner of A&L distributors and a partner of Amy-Mala-Bell Records, promotion man Steve Schulman, Motown promotion man Weldon McDougal, Singer Jerry Butler, promo man Chuck Fly, Universal promo man Allan Lott, Arista promo man Barry Abrams
(Next row, left to right)
Singer Bunny Sigler, promo man Harold Burnside (front on floor), Leon Huff,
WDAS Jock Kae Williams, WIBG Jock Hy Lit, Cynthia Tamburro (bride),
Joe "Butterball" Tamburro (groom), Harry Rosen, WHAT Jock Georgie Woods (on floor),
Promotion man Matty "the Humdinger" Singer, and Ernie Santone from Chips
Broadcast Pioneers' Chairman of the Board Gerry Wilkinson worked with Tamburro for more than a decade. Gerry says:
We'll miss my old friend. I was Operations Manager at WDAS AM & FM from 1970 to 1980. During this time, Joe took the reins of WDAS-FM and built it into the powerhouse that it is today. There were daily management meeting held in "the other building," in the office of General Manager Bob Klein who conceived the WDAS-FM format concept.

The meetings would usually start out with a quick discussion of the overnight sporting events. Butter and I looked at each other with blank stares. They continued to talk about the Sixers game from the previous evening. I said to Butter, "I think the Sixers use a basketball." Joe said, "don't forget the bat and goalie mask." Everyone broke up.

Butter was a funny guy with lots of charisma. He had a good musical ear and like his mentor, Jimmy Bishop, they could pick the hits.

When I came to WDAS in 1970, Tamburro was doing afternoon drive on AM. Several years later, he was doing the same shift on FM.

We broke a lot of hits. We had such a big influence nationally that we would get the first play of new releases which we called, "World Premieres." I remember Butter playing advanced copies of the Jackson 5 hits, most of the other Motown artists, all of the Philly International stuff and plenty from Atlantic. By the time, the nation started playing the records, they were already in the Top 10 with us.

I remember sitting in Jimmy Bishop's office with Butter, Georgie Woods and someone else (I forget who) when the promotion man from Motown showed up with an advanced copy of the new Marvin Gaye recording. It certainly was different than anything else Gaye ever did. After listening to it, everyone looked at each other. "Marvin must be crazy," someone said. Everyone thought it was a bomb. Everyone except to Joe Tamburro.

The 5:45 pm news was ending. Joe grabbed the record. (Yes, we actually played records then). About ten minutes later, we could hear him cueing it up. Then we realized that Butter had already played his last record. It's 6 pm and time for Jimmy Bishop's four hour air shift.

We came out of the station ID with the opening notes of the new record. Jimmy was in his office. He heard it and said something unprintable here and ran into the air studio (it was only about 10 feet away).

Within 60 seconds, the request lines was ringing off the hook. The audience loved it. All of us just stood there with our mouths open, unbelieving what was happening. Butter heard what no one else did. The song eventually sold two million copies. Its name, "What's Going On." Butter had that great musical ear. We will all miss him.
Listen to Butter from the fall of 1970. WDAS was running a contest called "Horror Castle." Listeners had to guess who would arrive next. There were six cuts on the tape cartridge so callers had a one in six chance of winning. On this cut, Butter arrives at the Horror Castle.
Listen with the Windows Media Player!
Carmen Malizia, a visitor to our website e-mailed:
My earliest remembrance of Butter is around 1965 or 66, whenever he did the evening shift, I would actually drive to "the park" and wait to catch him getting out of his car. A group of us would cruise there. I remember a white Cadillac and this big guy getting out. I listened to every show and after I was in the Army, I had friend tape his shows and played it, in Vietnam and Germany. The GI's loved it.

In 1970, I was on AFVN (American Forces Vietnam Network) for 3 months and copied Butter's style. The GI's loved it but my first Sergeant didn't. The night I said "is it getting next to mama, well then get next to me and let be good to ya" was my last time I would be on AFVN, but as you know that was pure Butter!