To the Broadcast Pioneers, Dick Clark will always be "The World's Oldest Teenager." In 1980, we honored Dick Clark as our "Person of the Year," and twelve years later, he was inducted into our organization's "Hall of Fame. Dick Clark passed away on Wednesday, April 18, 2012.
Broadcast Pioneers' Chairman of the Board Gerry Wilkinson said:
Dick Clark was a legend. He was one of us. He was certainly, very much so, a broadcast pioneer. He will be missed by everyone, but he's not gone because he will live on in our memories. It's been said that you never truly die as long as someone remembers you. Well Dick, 311 million Americans remember you. He was a part of our lives, a part of American culture and now he becomes a man of the ages. Philadelphia and the United States will always remember Dick Clark. He changed our industry more than he ever could know.
Broadcast Pioneers member Bernie Prazenica, President and General Manager of WPVI-TV said:
Dick Clark was one of the great pioneers at WFIL-TV (now WPVI-TV). He will always be a part of our family and our legacy, and we offer our deepest condolences to his family.
Broadcast Pioneers member Bill Russell was the lighting and stage manager for WFIL-TV. He worked on "American Bandstand" from the very first network show and continued until the program left Philadelphia. He told Broadcast Pioneers:
Dick liked his job and liked people who knew their vocation. We all really enjoyed it and we all did a damn good job, and it showed. He was a very gracious man. I loved the guy.
By the way, Bill Russell also told us the story of when Dick Clark first came to Philadelphia, he was driving an old Studebaker automobile. The car had such trouble that the crew had to push him daily to get it started. Finally, they said, according to Bill, "Dick, you'll have to get a new car. We just can't keep doing this. The next car, Dick Clark had a new car." Our question is: If the crew was pushing him to start the car for him to head home, who was pushing him in the morning to get him to the station?
Broadcast Pioneers member Bonnie Nadley Silvestri, also known by her nickname "Bandstand Bonnie," danced on the network show here in Philadelphia during the early sixties. It took her two buses and the El to get there and back. She told Broadcast Pioneers:
I danced on American Bandstand numerous times in 1961. Seeing Dick Clark in person and dancing on his show is something I will never forget. If we danced in front of the camera for too long of a time, Dick would say for us to move to the back of the dance floor. The people watching the show couldn't hear him talking to us because they only heard the music. He wanted everybody to have a chance to be seen on TV, which was the only fair thing to do.

In 1977, my dad, who wrote for a newspaper in Philadelphia, interviewed Dick Clark for his column "Scene Around with Harry Nadley." I still have the newspaper with that interview in it. Twenty years later, in 1997, I met Dick Clark at the Bandstand Grill, and I showed him the picture of himself with my dad taken after the interview. Dick remembered the suit he was wearing in the picture and my dad interviewing him.

We spoke for a little while, and he autographed the picture for me. Every so often, I would write to Dick, telling him that he was an inspiration to so many people. The last letter I sent was after the Broadcast Pioneers Luncheon on February 15th, 2012.. I included a picture of myself with Lew Klein taken at the luncheon. On February 22nd, Dick wrote back to me and thanked me for sending him the picture and for keeping him in my thoughts and prayers. I will treasure that letter for he passed away less than two months later. Dick Clark was a giant of a man and touched the lives of so many people.
Broadcast Pioneers member Joe Terry, one of the original members of the singing group, "Danny and the Juniors" told us:
First and foremost Dick was one of the nicest guys I've ever met. From all the bandstands, the theaters, amusement parks and the gigs in Vegas and Reno that we did with Dick, I never saw the man be anything but nice to everyone. That in itself would be a great way to be remembered, but his reach through television, his influence to the young people of this country and how he helped us close the race barrier was so important, to him and the generations that watched him.

He carried himself in such a manner some would wonder if in his real life was he really like that and I can categorically tell you he absolutely was. Dick Clark was a hard worker and smart. After all, it was his idea to change the title of our song, "Do the Bop" to "At the Hop." Good thing for us - huh! He went on to produce many award shows, hosted game shows and along the way helped many recording artists and actors have a career.

The start he gave us lasted 54 years and we will be forever grateful. Our hearts go out to Kari, his lovely wife and his children Rac, Duane and Cindy. To me Dick Clark was like an older brother, someone I could go to for advice and get a straight answer from.
Broadcast Pioneers member Frank Maffei, one of the original members of the singing group, "Danny and the Juniors" told us:
We deeply mourn the loss of our friend Dick Clark. We'll be eternally grateful to him for his help and his guidance. Without him our 55 year career as performing artists would have never existed.
Broadcast Pioneers member Joaquin Bowman (you might remember him from the early days at WDVR) told us:
I first met Dick Clark when I was 14 and attended Bandstand at 46th & Market. As a teenager growing up in Philly, he was the person I wanted to be. I would practice speaking into my Sears tape recorder pretending to be him. He was a multi-talented, one of a kind man and we will miss him.
Broadcast Pioneers member Bunny Gibson was one of the more famous dancers on Bandstand. She told us:
Since I was 13, he was part of my family, like a father figure, thought for sure we'd have him until he was a hundred. After all, he was called the world's oldest teenager!

Dick helped bring in rock 'n' roll with his Philly Regulars dancing to music that was called the devil's music during the fifties. He presented a clean cut image for rock 'n' roll making it acceptable music to listen to and dance to for teenagers. I am very proud to be an American Bandstand Regular and Dick's legend will live on forever.

The biggest reason Dick will always be part of my life is that he and American Bandstand played "Cupid" in my life. Don Travarelli from South Philly saw me dance on the show, fell in love with me, married me and we had our two daughters, Angel and Maria.
Broadcast Pioneers member Dick Carr was PD at WIP during some of the time that Clark was in Philadelphia. Dick said:
I ...met Dick in Philadelphia ...when Bandstand originated out of WFIL-TV. We both lived in the same neighborhood and Clark was kind enough to offer me advice with a major programming decision for WIP. Don't fight top 40 WIBG. Instead, start something new with WIP called middle-of-the-road.
Broadcast Pioneers member Ron Joseph (RJ) who was a dancer on "American Bandstand" told us:
It was not just a five day a week TV show that I attended, which emanated from ABC TV's WFIL channel 6 studios in Philadelphia, there were some real personal moments in my life that many people never heard me speak of.

I remember first going to a party with Dick Clark and the Bandstand committee at the famous Palumbo's restaurant, a show-business landmark in south Philadelphia in 1956, in traveling with Dick to an appearance at the Woodbury Country Club in New Jersey, driving to Allentown to the Frolicks Ballroom and weekends at the Starlight Ballroom on the boardwalk in Wildwood, NJ where he had a record hop during the summer months each year.

I feel a little extra proud that Dick Clark came to my home in Drexel Hill, PA in 1957 for my 16th birthday party with 65 screaming kids. Dick Clark was the only adult besides my parents and grandparents.

Dick Clark in 1958 came to Upper Darby High School for an assembly program that I requested him to participate in. Our class decided to pay him a talent fee of $500 for the appearance however, on the stage during that program he returned the check to me and the class treasurer and said it was a personal favor to Ronnie.

There are moments that I will never forget: all the stars who made appearances on the TV show daily in Philadelphia, however I really remember going to New York City to the Little Theater at 44th and Broadway where Dick Clark was doing a weekly show on Saturday night and I had a little part doing the Beechnut Chewing Gum commercial in the seats of the theater.

One year for my birthday, Dick Clark and Pop Singer gave me a cake on television live and Dick asked me "what do you want to be when you grow up?" and I answered "a DJ just like you" and he said to me "Ronnie you are a mad, impetuous fool! Why would you want this occupation?" and then he broke for a station break for the ABC affiliates to identify themselves. Thank you, Dick, for being a big part of my life.
Broadcast Pioneers member Lew Klein was a former President and Chairman of the Board of this organization. He was also Executive Producer of "American Bandstand" during its Philadelphia years. Lew was also a board member of Dick Clark Productions for decades. Lew and Dick were personal friends, visiting each other at their homes with their spouses. Lew told Broadcast Pioneers exclusively:
Sixty years ago, a recent graduate from Syracuse University arrived at WFIL-TV (now WPVI-TV) to audition for a disc jockey opening at the station. Jack Steck (a Broadcast Pioneer Hall of Famer) and I were asked to see Dick Clark. Within minutes we knew he would be a great hire.

Some 55 years ago that young man became the host of "American Bandstand." You all know of Dick's unmatched career as a producer, entertainer, program host, movie actor, and business man. There is no need for me to remind everyone of his 60 years as a broadcast icon. But I do want to recognize Dick for the man of loyalty, dedication, and generosity that he was.

Dick returned to Philadelphia on many occasions and visited with friends and colleagues here in the city that launched him on his road to fame and fortune. His success was, in part, based on his unassuming, down to earth life style. Something rare in our business. Dick Clark was indeed a one of a kind whose accomplishments will not be duplicated.
------------------------------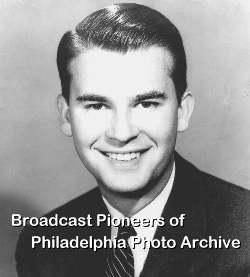 Broadcast Pioneer legend Richard Wagstaff Clark was born on Saturday, November 30, 1929 in Bronxville, New York, just 20 miles north of New York City. Nicknaming him "Young Dickie, "his parents were Richard Augustus Clark and Julia Barnard Clark.

Kathryn Murray, wife of dancer Arthur Murray and a well-known performer in her own right used to baby sit for Dick and his 5 year older brother, Bradley. She thought Dick Clark was quite sassy and always into things.

Dick entered A. B. Davis High School (now Mount Vernon High) in September 1943 as his brother went off to the Second World War. A year later, Bradley, an Army Air Corp Pilot, was shot down and killed during the Battle of the Bulge over Germany.

In the summer of 1943, Julia took Dick to the "Big Apple" to see a radio program one Thursday evening. Yes, they had live studio audiences to view the audio presentations. It was "The Camel Comedy Caravan" starring Jimmy Durante and Garry Moore with Xavier Cugat's band on NBC Radio. Fascinated by everything, he reportedly told his mom that this is what he wanted to do with his life.

He joined the high school's drama club with thoughts of being a radio actor. He had the lead in his senior high play. Dick's dad tried to persuade the youngster not to pursue the career he had also wanted. In the school's yearbook, Dick Clark was selected as The Man Most Likely to Sell the Brooklyn Bridge.

Dick's uncle (of his mother's side) Bradley Barnard lived in Rome, New York. There, the relative owned and operated the Rome Sentinel daily newspaper.

The publication had applied for and was granted an FCC license for an AM radio station (WRUN) in nearby Utica. Tests were performed and the station officially went on the air on April 24, 1948. WRUN-FM came on the air six months later on October 10th. However, as was the custom in those days, the radio stations could operate with regular programming under the CP (Construction Permit) until the next license period. So, WRUN was actually on the air as an ABC Radio affiliate in 1947.

Barnard knew that the senior Clark was very sales and promotion oriented, so he offered his brother-in-law a job as the radio station's first Promotions Manager. The older Richard accepted and moved the family to Utica, New York, a town in the upper part of the state, located between Syracuse and Albany.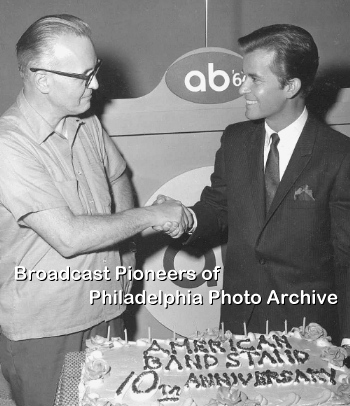 (left to right) American Bandstand Director Ed Yates and the show's host Dick Clark
Hollywood, California
August, 1967
As a recent high-school graduate, Dick Clark got his start in broadcasting working at WRUN during the summer of 1947. Many sources report that he started with the station in 1945, but that is incorrect. He ran the station's mimeograph machine and worked in the mailroom. Shortly thereafter, Dick got his first on air assignment on the FM station reading weather forecasts while someone was on vacation.

Dick was now ready for college. He had applied for Yale but was turned down, so he elected to attend his father's alma mater, Syracuse University. There, he was an advertising major with a minor in broadcasting and joined the staff of the campus radio station, WAER, 88.3 on FM (not WEAR as reported elsewhere) as a newscaster and DJ. He would stay with the station for his entire four years of college.

In January of 1951, Clark landed a weekend gig with WOLF Radio, located in the Onondaga Hotel in downtown Syracuse. The next month, he went full-time. He hosted a program called, The WOLF Buckaroos, a country music show where he was paid a dollar an hour.

In the spring of 1951, Clark received his Bachelor of Science in Business Administration from Syracuse University. He stayed with WOLF Radio until June and returned to Utica and WRUN.

That fall, Dick took on a new name, Dick Clay and went to two-year old television station, WKTV, Channel 2, also in Utica. Michael Fusco, the station's GM knew Dick's dad and was the one who hired him.

A fellow employee at the station, Bob Earle did a 15 minute newscast. However, unlike others of that era, Earle looked right into the camera for the entire cast. How did he do it? He had a wire recorder feeding him the information.

Dick Clark went right out and bought a Webcor wire recorder and practiced doing this himself. Broadcast Pioneers member and our former President and Chairman Shelly Gross worked with Clark at WFIL and remembered that Dick used the wire recorder "bit" here in Philadelphia.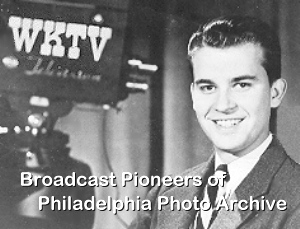 But we're getting a head of the story. At Channel 2, Dick did many things including hosting his own country-western television program called, "Cactus Dick and the Santa Fe Riders." Clark even sung on it, though he one time confessed that it was "very badly" done. He was getting a little over fifty bucks a week. He got a raise to $75 when he had an offer from Syracuse's WHEN-TV.

Dick told his dad that he felt he was ready for a larger market and Clark's father called Roger Clipp, General Manager of the WFIL stations to get his son an audition. Dick came to Philly and was auditioned by our 4th President and the radio station's Program Director, Jack Steck.

Clark received an offer from Steck, a member of our Hall of Fame, to become a summer replacement announcer on WFIL-FM. He also had an offer from a Schenectady TV station, but elected to come to the larger market as it was a stepping-stone to New York City. Clark accepted the Philly offer and started at WFIL in May of 1952. At the time, Dick Clark came to Philadelphia, WFIL Radio moved from center city's Widener Building to 46th and Market Streets in West Philadelphia where the TV station was already located.

Dick was eventually given "The Caravan of Music" DJ program which was in what would later be called afternoon drive. Dick was the replacement for a guy who went over to the TV side, Bob Horn, the new co-host (with Lee Stewart) of a show called, "Bandstand." Horn's radio broadcasts on WFIL Radio, WPEN and WIP were entitled, "Bandstand."

One of the first spots young Dick Clark did in Philadelphia was for Barr's Jewelers. The commercial ran during an afternoon movie, the same time period that Bandstand would later take over.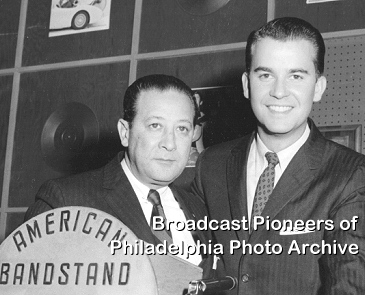 (left to right) Broadcast Pioneers member Max E. Solomon and Dick Clark
WFIL-TV, Philadelphia
1958
Since Dick was doing commercials on the Paul Whiteman Teen Club show (Tootsie Rolls) which originated from WFIL-TV and aired over the ABC-TV network, his radio shift was moved to 11 am to 1 pm with the Caravan of Music (now 3 to 6 pm) going to a newcomer to the station, Broadcast Pioneers member John Carlton.

After Teen Club left the airwaves, Nancy Lewis from the show was assigned to do a new TV program with Dick Clark called, "Lewis and Clark." It didn't last long. Then Dick did a local show from 2 pm to 2:15 called "Movie Quick Quiz" where he awarded prizes.

Folk music DJ legend Gene Shay said that he was involved with radio and TV production at the WFIL studios as part of class projects for Temple University. Gene mentioned that he had spent much time in the record library at WFIL while Dick Clark was selecting the music for his radio program for that day. Yes, DJ's at one time actually picked the songs they would play. "There wasn't a nicer, friendlier guy at WFIL than Dick Clark," retorted Shay.

In 1956, the host of "Bandstand," Bob Horn ran into some problems. The situation became two fold, he was arrested for drunk driving and there were rampant rumors that he may have been involved with the under-age female dancers on the show.

Station management felt that WFIL-TV had to make a change in the host for "Bandstand." Dick Clark was selected and he started hosting "Bandstand" on Monday, July 9, 1956. However, not everyone thought that Clark was the perfect choice. A "yon teenager" by the name of Jerry Blavat led a group of Bandstand dancers that picketed Channel 6 for not being loyal to Bob Horn.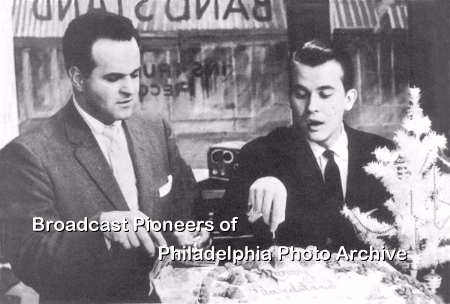 (left to right) American Bandstand Producer Tony Mammarella and the show's host Dick Clark
WFIL-TV, Philadelphia
1957
Back to Clark. Dick was selected to be the new host of Bandstand. It was 1956 and at this time he formed "Dick Clark Productions" which would go on to be an industry giant. Clark was also loyal. A young director in the early days of Bandstand, Broadcast Pioneers member Lew Klein, would eventually become Executive Producer of "American Bandstand." He would serve as a member of the Board of Directors of "Dick Clark Productions" for more than four decades.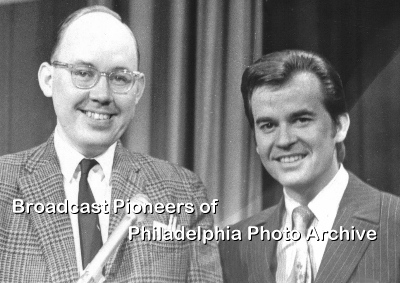 (left to right) Broadcast Pioneers member Ed Elias with Dick Clark
Early in 1957, Dick Clark went to New York with several kinescopes of Bandstand to speak with the big executives of ABC-TV (Channel 6 was an ABC affiliate). He convinced them to give Bandstand a five week trial on the network. It premiered on Monday, August 5, 1957. While it was a network show for 50 minutes to 90 minutes in length during its lifetime in Philadelphia it was always a 2 to 2 and a half hour program locally. What that meant was that only WFIL-TV got the entire program. In 1958 Triangle Publications (owners of WFIL-TV) purchased WLYH-TV, Channel 15 in Lebanon, Pennsylvania. Now Triangle started feeding some of its popular local programming to Channel 15 including all of "Bandstand." Keep in mind that only the ABC-TV portions of the program were called "American Bandstand." Local segments were still called simply, Bandstand." For a short time in the fall of 1957, there was an evening version of "American Bandstand," but it never gathered the rating numbers that ABC expected.

Another interesting point is that Charlie O'Donnell was the announcer on the national show but there was no announcer on the local segments. However, Charlie could be seen overnights jockeying the late night movies which Channel 6 ran.

In late 1957 while Clark was hosting Bandstand on the network, he was also the MC on a local program Saturday evenings called "Talent Trend." It was aired Saturdays from 7 pm to 7:30 and carried over WFIL-TV and sister station WLYH-TV, Channel 15 in Lebanon, Pennsylvania. The show was described as "Dick Clark hosts a local live talent series featuring performers from the Delaware Valley area." A print ad for the first program said: See an array of gifted young performers compete for a host of valuable prizes, including a Hollywood screen test! Dick has full details on how you may appear on the show!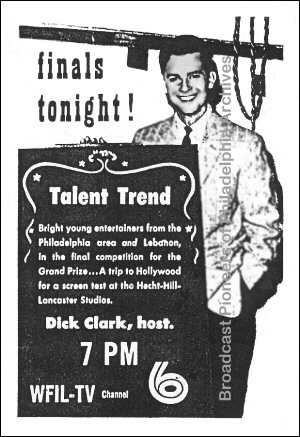 The first airing was on Saturday, October 12, 1957 with the last broadcast on December 21, 1957. That show went off the air after that evening and on Saturday, February 15, 1958, "The Dick Clark Beechnut Show" premiered from "The Little Theater" in New York City on ABC-TV. The program was supposed to start on January 18th but some revisions to the format delayed it's start. Just a couple months before, in December of 1957, Dick was talking up the upcoming Dick Clark Show and had mentioned it would be an hour long from 7:30 to 8:30 pm on Saturday evenings. However, when it hit air, it was only 30 minutes in length. It lasted three years with the last airing on September 10, 1960.
FYI... The Dick Clark Show was a Drexel Production. It was Dick's company named after Drexel Hill, Pennsylvania where Dick Clark lived. Ed McMahon was a neighbor.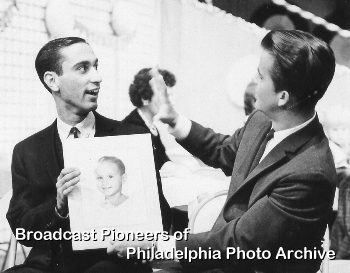 (left to right) Broadcast Pioneers member Ron Joseph (RJ) and Dick Clark
WFIL-TV, Philadelphia
June 1960
On August 30, 1963, after 1594 network broadcasts of "American Bandstand," the show became a weekly program on Saturday, September 7, 1963 but still originated from Philadelphia, still broadcasting from the 46th and Market Streets studios. In January 1964, WFIL-TV moved to new facilities on City Line Avenue, and Dick Clark took American Bandstand to Los Angeles where it would continue for years. Bandstand would never get to originate from the new, huge studio that WFIL-TV built especially for the show in its new digs.

Clark moved the program westward so that he could pursue other interests. Since that time, he has been Executive Producer for over a dozen made for television movies. He has produced dozens and dozens of TV specials and acted in several motion pictures. He also has produced motion pictures in his own right, had several successful radio syndication programs and hosted game shows. Dick Clark has become a fixture in the TV industry.
In later years, Dick would become associated with New Year's Eve. The forerunner of "Dick Clark's Rockin' New Year's Eve" was on December 31, 1957, live from Philadelphia and WFIL-TV. While some have considered this to be the pilot of the Saturday evening broadcast, the program already had a commitment from ABC-TV. It was more of a vehicle to show local affiliates what the Saturday evening show would be like since they were a little unsure with the cancellation of the evening version of "American Bandstand."