Broadcast Pioneers member Patricia Merbreier (better known to the world as MRS. NOAH) passed away on Thursday evening, June 23, 2011 at 11 pm. She has been ill for quite some time. She was born on July 12, 1924. She would have been 87 in a couple of weeks.
The young and the young-at-heart can still remember the long-running television program called Captain Noah and His Magical Ark. As a daily program in the late sixties, the seventies and the eighties and a weekend show until the end of 1994, it was syndicated for years in 22 other markets. It was the product of husband and wife team: W. Carter and Patricia B. Merbreier.. Together they led generations on an exciting magical mystery tour.
The Merbreiers personal life was intermixed with the show. They usually referred to each other as "Captain" or "Mrs. Noah" even in their personal life. In fact, when they were honored as our "Persons of the Year" in 2001, they insisted that they be identified (on the page that lists all Persons of the Year through our history) as Captain and Mrs. Noah and not Carter and Pat Merbreier. Both Merbreiers are also members of the Broadcast Pioneers' Hall of Fame. In 1994, Broadcast Pioneers of Philadelphia awarded the program "Our President's Award."

In 1994, Carter and Patricia decided by themselves that it was time to put the "magical ark" into dry dock by retiring. The broadcast started in 1967 as a Philadelphia Council of Churches program that Carter created. It was a religious program, says the one time Police chaplain. Then it evolved into "Captain Noah and his Magical Ark." Broadcast Pioneers member Lew Klein and Carter (Captain Noah) created the show over a few drinks and an oyster lunch at the Union League. The program ran for over a quarter of a century.
Within a few months, money ran out to pay the original puppeteer on the program, so Pat was drafted to do it for FREE. 41 years ago, Pat told the Philadelphia Inquirer: "It's a lot of fun. I love it. I'm glad we didn't have the money to keep the other puppeteer." Well known celebrity Larry Ferrari, a board member of this organization, provided the music.

Now grown-up children will always remember the characters of Wally the Walrus, Maurice the Mouse, and, of course, I Can Sing a Rainbow, their theme. Mrs. Noah was the puppeteer on the show and loved it.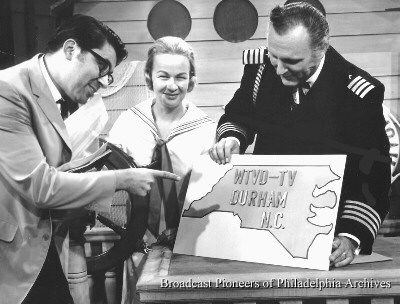 (Left to right) Mike Nozilo, Pat Merbreier and Carter Merbreier
WFIL-TV
1969
When Channel 6 was owned by Triangle Publications (The Philadelphia Inquirer - Walter Annenberg), Captain Noah was syndicated on 22 different television stations across the United States. Well known Philadelphia TV organist Larry Ferrari provided the music.
Pat, the former Patricia Bosley was a voice major at Oberlin College in Ohio. She sang opera in Cleveland during 1946. With the advent of television, Pat started appearing in TV commercials. Carter who was an ordained minister began his career on TV doing those 3 minute religious vignettes. He was a guest on Ed Harvey's radio show long before anyone ever heard of Captain Noah. Listen to that show here!
As most of you know, Carter Merbreier, Captain Noah, has served on our Board of Directors for the last 11 years. By the way, the Captain tells us that by his calculations, there were about 3600 shows. Currently, we have 46 complete shows in our video archive, all on the original station master. They have all been digitized for perservation for future generations.
Over the years, artists, artisans, inventors, newsmakers, clowns, zoo and circus animals and sports stars boarded the "ark" to share with children the treasures of the world around them. Martina Navratilova, Charles Barkley and Dorothy Hamill encouraged children to be the best they can be on the show.
Frank Perdue, the chicken guy, demonstrated the miracle of baby chicks hatching. Jim Henson introduced Kermit the Frog to the Ark's Wally the Walrus and Maurice the Mouse on their program. The broadcast also boasts of having catcher Tim McCarver doing his very first sports commentary on television and it was on the Noahs air that the Philly Phanatic was introduced to the world.

It can be said that the "Ark" was a fanciful wonderland for children's adventures of mind and spirit. "For us," says Captain Noah, "the greatest honor was to chart for those many years the most wondrous of seas, children's imaginations."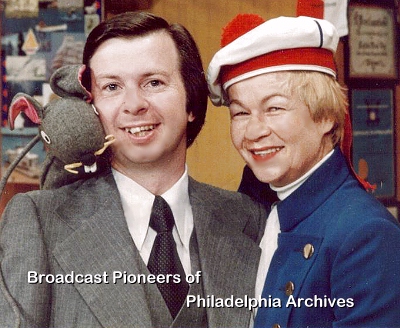 Broadcast Pioneers members Frank Stone & Pat Merbreier
at the time, Frank was the Director of the Franklin Institute
set of "Captain Noah and His Magical Ark"
WPVI-TV, Channel 6
circa 1978
Gerry Wilkinson, Chairman of the Board of Broadcast Pioneers said:
My mother always told me that no one really is gone so long as someone remembers them. Millions remember Pat Merbreier for her warmth, compassion and wonderful voice.

This organization will truly miss her, but it's a personal lost for me personally. Cardinal John Foley said at our last lunch that his parents as a teenager gave him a book called, "You Can Change the World." Well, Pat must have read that same publication because the earth is a better planet because Pat was among us.
We'd like to share with you some remarks from Broadcast Pioneers member Liz Matt (aka Lizabeth Starr):
I had the great privilege of working two-cubicles-down (with Larry Ferrari in between) from "The Noahs" as we really DID call them, during my ten-plus years on-air at Channel 6.

Everybody loved and still loves the Captain. But I'm not sure how many appreciated the tremendous creativity that came from "MRS" Noah's voice, craft and hands over the long decades. I can still picture her sewing last-minute, specialty costumes for the show's puppets to wear to match topics and themes that enhanced and created excitement for the guests from The Philadelphia Zoo, The SPCA, The Please Touch Museum, and so MANY other organizations. The guests were all good folks who came aboard "the Magical Ark," probably without fully appreciating the focused creativity, hand stitching, rhyming, poetry-making and artful drawing that the tiny crew of The Magical Ark --- yes, JUST the Mrs. and the Captain --- ALWAYS put into making their organization's few minutes on Channel 6 count and, above all, entertain the families watching the show on our station.

Speaking for myself off-camera --- as then a new mother in 1990 and working the long hours that were part of the deal of having the world's best local TV gig in America --- I will never forget the mom-to-mom helpful advice that Pat shared, that sustained and supported me when I had a small child in daycare while working as co-host of "AM/Philadelphia." Pat taught me how to pull it all together and to put it all in perspective.

Sally Starr may have been my juvenile TV "mom," while growing up while watching Channel 6, as a kid in Roslyn, PA. But Pat Merbreier was my actual "mothering mentor" while I was a young TV professional, with the good fortune to be WORKING AT that same station as an adult.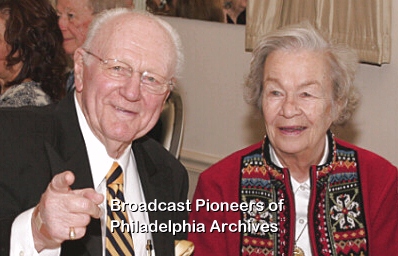 Broadcast Pioneers members W. Carter Merbreier & Patricia Merbreier
"Captain & Mrs. Noah"
Broadcast Pioneers' Annual Banquet
Friday, November 16, 2007
And now, we wish to share some thoughts from member Elaine Skypala, the program's producer:
How spectacular Pat was. I was the producer of the show and appeared as "Miss Elaine" on the program from its live beginning in 1970 to 1979. I was the same age as Pat and Carter's daughter Pam who had just married Ian and moved to England. I think that made it so easy to work with them because we were able to bridge any generational differences.

The people who appeared on the show were not seasoned professionals but public relations people (who were not TV regulars) or representatives of various museums and local businesses and often just some interesting citizens with some whimsical idea that would stimulate a child's imagination. When they arrived at 6 am to set up for their segments, they were normally nervous and Pat was right there making them feel comfortable like they were old friends visiting her home They became friends because of that warmth and always walked away with a positive TV experience.

The cameramen and crew all loved her too because she was not only talented and ready to make any adjustment but she was sweet and the kind of woman you would love as a sister.

She really cared about all of the children who wrote to the show or sent their pictures "to Dear Old Captain Noah." Even if the child never saw the photo whiz by on the TV, Pat saw it and enjoyed every one.

Larry Ferrari, Carter, Pat and I spent thousands of hours together and I also think that Larry enjoyed being roped into this crazy gang and doing some absurd, childish things that he hadn't done for many years. It was truly a "Magical Ark" filled with magical people.
WATCH MRS. NOAH!
Broadcast Pioneers member Pat Merbreier (Mrs. Noah)
set of "Captain Noah and His Magical Ark"
WPVI-TV, Channel 6
October 1993
This clip dates from October 3, 1993. It is mastered from the original WPVI-TV master tape. In this excerpt, we see a tawny lion puppet. Mrs. Noah was the puppeteer and did the voice. The Captain speaks with a 4 year-old child who won a contest. About 2 minutes in, we see Mrs. Noah bring in a stuffed white lion and then a bigger one. Then we see her solo telling the audience that we can't all be winners all the time, but we can always try. In our opinion, the Real Video file is clearer and sharper.
Watch in Real Video!
Watch in Windows Media!
WATCH MRS. NOAH IN 1993!
The next clip also comes from 1993, although we can't narrow it down any more than that. Mrs. Noah is seen promoing the next segment of the show. It is mastered from a high speed VHS tape recorded at WPVI for the Merbreiers.