Member Andy Musser, 74, passed away on Sunday, January 22, 2012. Andy broadcast Phillies play-by-play for more than a quarter of a century. Musser was inducted into our Hall of Fame three months ago on Friday, November 18, 2011.
Before each inductee spoke, we ran a two-minute video about their career and life. This is the video wer presented that evening.
Before the banquet, member Mike Strug spoke with Andy Musser about being inducted into our Hall of Fame.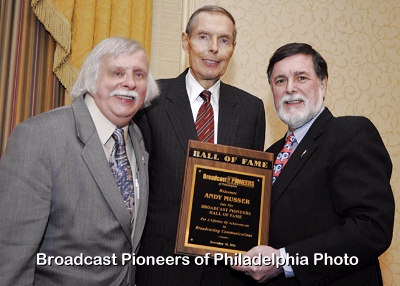 (Left to right) Broadcast Pioneers Chairman of the Board Gerry Wilkinson
Broadcast Pioneers Member Andy Musser
Broadcast Pioneers President Jerry Klein
Broadcast Pioneers Annual Banquet
Hilton City Avenue, Philadelphia
Friday, November 18, 2011
(Broadcast Pioneers Photo by Joel Schwartz)
Broadcast Pioneers member Andy Musser was born on Tuesday, December 28, 1937 in Harrisburg and grew up in a town of 4,000 people called Lemoyne, Pa (which is just across the Susquehanna River from our state capitol)..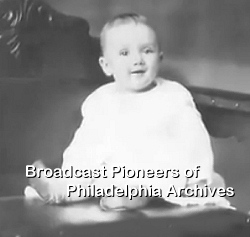 Andy Musser
circa 1939
Andy Musser was the batboy for the Harrisburg Senators baseball team who play Double A ball. In 1958, Andy won the Junior Sportscaster award when he taped himself doing one inning of a Phillies baseball game. The award got him noticed and he did a couple of innings of a Phils game with Gene Kelly and the legendary By Saam.
Earl Wood, a visitor to our website, e-mailed more information about that broadcast:
As a boy growing up in Lemoyne, Pa. I remember Andy, a tall lanky kid
who always wore a White Sox cap, but never knew why.

He won the contest conducted by the Harrisburg Evening News, or possibly the Patriot News. At that time the Evening News was the predominant newspaper. To enter the contest you had to write a letter stating why you wanted to become a sportscaster. His winning entry was printed in the paper but at the time I didn't keep a copy.

I listened to his broadcast of a Phillies game, which was the prize for winning, but my memory is that it only lasted an inning. As I recall it wasn't exactly flawless, but quite a feather in the cap of this soon to be professional broadcaster. I was two years behind him in high school but his reputation then was that of a knowledgeable sports guy; a soft spoken good guy.
He worked at WHGB, 1400 on AM in Harrisburg during his teen-age years. He was a radio announcer while still in high school.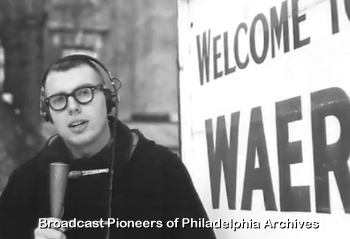 Andy Musser
WAER, the Syracuse University Campus Station
circa 1958
After graduating college in 1959 from Syracuse University (where he worked as an announcer on the college station, WAER) with a degree in speech and dramtic arts, Andy when into the Army and did some work for Armed Forces Radio. Afterwards, he worked in the family wholesale electrical business. But that career line wasn't for Musser. He started working weekends at WHP-TV, Channel 21, the CBS affiliate in Harrisburg where he anchored sports and did the weather. He was also an announcer on WHP Radio.
From there, he went to WCAU Radio and sister station Channel 10 and then on to CBS. He also did radio work for KSDO, 1130 on the AM dial in San Diego, California.
Then he return to Philly, where he did Eagles (1965-1971) coverage, Sixers (1965-1971) and Villanova men's college games. He worked for CBS television from 1971 to 1974 where he covered the World Series, two Super Bowls (1972 and 1974) and two Masters events (1972 & 1973). He also did one NCAA championship game in 1975.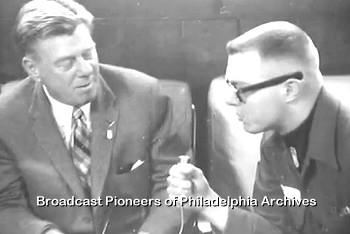 (left to right) Arthur Godfrey and G.I. Andy Musser
Armed Forces Radio
circa 1961
When By Saam left the Phillies broadcast booth in 1975, he was replaced the next year by two people, Robin Roberts and Andy Musser, who considered Saam to be his hero. Andy stayed with the Phils for over a quarter of a century, until his retirement in 2001.
Famed Phillies baseball player and 1997 inductee into our Hall of Fame, Richie Ashurn once said:
There never seems to be any fight for position or innings. I credit a lot of that to Andy Musser. He has always accepted that he's the number 2 guy of the play-by-play people, and Harry's number 1. He's never tried to do anything about it.

It's no disgrace being number 2 to Harry Kalas, but still, a lot of broadcasters from other ball clubs do have some competition among play-by-play guys. They're fighting for innings, and that would be a problem. We've never had that here.
Speaking of Phillies Management, Musser once told someone from the New York Times:
I'll tell you what. If they knew how much fun we have, they'd be charging us for doing these games.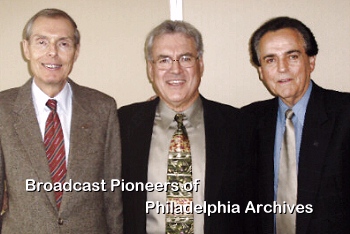 (Left to right) members Andy Musser, Tom Brookshier and Joe Pellegrino
Broadcast Pioneers' Luncheon
Holiday Inn, City Line Avenue
Wednesday, January 19, 2005
After leaving baseball announcing, Andy became the spokesman for the Anchor Stream Brewing Company.
Phillies Announcer Chris Wheeler said:
He was such a big part of my life. He was a great person and a tremendous pro in the business. He could do anything. He was so easy to work with because he let you be yourself.
Phillies Vice-President Larry Shenk said:
Andy was the ultimate professional broadcaster, no matter which sport, and a good friend. We spent 25 great seasons with the Phillies. Like his mentor, By Saam, Andy never got too high or too low with what happened on the field.
Phillies President David Montgomery said:
Andy was a dear friend to many, an absolute gentleman, and a true professional. I had the pleasure of working with him for 26 years during which time he made a significant contribution to our club. Additionally, along with thousands of Philadelphia sports fans, I admired his versatility in announcing not only Phillies games but also his work with the Eagles, Sixers and Villanova Basketball. Since leaving the Phillies broadcast booth in 2001, Andy remained close to the club. We will all miss our dear friend.