Our Broadcast Pioneers luncheon for January was all about "Broadcasting and the Presidency." It was held at the Bala Golf Club, 2200 Belmont Avenue in Philadelphia on Wednesday, January 16th (that's the third Wednesday of the month). Meet and Greet started at 12 noon with lunch at 12:30 pm. Our MC was Broadcast Pioneers member Dom Giordano of WPHT Radio. (Dom, by the way, was on the air live from Harrisburg interviewing Pennsylvania Governor Corbett.)
Our speakers were : (in alphabetical order):
Bill Baldini, former NBC 10, WCAU-TV news reporter
Jay Lloyd, former KYW Newsradio news reporter
Chris May, current CBS 3, KYW-TV News Anchor
Terry Ruggles, former NBC 10, WCAU-TV news reporter
Dick Sheeran, former CBS 3, KYW-TV news reporter
Plus Broadcast Pioneers Board Members Joe Pellegrino and Bob Kravitz also spoke about their experiences with inaugurals and political conventions.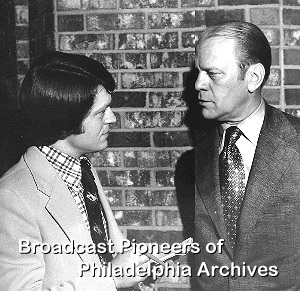 (Left to right) Terry Ruggles & Gerald Ford
The Holiday Inn, Grand Rapids, Michigan
1973
Plus, we had a special tribute to Patti Page done by Broadcast Pioneers member Peggy King, a singing star in her own right on "The George Gobel Show." Also speaking about Patti was Broadcast Pioneers Hall of Famer Ed Hurst who told us about his friendship with the "Singing Rage, Miss Patti Page."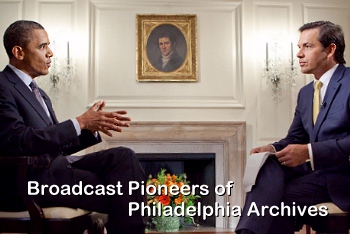 (Left to right) President Barrack Obama and CBS 3 News Anchor Chris May
at the White House, Washington, DC
July 14, 2011
It all took place at the beautiful and historic Bala Golf Club, 2200 Belmont Avenue (across the street from the State Police) in the Wynnefield section of Philadelphia. Only minutes away from Channels 6, 10 and 17 and the radio stations in Bala Cynwyd.
Video originally recorded by Broadcast Pioneers member Brad Seecof
through the facilities of Metramedia Studios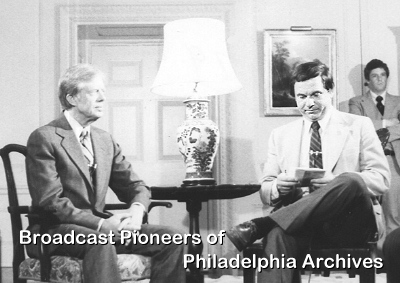 (Left to right) Jimmy Carter & Dick Sheeran
at the White House, Washington, DC
circa 1980
By the way, before the panel discussion, we had a short tribute for singer Patti Page who passed away just days before the luncheon. The speaker was Broadcast Pioneers member Ed Hurst.