The new season of luncheons marches on! Our latest one was on Wednesday, October 17th. Our luncheons are ALWAYS on the third Wednesday, hence the name, "Third Wednesday." Hopefully, this will help people remember when they are.
Well, our October "Third Wednesday" luncheon was one that is as current as today's news. It's How Broadcasting covers the elections. It's not about the candidates but about the electronic journalists who cover them.
Our moderator for the luncheon was Broadcast Pioneers member Jay Lloyd of KYW Newsradio. (By the way, Jay will be inducted into our Hall of Fame in November). Our panelists include these six Broadcast Pioneers members (in alphabetical order):
Bill Baldini, former WCAU-TV, Channel 10 news reporter
Harry Hurley, host of "Hurley in the Morning" on ESPN 1450 AM
Larry Mendte, former TV anchor, now morning drive on WWIQ
Al Primo, the creator of the KYW-TV Eyewitness News format
Dick Sheeran, former CBS 3, KYW-TV anchor and reporter
Dawn Stensland, former Fox 29 anchor, new host of "A New View"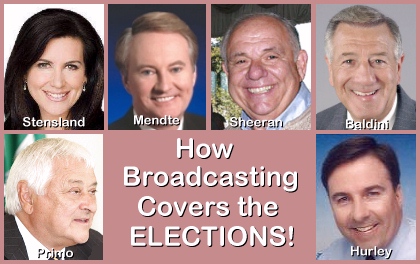 SPECIAL ADDED ATTRACTION!
At this luncheon, we awarded to two members our Distinguished Service Award. This time, the honors went to Bob "Chopper Bobby" Kravitz who worked for Channel 3, 6 and 10. Bob is known for hanging out of the helicopter to get the shot. Our other honoree was Anne Amico-Mirkin, who formerly an Editor/Supervisor at CBS 3. She's also the original female First Class FCC License (now called General License) holder in Philadelphia.
It all took place at the beautiful and historic Bala Golf Club, 2200 Belmont Avenue (across the street from the State Police) in the Wynnefield section of Philadelphia. Only minutes away from Channels 6, 10 and 17 and the radio stations in Bala Cynwyd.
PHOTOS OF THE EVENT!
56 Photos from the Luncheon!
Photos taken by Broadcast Pioneers President Jerry Klein
These copyrighted images are protected under US Copyright.
Any usage without the express, written permission of
the copyright holder is strictly prohibited!
Usage does NOT fall under "Fair Use" of copyright laws!
VIDEO OF THE EVENT!
Watch the Awards Video!
Watch the Elections Panelists' Discussion
Video courtesy of Metramedia Studios and Brad Seecof
"Third Wednesday"
Good food, great programs & a wonderful time!