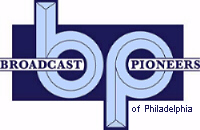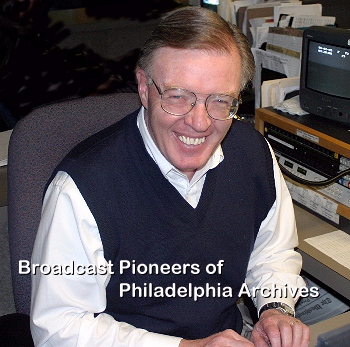 Broadcast Pioneers member Bob Witten
NBC News, Washington
2003
Broadcast Pioneers member Bob Witten's first job in broadcasting was as a part-time disc jockey at WHMC, a small station outside Washington, DC. That was in 1963.
His first full time job was as nighttime DJ at WVAM in Altoona, Pennsylvania. He moved across town to WFBG, an AM, FM and television facility. He was weekend DJ and news reporter three days a week.
However, it was in news that Bob Witten found his calling. H went to WRSC, State College as a reporter and eventually, News Director. That's where Fred Walters (one of the higher ups at KYW) found him.
Bob jumped from the 253rd market to the 4th, joining KYW Newsradio in 1969 and was morning anchor and reporter until 1982. He then made the jump to Mutual Radio in Washington DC, to be able to live in the same city as his wife, Deborah Potter, then a Correspondent for CBS.
Group W called Bob back in 1991 as Washington Bureau Chief. When the bureau was closed, Bob spent several years as a full time Dad, then worked freelance.
He was hired at the NBC News Washington Bureau in 1997 as a news producer and retired from there in 2013 after 50 years in broadcasting.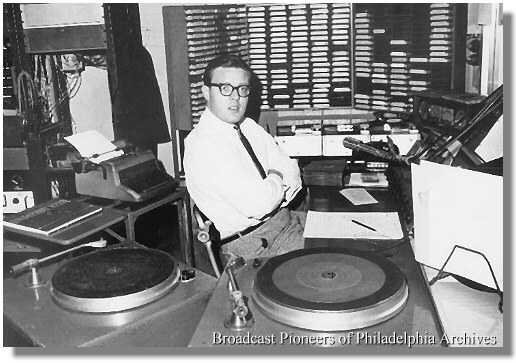 Broadcast Pioneers member Bob Witten
WFBG Radio, Altoona Pennsylvania
1965
In 2008, Bob Witten e-mailed (and sent us the above photo):
This is a photo from WFBG, Altoona Pa, where I worked from 1965 to 1968. 1290 on the dial, a Triangle Group station, back then. The flagship at the time was WFIL in Philadelphia.
I was 21. My God. You'll see I was keeping the log on paper. The typewriter behind me was for BMI logging. We did it once a year for a week---major pain in the a**. Hadda list every record (yes, record) that you played. The discs in the near rack are ET's, all commercials, everything from Rolling Rock to Schmidt's bread.

Note the 45's in sleeves near my left elbow. It was a mostly top 40 station, but as DJ's, we had lots of leeway. The album on top of the stack next to the typewriter is the Temptations Greatest Hits. I still have that..and many of the cuts are worn at the beginning from cueing up on those turntables.

WFBG tooks its call letters from the original owners, Gable Brothers Dept store, the big store in Altoona. The brothers were William, Frank and Bobby Gable. Thus, WFBG. We also had an FM.which was totally automated. It ran out of a cabinet about the size of an old style phone booth in the transmitter building!

From the official archives of the Broadcast Pioneers of Philadelphia
© 2015, Broadcast Pioneers of Philadelphia
All Rights Reserved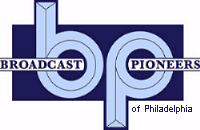 The e-mail address of the Broadcast Pioneers of Philadelphia is pioneers@broadcastpioneers.com