It was our first luncheon of the new year, 2016. It all took place on Wednesday, January 20th at the Bala Golf Club. Wow, what a great time!
Our topic was "The British Music Invasion" and how it affected American broadcasting. It all started back in October of 1963, when the Washington Post ran the first article in this country about the Beatles. By April of the following year, the Beatles held the top five positions in Billboard's Hot 100. To date, this has never been achieved again. In fact, no one artist has ever even held the top three positions. The British invasion would go on for years. Our MC for the afternoon is Tom Lamaine, former WIP Air Personality, former KYW-TV Meteorologist and current host of Memory Lane on WTKU-FM at the Jersey Shore. What a fantastic job he did.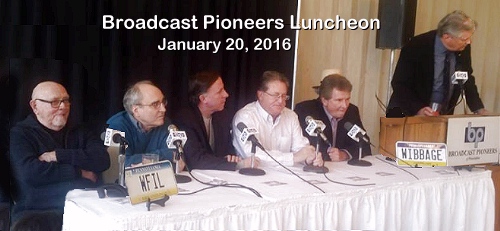 Our panelists were (in alphabetical order):
Gary Hendler, radio host on WWDB and former record promotion person
Don Hurley, radio personality & host and classic rock expert at the Jersey Shore
Ed Hurst, radio & television personality for three quarters of a century
Tommy McCarthy, current music director for 98.1, WOGL, Philadelphia
Michael Tearson, well-known Philadelphia FM Radio air personality
Bill Wright, Sr., famed WIBG (Radio 99) and WPEN Radio air personality
Watch the Video of the Luncheon from our YouTube Channel!
(video courtesy of Broadcast Pioneers VP Brad Seecof and Metramedia Broadcasting & Studios)