The legendary sports figure Bill Campbell (a member of Broadcast Pioneers for a quarter of a century) passed away on Monday, October 6, 2014 at Cooper University Hospital in Camden, NJ. He was 91 years old. Just days before, Bill fell and broke three ribs.
Earlier that year, Bill's wife, Jo, passed away. They were married for 67 years. She was 94. Jo was the personal assistant to Ben Gimbel, the head of WIP Radio. Bill was an announcer and they met at the station seven decades ago.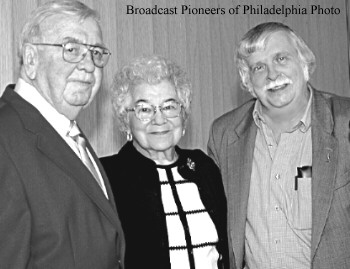 (Left to right) Bill & Jo Campbell with
Broadcast Pioneers President (now CEO) Gerry Wilkinson
Broadcast Pioneers Luncheon
Wednesday, April 18, 2007
Here's a statement from Gerry Wilkinson, CEO of Broadcast Pioneers:
Bill Campbell was not only the "dean of Philadelphia sportscasting" but an iconic and legendary figure. He was bigger than life. His career spanned eight decades and he did it all. There wasn't a sport he didn't cover. He loved sports. He lived sports. He talked sports. Sports was his life.

What a great guy he was. He was friendly, charming and a warm human being. We won't see the likes of him on the Philadelphia sports scene again. He knew and spoke with other legendary figures like Connie Mack. But he could also talk on other subjects. I remember him interviewing that wonderful comic talent Phyllis Diller.

We will miss him. We will remember him but most important his life will live on inside everyone whose life he touched (and that was many). The heavens now have a new sportscaster. We have our memories and they will not fade anytime soon.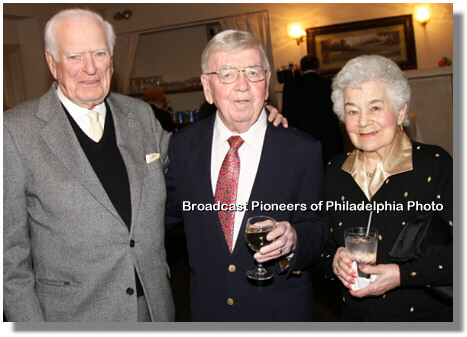 (Left to right) members Jack Whitaker, Bill Campbell and Bill's wife, Jo
(Bill was that year's Person of the Year)
Broadcast Pioneers Banquet
Bala Golf Club, Philadelphia
November 21, 2008
AUDIO:
In the Broadcast Pioneers audio archive, we have a recording of Broadcast Pioneers member Bill Campbell speaking with Connie Mack. It's short, only about 90 seconds long. It was done on November 21, 1947 during the 85th Birthday Celebration for Mack. Interesting to note that it was 61 years later to the day that we honored Bill as our Person of the Year.
Listen with Real Audio!
Listen with Windows Media!
In our archive, we have a recording of Broadcast Pioneers member Bill Campbell speaking with Connie Mack. It dates from October 27, 1948. It's 15 minutes in duration and it was a dinner in honor of Connie Mack's 48th year managing the Philadelphia Athletics baseball team. During this broadcast, besides speaking with Connie Mack, Bill also talked with Lefty Grove. During the years from 1929 until 1931, Grove had a pitching record of 79 wins with only 15 loses. Campbell also interviewed other including the Comissioner of Baseball, Happy Chandler. The broadcast was on WCAU Radio which is today WPHT Radio.
Listen with Real Audio!
Listen with Windows Media!
Broadcast Pioneers member Ed Harvey was one of the first telephone talk radio hosts in Philadelphia. He had a show on WCAU Radio weekdays in the afternoon called "The Talk of Philadelphia." During the week of January 6th through the 10th of 1964, Ed was on vacation and Broadcast Pioneers member Bill Campbell filled in for him.
We have in our archive, the 3 pm hour of Friday, January 10, 1964. Bill Campbell speaks with comic Phyllis Diller. This is a really interesting program because we all know Bill as the Dean of Philadelphia Broadcast Sports, but here, we see an entirely different side of him.
Ed also had the habit of asking the WCAU engineer to take the original reel-to-reel aircheck and dub it off removing the commercials. That seems to be what happened on this recording. There are no spots but the running time of this 3 to 4 pm hour was within the ball park of what it should run with the commercials removed and minus the national and local news before the segment. Therefore, we feel that this is what happened here. That's why this recording is 36:22 and has no breaks. It is one continuous segment, exactly as we found it on the reel-to-reel tape.
With all this said, let's now go back to Friday, January 10, 1964 and the Talk of Philadelphia hosted by Bill Campbell.
Listen in Real Audio!
Listen in Windows Media!
It's November 21, 2008. Member Bill Campbell was our "Person of the Year" at our annual banquet. Here's what Bill said that evening.
Listen in Real Audio
Listen in Windows Media
VIDEO:
On January 10, 2001, This year's "Person of the Year" Pat Delsi interviewed our 2008 Person of the Year, Bill Campbell. The piece is 16 and a half minutes long and was recorded at a Broadcast Pioneers luncheon.
Watch Bill Campbell from our YouTube Channel!
BIO:
Born on Friday, September 7, 1923, Broadcast Pioneers member Bill Campbell, known to all sports fans as "The Dean," is sports analyst and commentator on KYW Newsradio.
While still in high school, Bill began his broadcasting career in 1940 as a spot and general announcer at WFPG Radio in Atlantic City, New Jersey. The following year found him in Lancaster, Pennsylvania doing general radio announcing and covering minor league baseball over WGAL. He joined WIP Radio, Philadelphia in 1942 as a spot and general announcer.
After his tour of duty in the Armed Service, Bill was named Sports Director in 1946 at WCAU Radio and (and later) WCAU-TV, where he was responsible for producing and broadcasting a daily sports program and for scheduling and negotiating a full calendar of college and professional games.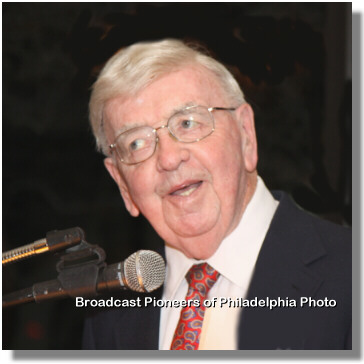 Our Person of the Year, Bill Campbell
Broadcast Pioneers Banquet
Bala Golf Club, Philadelphia
November 21, 2008
"New at 'CAU," the WCAU Newsletter of October 11, 1946 said:
Monday, October 14, WCAU will welcome to the family circle Bill Campbell, late of WIP, who takes over the sports program each afternoon at 6:15 and the Sunday spot at 11:05 am. His length of military service, from which he has not been too long separated, failed to dim his wealth of sports background and information. As a matter of fact, he has spent the past two or three days viewing the World Series in Boston and should have some good, first-hand information and comment concerning Series play between the Red Sox and the Cards.
As sports director, he was also a play-by-play broadcaster for the Philadelphia Eagles from 1952 to 1966. In 1962 he became the play-by-play broadcaster for the Philadelphia Phillies, a position he held until 1971 which required radio and TV descriptions of home and away games, public relations skills, public appearances as luncheon and banquet speaker and some assistance in season ticket sales. One can say that the announcing team of that era made up of By Saam, Richie Ashburn and Bill Campbell could be one of the best ever.
On March 2, 1962, Bill Campbell did play-by-play of Wilt Chamberlain's 100 point game in Hershey, Pennsylvania. Chamberlain's achievement for the Philadelphia Warriors is still a league record.
He was named Director of Broadcasting for the Philadelphia 76ers in 1972, a post he held until 1981. In addition to play-by-play radio and TV coverage of all 76ers games, Bill was responsible for the administration of the team's broadcasting department. This included personnel, production, announcers, sales and equipment as well as public relations and personal appearances. Campbell also broadcast "Big Five" basketball here in Philly for many years.
In the earlier days of WIP's Sports Telephone-talk, Bill Campbell was one of the station's best hosts and certainly one of the most informed.
Bill was named Broadcaster of the Year by the National Sports Broadcasters Association in 1961, 1962 and 1963 and received the Philadelphia Sportswriters Award for outstanding service in 1989. He is also a member of the Philadelphia and Pennsylvania Sports Halls of Fame. In 2005, Bill received the coveted Curt Gowdy Broadcaster Award at the Basketball Hall of Fame. The next year, Sam Carchidi of the Philadelphia Inquirer wrote a book about Bill Campbell.
Campbell has been a member of our organization for over three decades and was inducted into our Hall of Fame in 1999 and nine years later, in 2008, he was our "Person of the Year."