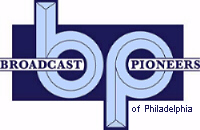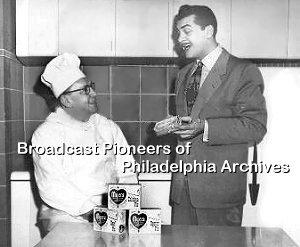 (Left to right) Albert Mathis and Ernie Kovacs
Deadline for Dinner, WPTZ
1950
"Deadline for Dinner" was a local cooking show that aired on WPTZ, Channel 3, Philadelphia. The first show was broadcast on Monday, March 20, 1950 at 3 pm. The last one was on Monday, July 7, 1952 at 2 pm. It had two different hosts. First was Ernie Kovacs and then in September of 1951, Pete Boyle took over. During most of the run, Albert Mathis (chef and manager of the Gulph Mills Country Club for decades) was co-host.
Here's a yarn about how Ernie became the host of "Deadline for Dinner." However, please keep in mind that we cannot verify this story and it may be just that – a story. As the tale goes, Ernie was doing some fill-in work (he usually was there on weekends) at Channel 3 when the chef for the brand-new "Deadline for Dinner" didn't show up. Someone ran to Ernie and got him in the studio just a minute or so before air and Kovacs did the entire cooking program, played for laughs. The result was so favorable that WPTZ asked him to stay on as the show's permanent host. Is this true? We cannot verify it.
The two hosts gave the show a different spin. Originally conceived to be a "straight" cooking telecast, Kovacs played it anything but straight. Ernie liked to refer to the program as "Dead Lions for Breakfast." During the first few months, there were guest co-host chefs but finally Mathis was installed as a permanent co-host. Kovacs and Mathis would get into funny bits and literally forgot what they were cooking. When Boyle became the host, the program changed. There was less humor but Pete Boyle, a well-known artist in this area for decades, added his drawing skills and folksy style to telecast.
Ernie was doing a morning broadcast called "Three to Get Ready" that aired on WPTZ from 7:30 am to 9 am. In the fall of 1951, "Three to Get Ready" expanded into the 7 am time slot and ran for two hours. At this same time, Pete Boyle took over the cooking program. (Writer's note: it is interesting to note that Boyle appeared regularly on Ernie's network show, "Kovacs on the Corner." Pete played the "beat" cop.)
We have to keep in mind that television was different in 1950. "Stripping" a broadcast across the board (Monday through Friday) wasn't a rule. In fact, there were little rules because of the industry being so young.
When the show started on March 20, 1950, it was a half-hour program. The show aired on Mondays, Tuesdays and Fridays. On Wednesdays, in the same time slot was "Television Kitchen" with Broadcast Pioneers member Florence Hanford. On Thursdays in the same time slot with a show entitled, "Charm Clinic." After "Deadline for Dinner," there was at 3:30 pm for a half-hour "The Handy Man Show" with Broadcast Pioneers member Jack Creamer.
In a trade publication ad (May 22, 1950), WPTZ said this:
As an important feature of our afternoon program schedule, "Deadline for Dinner" not only gives the housewives of Philadelphia some mighty useable ideas for tomorrow night's dinner but brings in outstanding Philadelphia chefs to tell them exactly how to prepare the dishes.

The program, part of WPTZ 3 pm cooking strip, is on the air Monday and Tuesday immediately following "Hollywood Playhouse," the hour-long daily feature picture. (Writer's note: According to the station at that time, 25% of all sets in our area were on and tuned into the movie.)

Results from "Deadline for Dinner" in the three weeks it has been on have ranged from from excellent to staggering! For instance, the other day the chef of the Hotel Warwick demonstrated how to make Shrimp Lamaze, the hotel's famous and once secret specialty. The first mail brought 1,300 letters requesting the recipe! After that, we lost count but it seemed like everybody wrote us including a chap who owed us money who said he still couldn't pay but wanted the recipe anyway.

With four years of post war experience in producing cooking shows, facilities which include three full-scale working kitchens for both gas and electricity, WPTZ certainly should know how to make the most of such programs.

If you have a food or household product and want to reach the 435,000 television homes in Philadelphia at reasonable cost, "Deadline for Dinner" is a steal. This successful program is now available either on a participation or fully sponsored basis.

(Writer's note: Please see that there was no mention of Ernie Kovacs in this copy. There was a photo of Ernie on the set with a guest and a chef. However, no one (including Ernie Kovacs) was identified in the ad.)
On Friday, November 2, 1950, "Deadline for Dinner" moved to 2 pm. Monday's show was also at 2 pm. However, the Tuesday airing (on the next day) was still at 3 pm. There was no DOD shows on Wednesday or Thursday and on Friday, November 10th, it aired in the 2 pm slot. The next week, all the DOD shows were airing in the 2 pm time slot.
Regardless of what some books about Ernie say, Pete Boyle, best known for his kids show broadcasts did host DOD. We know definitely that Pete Boyle was hosting the broadcasts (as a permanent host) in September 1951. In a trade publication ad from that same month, Pete Boyle as described as the artist-host of DOD which aired now only on Mondays at 2 pm.
Here's a little more on chef Albert Mathis. He was born in Strasbourg, Alsace-Lorraine and served his apprenticeship from 1905 to 1908 for Chef de Cuisine at the Grand Hotel in Nancy, France, where he learned the Esoffier Cuisine. He came to America and worked in the Bellevue Stratford Hotel for two years. The recipes used on the show were modified from French Cuisine. Also there were American dishes learned by Mathis from well-known area chefs including Andre Hisler, chef of the Bellevue Stratford and Ernest Henry, chef of the Old Colonade Hotel.
DOD's last broadcast was on Monday, July 7, 1952 at 2 pm for 30 minutes. There was special NBC-TV coverage of the Republican Convention on Tuesday. Wednesday saw Television Kitchen with a returning program called "Pots, Pans and Personalities" premiering in the 2 pm time slot. PP & P had aired in 1951 previously.

From the official archives of the Broadcast Pioneers of Philadelphia
Written and researched by Broadcast Pioneers historian Gerry Wilkinson
© 2013, Broadcast Pioneers of Philadelphia
All Rights Reserved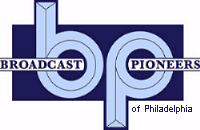 The e-mail address of the Broadcast Pioneers of Philadelphia is pioneers@broadcastpioneers.com