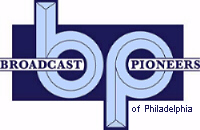 Did you know...
that a dentist once sponsored his own radio broadcast on WLIT? WLIT and WFI merged into WFIL in 1935. Up until that time, the two stations broadcast on the same frequency and shared airtime.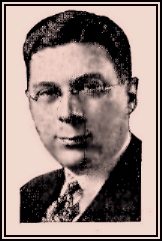 Dr. Charles G. Algase
Philadelphia dentist and broadcaster
1934
A visitor to our website, Leon Kellerman e-mailed us:
For some strange reason the tune keeps popping into my head. It is a commercial that I've heard many times on the radio in my childhood and beyond. It had to do with smiles and making folks like you if you do so. I remember the tune with the singing part, it had a 1920's sound. It advertised Dr. Algase whose dental practice was near the Wanamaker (now Macy's) store. There is a rumor that Dr. Algase sang it himself!
The song Leon was talking about was called "Show a Sunny Smile," with the words and tune written by Dr. Algase himself. The dental office that Kellerman was mentioning used to be located at 901 Market Street in Center City Philly. About two-thirds of a century ago, this structure was called "The Algase Building" and was located on the northwest corner of the intersection. The architects for the building was Savery and Scheetz and was erected at the end of the 19th century. Today, that area is part of the Gallery. In 1958, Dr. Algase's phone number to 901 Market was WAlnut 2-5100. He advertised that no appointment was needed.
By the way, Algase had three locations on Market Street. The main one was 901 Market but he also had an office at 939 Market and at 1301 Market. All at the same time. He advertised that he was open all day and evenings plus Sundays. He also claimed to be the largest and most modern dental offices in Philadelphia. According to his ads, he was the "Dentist that does not hurt." He said that his "sleep air" made extractions totally painless. He stated that he specialized in nervous patients.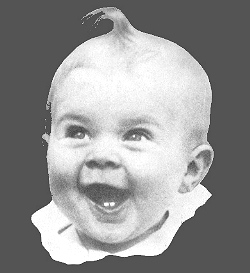 baby photo
appearing on the sheet music of
"Show a Sunny Smile"
1934
The Dr. Algase Sunny Smile Club was incorpated in the state of Delaware as a non-profit corporation on October 2, 1933. In 1934, the broadcast aired three times a week at 7:30 pm. A few years earlier, it was broadcast from 7:45 to 8 pm, but let's take a look at one special day in that year.
On Friday, June 15, 1934, from 7:30 to 7:45 pm, Dr. Algase did a broadcast on WLIT Radio. It was a radio wedding. On that night, the doors open for guests. From 6:45 pm to 7 pm, there was a band concert. Then, there was an introduction of some of the Algase prize winners and other guests.
7:30 pm was the start of the 15 minute broadcast wedding ceremony. From 7:45 pm to 8:15 was the wedding reception and then a procession to the Broad Street Pennsylvania Railroad Train Station. At 9:15 pm, the train departed for the ride to Niagara Falls in New York State. There, the happy couple stayed on Saturday and Sunday at the Hotel Niagara in Niagara Falls, NY.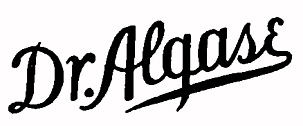 We thought you might like some info on the bridal party. The bride was Miss Helen Muschert and her husband-to-be was William Dale. The Matrons of Honor were Mrs. Walter Hall and Mrs. Walter C. Muschert. The bridesmaids were Miss Doris Hoff and Miss Mildred Spier. Best man was Paul Dale and the flower girl was another Dale, Jean. The ushers were Albert Hilt, Walter Muschert and Ed Hilt. The clergy performing the ceremony was the Rev. J. Martin Kern.
By the way, the same type of broadcast had been done twice before. In 1932, it was Virginia Barker and Charles Todd and in 1933, Gertrude McCauley and Ted Smith.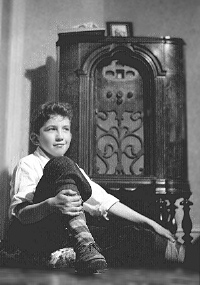 Leon Kellerman in front of
an old Zenith radio receiver
A singer called "Singin' Sam, your Sunny Smile Man performed on the show. Rumors have had it the Singin' Same was actually Dr. Algase. We have never been able to confirm the identity. That being said, we thought you might enjoy what Dr. Charles Algase said about his club. He said:
On January 1, 1931, with the coming of the new year, was born a new idea; one which was destined to spread far beyond the hopes of its founder (Dr. Algase).

Realizing that good health and good cheer go hand-in-hand to further happiness, Dr. Charles G. Algase hoped that he and his associates might "do their bit" in making life more sunny.

And so the "Dr. Algase Sunny Smile Club" was incorporated. Through it, Dr. Algase hoped to reach out to his many clients and their friends for the purpose of spreading good health and good cheer through the proper and systematic care of the teeth.

Little did he realize, when the idea first came to him, how fast it would grow. The membership has grown tremendously until now there are more than 200,075 members of the Dr. Algase Sunny Smile Club.

Then came the radio broadcasting, every Monday, Wednesday and Friday evening over WLIT (owned by Lit Brothers Department Store) at 7:30 pm with Van Avery as the chairman of the meetings.

Today, after 512 broadcasts, we are happy to say that the spirit of the club has been instilled in the hearts of its many members so that the army of the Sunny Smile Club is spreading its message of sunshine to every corner.

The Sunny Smile Club held a contest for the best slogan. The winning slogan was "Show a Sunny Smile." Dr. Algase wrote the words and music of the club song, "Show a Sunny Smile." You hear this song at each broadcast. Its popularity has spread sunshine wherever good fellows get together. Hundreds of contest prizes have been awarded to our members.

"Show a Sunny Smile." That's it. For, when you show a sunny smile who are making others happy and by making them happy, you, too, can be happy in the thought that you are doing your bit to lighten the burden of others.

Never overlooking the fact that the Sunny Smile Club has gained popularity because of its clean and joyful ideals, all meetings have been conducted to give the greatest amount of pleasure to the largest number.

And in return for joining the Dr. Algase Sunny Smile Club each and every member receives cash bonus checks for sending in their family and friends to any of the dental offices of Dr. Algase, founder and official dentist of the Sunny Smile Club, Inc. Remember, keep smiling. It becomes you.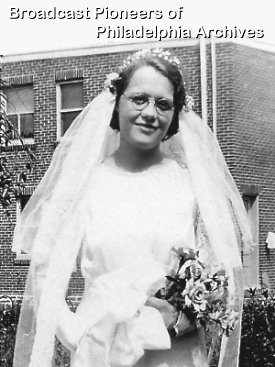 Helen Muschert Dale
"Radio Bride"
1934
The "Did You Know" column in our October 2014 newsletter was about Dr. Charles Algase, a Philadelphia area dentist who also had a radio program. Well, we received an e-mail from Bette Collins, a visitor to our website: She wrote:
I wanted to thank you for an article you featured in your October 2014 Newsletter about Dr. Algase's Sunny Smile Club. It mentioned a wedding broadcast on June 15, 1934. The couple's names were Helen Muschert and William Dale. Helen Muschert is my grand aunt and both of my grandparents were in their wedding party. I'd never heard this story and I really enjoyed reading about it.
We e-mail back and asked her for some additional details about the Dr. Algase broadcast wedding. She sent us the above wedding photo and here's what she told us:
My grand aunt, Helen Muschert Dale, was born in 1913 in North Philadelphia. She remained married to William Dale until his death in 1961. William Earl Dale was born in 1911 in Centre County, Pennsylvania. She and her husband William had 3 children together, living in Lancaster, Pennsylvania.




My grandmother, Elizabeth Crooks Muschert (Mrs. Walter C. Muschert), was one of Helen's matrons of honor. She was born in the Germantown section of Philadelphia. My grandfather, Walter Muschert, was one of the ushers. He is a brother to Helen and was born in North Philadelphia. About the time of the wedding in 1934 most of the family was living in Northeast Philadelphia.

The other matron of honor, Mrs. Walter Hall, is Florence Muschert Hall, sister to my grandfather Walter and Helen. It is interesting to read the description. Everyone in the wedding party is related to them somehow.

I do wish I could ask my grandmother about the wedding. She had a fantastic memory and was great with details. She died in 1998. I will ask my mother to look for that wedding party photo [a different one than above] that she has. Hopefully, it was taken at the studio. That would be fantastic. She did mention to me that the Reverend that performed the ceremony was from Emmanuel Lutheran Church. That was the family church.

Bette sent us an actual wedding photo. There is a possibility that this was taken at WLIT Radio. Above the wedding backdrop is darkness with ropes and other things showing. Maybe the upper part of a part studio in the mid-thirties.

(Left to right) Miss Mildred Spier (?), Miss Doris Hoff (?), Jean Dale (flower girl), Mrs. Walter C. Muschert, Mrs. Walter Hall, Helen and William Dale, Paul Dale (behind William Dale), Albert Hilt (?), Walter Muschert and Edward Hilt (?)

She also included a newsletter article with some more info.

From the official archives of the Broadcast Pioneers of Philadelphia
Written and researched by Broadcast Pioneers member Gerry Wilkinson
© 2014, Broadcast Pioneers of Philadelphia
All Rights Reserved


The e-mail address of the Broadcast Pioneers of Philadelphia is pioneers@broadcastpioneers.com