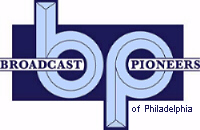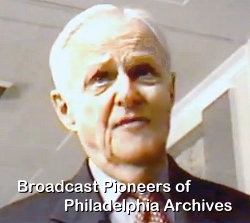 Broadcast Pioneers member George Koehler
Broadcast Pioneers Banquet
Bala Golf Club, Philadelphia
Thursday, November 16, 2000
On the evening of Thursday, November 16, 2000 at the Bala Golf Club, in the Wynnefield section of Philadelphia, the Broadcast Pioneers of Philadelphia held their annual banquet to a sell-out crowd.
One of the people in attendance was Broadcast Pioneers member George Koehler. He was inducted into the Broadcast Pioneers' "Hall of Fame" in 1994, along with Broadcast Pioneers member Larry Kane who George started on the road to success. In 1971, the Broadcast Pioneers of Philadelphia named him our "Person of the Year." If you are not familiar with Koehler, you can read more about him on the lower portion of this page.
On that night in 2000, Broadcast Pioneers Board Member Gerry Wilkinson (a future president and future chairman of the board of this organization) spoke with George Koehler. It was shot on high-speed VHS tape. The purpose of the tape with for background information only. It was never meant to be seen on our website.
We thought that at some time, we might use the Koehler portion on our website; somewhere in the future. That never happened until 2014 when we found the tape in a box in our physical archives. It had never been digitized, so we did so.
Under normal circumstances, a video like this would be excerpted and you would never hear the interviewer. In this case, Gerry, doesn't have an air voice. At the time this was shot, he was a television producer for WHYY-TV. Producers don't need air voices.
However, after viewing this video, we decided to present the entire interview uncut; exactly as recorded on November 16, 2000. The lighting in the room wasn't really quite enough to make a great visual presentation but since we were shooting it for background, that really wasn't important.
Here now is that interview exactly as recorded that evening. It is a historic recording and we hope you enjoy it despite all its imperfections.
Watch the Video from our YouTube Channel!
Video is copyrighted by the
Broadcast Pioneers of Philadelphia
All Rights are Reserved and it cannot
be used without our express written permission.
GEORGE'S BACKGROUND!
In the early years of WFIL-TV, Channel 6 in Philadelphia, the station ran old British B movies because they were cheap. After all, Hollywood wouldn't sell TV anything good as they considered television to be competitors. The movies were bad and when the cost went up, the station's contract wasn't renewed. WFIL-TV's George Koehler was "pulling his hair out" trying to think of a replacement.
Koehler asked popular WFIL Radio DJ Bob Horn to transfer his successful radio program "Bandstand" to television. It would be a huge gamble. Horn in addition to his radio program was also host on Channel 6 of the "Parade of Stars."
Koehler then became General Manager of the WFIL stations, AM, FM & TV in February of 1968. At the same time, he was appointed GM of the entire group of Triangle Publications' broadcast outlets, which operated 16 AM, FM and TV stations as well as several cable systems and a program production and sales company. He was with them for 27 years.
In September of 1969, Walter Annenberg who owned WFIL-TV, Channel 6, sold the station to Capital Cities. The other broadcast stations owned by Annenberg were sold for $16 million to two former WFIL employees, George Koehler and Broadcast Pioneers member Lew Klein and their majority partner, the Bergen (NJ) Evening Record.
In 1972, George became President of the newly formed Gateway Communications and then Vice-Chairman. Gateway owned WBNG-TV in Binghamton, NY; WTAJ-TV in Altoona/Johnstown, PA; and WLYH-TV, Lebanon-Lancaster, all CBS affiliates. Subsequently, Gateway purchased WOWK-TV in Charleston-Huntington, WV, which also became a CBS affiliate. In January of 1985, he retired from the business.

From the official archives of the Broadcast Pioneers of Philadelphia
© 2014, Broadcast Pioneers of Philadelphia
All Rights Reserved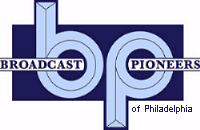 The e-mail address of the Broadcast Pioneers of Philadelphia is pioneers@broadcastpioneers.com