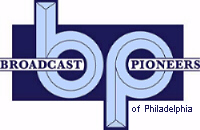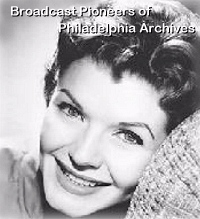 Loretta May Downes was born on Thursday, May 2, 1929 in Linwood, Pennsylvania. She attended Chichester High School and served in the USO during the Second World War. She was only 16.
She was a model, singer, actress and author. Loretta Downes did work for WFIL-TV and was well known for her commercials for General Electric and Whirlpool products.
Many people didn't know that she had a wonderful voice. She was a jazz singer and performed at the 500 Club in Atlantic City, NJ. In 1964, she received the titled of "Kentucky Colonel" for her participation in telethons for Multiple Sclerosis.
During the seventies, she owned and operated the "Night People" boutique shop. She is probably best known for her smile, contagious laugh and her positive, straight ahead thinking.
She passed away on Wednesday, November 10, 2010 in her Erwinna, Pennsylvania home. Loretta was 81 years old. She had a son, Lance Beatty and two grandchildren.
The audio was originally recorded on an eight and three-quarter flex green disc, the kind that were used for dictation machines. Obviously, the quality is never the best under these circumstances. It took us hours of work to put the audio in the form available on this site. Because of the reconstructive nature of the audio, it does NOT fall under "fair use" and the audio is protected under United States Copyright.
We have hear audio of a WFIL-TV Gunnar Back RCA Color Newsreel broadcast from early September of 1958. Gunnar did the news with Broadcast Pioneers member Francis Davis on weather and Loretta Downes doing the spots. Here's Loretta doing a commercial for RCA television sets. In our opinion, the Real Audio is slightly clearer.
Listen in Real Audio!
Listen in Windows Media!

From the official archives of the Broadcast Pioneers of Philadelphia
audio originally donated by Broadcast Pioneers member Michael Muderick
photo originally donated by Broadcast Pioneers member Stu Wayne
© 2012, Broadcast Pioneers of Philadelphia
All Rights Reserved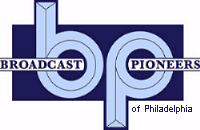 The e-mail address of the Broadcast Pioneers of Philadelphia is pioneers@broadcastpioneers.com