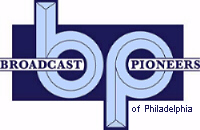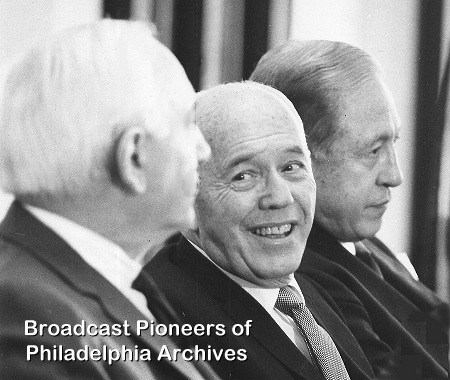 Here's a photo from Friday, October 21, 1966. The location is on the campus of Temple University. The three people shown in the picture are Charles Klein, the President Judge of the Philadelphia Orphans Court and Chairman of Temple University's Board of Trustees.
In the center is Dr. Leon Levy, a Philadelphia dentist back in the early twenties. In 1926, Leon, a founding member of the Broadcast Pioneers of Philadelphia, bought out half interest of WCAU Radio. Ike Levy, Leon's brother was an area lawyer who purchased 50% interest in WCAU Radio in1924. So by the end of 1926, the Levy brothers owned WCAU outright. At that time, each practiced their profession in the daytime and then ran their radio station at night. Leon married into the Paley family by marrying Bill Paley's sister Blanche (daughter of Sam Paley).
On the right is Bill Paley, Chairman of the Board of the Columbia Broadcasting System. Bill was Sam's son and brother of Blanche. In 1928, Bill, his dad and Sam's brother Jacob purchased a 33% share of WCAU Radio. Ike and Leon invested in the upstart CBS Radio. So the two companies were somewhat interrelated.
The photo was taken inside the new Samuel Paley Library on Temple's campus. The building is located between 13th and 12th Streets on Berks Street in North Philadelphia. Actually, the street address is 1210 West Berks Street.
Paley Library has been occupied since June 20, 1966. It was designed by the Philadelphia architects Nolen and Swinburne and has four levels and sits on 200,00 square feet of land.
It was named for Sam Paley, Philadelphia cigar manufacturer and philanthropist, who was born in Russia and immigrated to this country with other Russian Jews. When Sam died, his money was left to various institutions through the Samuel Paley Foundation. Dedicated on October 21, 1966, the building is owned by Pennsylvania's General State Authority, the GPA. The structure cost $6,500,000.00 to build. Funds to equip and furnish the building, and to landscape the surrounding area, have been provided by a gift in excess of $1,000,000.00 by Paley.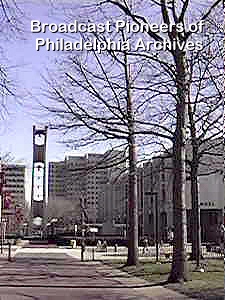 Samuel Paley Library, Temple University
February 1998
The Campanile, or bell tower, in front of the Library was built with funds donated expressly for this purpose by the Samuel Paley Foundation. The five bells, graduated in size, were forged by an old Dutch firm, the Van Bergen Bell Foundries which has been doing similar jobs for eight generations. A special feature of the Campanile is the gypsum rocks, encased in the base of the tower. These rocks were especially sent from West Pakistan, from the site of what is supposed to have been the farm of Al Hafed, the Persian traveler who was the inspirational character of Dr. Conwell's "Acres of Diamonds" speech.

From the official archives of the Broadcast Pioneers of Philadelphia
Top Photo donated to the Broadcast Pioneers by the Paley Estate
Bottom photo taken by Broadcast Pioneers member Gerry Wilkinson
© 2015, Broadcast Pioneers of Philadelphia
All Rights Reserved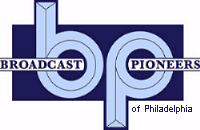 The e-mail address of the Broadcast Pioneers of Philadelphia is pioneers@broadcastpioneers.com