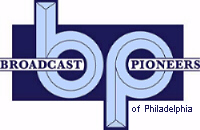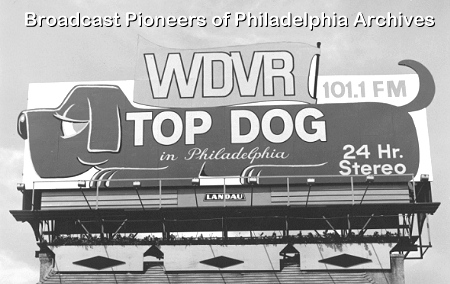 WDVR Radio Billboard
1966
In 1966, according to Arbitron, WDVR was the most listened to FM Radio Station in the United States. The billboard was erected to celebrate that news. Today, we know that station as B-101, still a top leader in our market.
Former Broadcast Pioneers President and Former Chairman of the Board Jerry Lee (President and owner of B-101) told us:
It was on the Roosevelt Boulevard at two exits before Broad Street on the right hand side going north.
The station used the call letters WDVR until 1981. On May 14, 1981, the station became known as WEAZ. On June 19, 1989, there was a slight change in the call letters to WEAZ-FM. Four years later, on May 26, 1993, it became WBEB-FM. A couple of years after that, on May 19, 1995, there again was another slight change in call letters to just WBEB. We, of course, know the station as B-101.
Broadcast Pioneers member Joaquin Bowman worked at WDVR from 1963 to 1966. He wrote:
In 1963, while I was in my freshman year at Temple University, I began looking for a part time job in commercial broadcasting. I didn't have a good voice but I had my own car and was willing to work strange hours. My mother spotted an article in the Germantown Courier about a man named Dave Kurtz who had gotten a license for a new radio station he planned to put on the air.

Mom encouraged me to send him my resume listing all my qualifications, which, in reality, didn't exist. Low and behold, within a few days, I received a call from the new station manager, Marlin Taylor, inviting me in for an interview and an audition. Within a few days I was hired.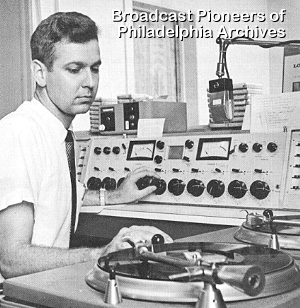 Broadcast Pioneers member David Kurtz
WDVR Radio, Philadelphia
1963
I recently asked Marlin why he gave me the job. "Various reasons. You were going to Temple, studying communications and worked at WRTI. So I knew you were serious. You had been working in a part time job, so I knew you weren't afraid to work and you would be dependable. There was one drawback . . . I didn't care for your name. Eventually the board operators were going to do newscasts and weather reports and I didn't think Joaquin Bowman was a good radio name. But you told me up front, that your name was Joaquin and you weren't going to change it. I wasn't going to argue. I had plenty of other things to deal with," Marlin explained.

I started my new job on May 13, 1963, the first day the station went on the air. Although I was just a fill-in, Marlin had a gap in the staffing and asked me to come in for a couple hours. I was honored and to this day I feel proud that I was part of the first-day team.

Although I wasn't doing any announcing on the air, that came later, and I made only $1.25 an hour, drawing a paycheck from a real radio station gave me a certain status with my fellow students back at Temple's WRTI. I held my head high because I was one of the very few students that actually broke the ice and had a job in commercial radio. Sometimes students would ask about openings and if I could help them also land a job.

At WDVR I also would have the fortune of meeting another lifelong friend and fellow Broadcast Pioneer member, Dave Shayer. Unlike me, Dave wasn't in college but had a decent voice. Dave was scheduled to do six-hour shifts and was one of the four full-timers. On his time off Dave and I would travel to the local radio stations.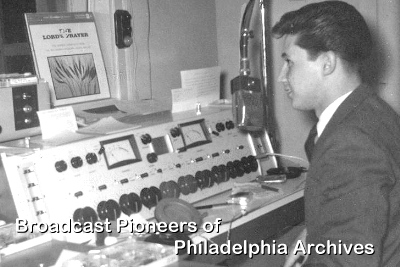 Broadcast Pioneers member Joaquin Bowman
WDVR Radio, Philadelphia
1963
In addition to giving me my first job in broadcasting, Marlin showed me how a truly dedicated and talented manager does his job. Marlin laid out the plan so we all knew what was expected:

Play the music as indicated on the flow chart.
No dead time between cuts.
Make sure the proper commercials are played.
Fill out the logs required by the FCC.

After a few weeks we were also allowed to do brief weather reports, then a little later came two-minute newscasts. Since I didn't have a strong voice or great delivery, I was eventually given the midnight to 6 AM shift, doing the 12:30 and 3:30 reports on the air. Strangely enough, there were people listening and when I'd mention my name at the bank or to someone at school they'd say, "Are you that Joaquin Bowman?"

I recall Marlin called early one morning following my 3:30 newscast. He complimented me on my delivery. "Probably the best I heard so far," he said. Unknown to Marlin, I had two impacted wisdom teeth removed the day before and my mouth was almost swelled shut. I wanted to call in sick, which was unheard of, but I knew no one would cover my shift. "Thank you, Marlin," I said. "I'll keep working on it."

I continued working at WDVR until 1966 when I graduated from Temple and started a job at WIBF in Jenkintown.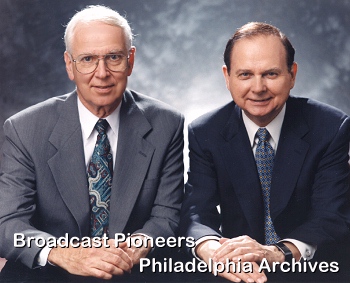 Broadcast Pioneers members David Kurtz and Jerry Lee
B-101 Radio
Broadcast Pioneers member Marlin Taylor tells us about the story behind the story:
David L. Kurtz, while having no background in radio, the humble gentleman from Lancaster County had a dream of building a radio station. And where else but in greater Philadelphia, since he was already here, working as an electronics engineer for the military division of the Philco Corporation.

He first applied for 100.3 but lost out to an applicant for Media, as it had no licensed station (which gave them extra points with the Federal Communications Commission). That didn't stop Dave. He searched further and found the next best possibility was 101.1, which should never had been granted, as under FCC rules of the time, it's short-spaced with New York City's WCBS- FM.

However, since they were operating with low power at the time and Dave's application proposed only 5400 watts from the roof of an old 13-story office building, the FCC granted a waiver and issued the permit.

Exactly 50 years ago in March 1963, I was hired under the titles of Station Manager and Program Director, based on my experience of playing much the same roles in launching a brand-new FM station two years earlier in the Washington, D. C. market.

While Dave and I didn't discuss specific formats during our one-and-only meeting prior to my being hired, this would provide the perfect opportunity to develop a format built around the genre of music I loved best, what at that time was called "Good Music," featuring artists like Percy Faith, Mantovani, pianist Roger Williams and an orchestra that had its beginnings right here in Delaware County, the 101 Strings.

This instrumentally-based format did not originate with us. It had been on the air in cities like New York, Los Angeles and Dallas for a decade or more, and variations of it even had a minimal presence here in the Philadelphia market. However, most were locked/lost in another era or were too classical, too big-bandish, included too many vocals of one style or another or was simply too eclectic. Whereas, my concept then, as it still is today as heard on Sirius XM Radio, was based on strings and melodies that were popular hits of the day and or from recent decades.

I remember answering the telephone one day. It was a listener calling to ask about a recording that had just played. After I told him it was the Hollyridge Strings playing "Michelle," I happened to mention it was a Beatles tune. You could hear his horrified silent shock reverberate through the phone!

To insure there'd be some revenue to cover basic expenses from the outset, Dave was proposing they carry some paid religious programs during the morning hours. He also had strong feelings that to operate between Midnight and 6 AM would be an unjustified expense. Those were locked in his mind before he knew the station would have a Jerry Lee!
Jerry was adamant that the station should have, and I totally concurred, a consistent 24 hour-a-day format. To resolve these issues in a gentlemanly manner, Jerry sought out and signed two charter advertisers, John B. White Ford and the Consumer Products division of Philco who would be co-sponsors of the all-night show and receive "bonus" spots during the daytime hours.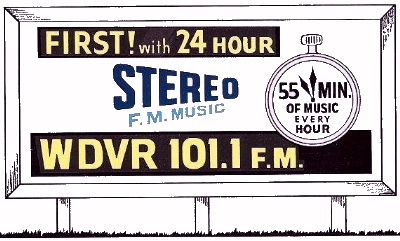 Station Mock-up of WDVR's First Billboard
late 1963
This is a cardboard mock-up of our first billboard, which appeared in the Summer of 1963 when WDVR was just a couple of months old. We bought them because charter sponsor John B. White Ford complained that how were we building audience, as they didn't see any advertising for the station. The design was based on Jerry's instruction to the billboard art department that they "could use any typeface they desired as long as it was big block letters!"

And that's the story up to May 13, 1963, following which, in just a few months time, WDVR would become the #1 FM station in the Hooperatings (remember them?) and has, of course, been a dominant force in Philadelphia radio throughout all of the past 50 years.
Broadcast Pioneers member Dave Shayer was affiliated with WDVR at various intervals between 1963 and 1972. He wrote:
In early 1963, while looking through the phone book for numbers of radio stations to call for possible employment, I noticed the listing for WDVR, which was not yet on the air. I paid a visit to the studios, which were still under construction, in the Barker Building on Chelten Avenue in Germantown. There, I met Dave Kurtz, the station's owner and chief engineer. He told me to come back in a few weeks, at which time, station manager Marlin Taylor would be on hand to screen job applicants. I returned, was interviewed, and made a short audition tape. Shortly afterwards I was hired as one of the original announcer/board operators.

Broadcasting began on May 13th of that year, and in about four months, WDVR became the number-one rated FM station in Philadelphia. This was the first time that a new station became number one in a major market so quickly. The format was "beautiful music" (instrumental versions of the standards and of current pop tunes, along with selected group vocals, such as Ray Conniff). The station broadcast in stereo, 24 hours a day, with a policy of airing only four commercials an hour.

Also, there on the first day were Frank Goshy (on-air name: Frank Edwards), Rich Franklin, Lou Klawansky (on-air name: Lee Kramer) whose brother Mel is a Broadcast Pioneers member, and Broadcast Pioneers member Joaquin Bowman. Dave Kurtz's wife, Esther (a member of the Broadcast Pioneers) was briefly the secretary and was then replaced by Sandy Montimore. In the months ahead, Broadcast Pioneers members Mike Strug, Jerry Del Colliano, and Fred Ruggieri (on-air name: Fred Randall) joined the staff. I am still in touch with many of these people today.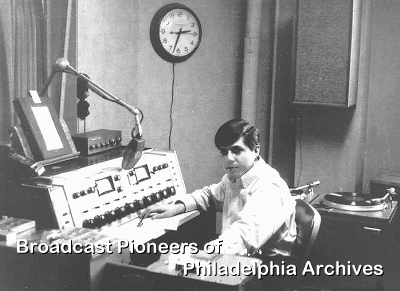 Broadcast Pioneers member Dave Shayer
WDVR Radio, Philadelphia
1967
WDVR utilized pre-recorded program liners giving the impression of a separate host sharing the broadcast with a news announcer, who was live. A few of these "hosts" were Paul Hagerty (air name: Pat Gregory) and Broadcast Pioneers members Alan Campbell and Tom Stanwood.

Dave Kurtz installed a reel-to-reel tape machine in the control room, which was used to record newscasts from other stations. The announcer on duty would then rewrite brief stories for air in longhand. This practice continued until early 1964, when the station began subscribing to the teletype services of the Associated Press. On November 22nd, 1963, morning announcer Terry Wickham was driving home when he heard the news of President Kennedy's assassination. He stopped and asked to use someone's phone and then called me at the station. I wrote something down based on the information he gave me and got the story on the air. For the next few days, the station dropped its regular format, and out of respect, played classical and semi-classical music.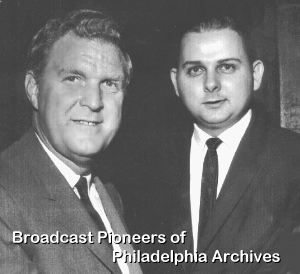 Pennsylvania Governor Raymond Shafer and Broadcast Pioneers member Jerry Lee
WDVR Radio, Philadelphia
1967
In February 1967, WDVR moved to new studios at 10 Presidential Blvd. in Bala Cynwyd. For the staff, this was a welcome change from the aging office building in Germantown. A couple of months prior to the move, the station had a power increase, expanding coverage to outlying areas.

In the early 1970's, the air personnel included such names as Bob Collier (who commuted daily from Manhattan), Allan Dean (formerly of WIBG), and Broadcast Pioneers members Art Andrews and Sid Doherty.

I was music director from 1969 to 1972 and was responsible for programming the station and maintaining the record library. It's interesting to note that former WDVR program directors Marlin Taylor and Phil Stout became the leading syndicators of the "beautiful music" format (Bonneville and SRP Productions, respectively). I look back at those early days as a unique experience for a young person beginning a broadcast career.

From the official archives of the Broadcast Pioneers of Philadelphia
Top Dog Billboard Photo originally donated by WBEB, B-101
Bowman photo donated by Broadcast Pioneers member Joaquin Bowman
Shayer photo donated by Broadcast Pioneers member Dave Shayer
© 2013, Broadcast Pioneers of Philadelphia
All Rights Reserved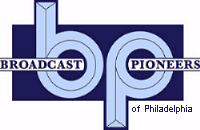 The e-mail address of the Broadcast Pioneers of Philadelphia is pioneers@broadcastpioneers.com