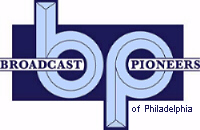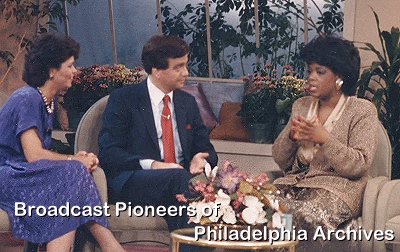 This is a publicity still from WPVI, 6ABC dating from the summer of 1986. On the left is Lizabeth Starr who is in reality our own Broadcast Pioneers member Liz Matt. Center is Broadcast Pioneers member Wally Kennedy and on the right is Oprah Winfrey.
The program is "AM Philadelphia" which aired daily in the morning on WPVI. Oprah was appearing to promote the launch of "The Oprah Winfrey Show" as a nationally syndicated broadcast.
Her national show won her many national awards and was the highest rated program of its type in the history of broadcasting.
Three years before this photo was taken, Oprah Winfrey moved to the Windy City to take over hosting duties of a telecast similar in nature to the Starr-Kennedy program. It was called "AM Chicago." Before Oprah took over, the ratings were low and within a few months, the show was number one in its time period.
The Oprah Winfrey Show first aired on September 8, 1986 and it delivered twice the ratings of Phil Donahue, the previous leader in television talk. The Winfrey program continued for a quarter of a century as a leader in TV talk when Oprah decided to end the broadcast while still on top. The program was carried locally here in Philadelphia over WPVI-TV, 6abc.

From the official archives of the Broadcast Pioneers of Philadelphia
© 2013, Broadcast Pioneers of Philadelphia
All Rights Reserved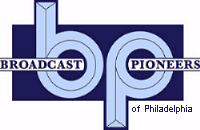 The e-mail address of the Broadcast Pioneers of Philadelphia is pioneers@broadcastpioneers.com