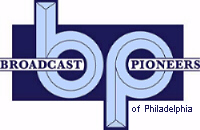 OUR 6th BROADCAST COLLEGE SYMPOSIUM!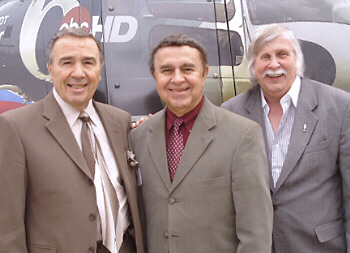 (Left to right) Pat Delsi, Diego Castellanos & Gerry Wilkinson
all are officers of the Broadcast Pioneers
outside the Broadcast Pioneers Symposium
WPVI-TV, Philadelphia
Saturday, April 14, 2007
Photo by Broadcast Pioneers member Mike Brooks

Well, now it was your turn to meet important people in the world of broadcasting. Area college students saw first hand a major market television station and listened to advice from the Channel 6 staff and members of the Broadcast Pioneers. This year, our 6th annual event was held at WPVI-TV, Channel 6. The date was Saturday, April 14, 2007, 9 am to 1:30 pm.
An important part of our symposium was the panel discussion with professional broadcasters. There were air personalities, producers, managers and more. All there to answer your questions on how to get that first job or an internship. Our panelists included:
Erica Grow , 6abc, Action News meteorologist
Rob Royal, 6abc, Action News Executive Producer
Lee Daniels, Director of Web Operations
Linda Munich, Vice President of Public Affairs
Diego Castellanos, Producer/host 6abc Puerto Rican Panorama
Pat Delsi, former owner of WSSJ Radio, Camden
Our moderator was Bill Webber, former kids show host on several stations including Channel 6 and air radio personality on WIP and WPEN. Currently heard Sunday afternoons on FM, 92.1!
COMPLETE AUDIO OF THE EVENT!
This audio rolls. That is, it is in two segments and will go from one segment to the other automatically. For broadband users, this should be almost seamless. For dial-up users, there may be a short load time of 10 to 20 seconds per segment.
Another important section of the symposium is where the students visited the Action News set. Everyone who wished to do so could sit at the newsdesk and read some of that morning's newscast from the teleprompter. Also, they could stand in front of the "green screen" and try their hand at the weather. We have some clips from that visit.

From the official archives of the Broadcast Pioneers of Philadelphia
© 2007, Broadcast Pioneers of Philadelphia
All Rights Reserved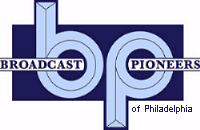 The e-mail address of the Broadcast Pioneers of Philadelphia is pioneers@broadcastpioneers.com