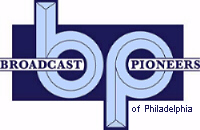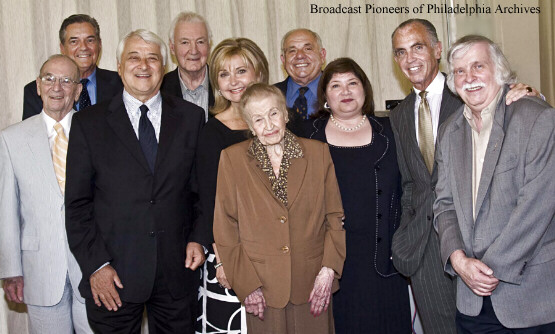 (Left to right) Bob Jawer, Tom Lamaine, Al Primo, Al Meltzer, Pat Ciarrocchi, Florence Hanford, Dick Sheeran, CBS3 VP Joanne Calabria, CBS3 President Michael Colleran & Broadcast Pioneers President Gerry Wilkinson
Broadcast Pioneers Luncheon at the Bala Golf Club, Philadelphia
Wednesday, June 20, 2007
On Tuesday, June 28th, 1932, Channel 3 came on the air as W3XE, an experimental TV station. It was Philadelphia's first commercial television outlet receiving their commercial license in 1941 as WPTZ. January 21, 1956 saw Channel 3 become owned by NBC. This is substantiated by the re-titling of the tower ownership to NBC on January 21st. However, the actual call letter transfer seemed to be a few weeks later on Monday, February 13, 1956 at 12 noon.
At 5 am on Saturday, June 19, 1956, the station started using the call letters, KYW-TV. What actually happened was that the station using call letters WRCV-TV signed off. A few seconds later, the station signed back on as KYW-TV. Same thing for WRCV radio becoming KYW radio. On the radio side, the sign on and sign off were done live by Broadcast Pioneers member Pat Delsi who happened to be on the air at that time.
On Wednesday, June 20, 2007, the Broadcast Pioneers of Philadelphia had a huge luncheon with a near record crowd for a Broadcast Pioneers lunch (which have been going on since January of 1962). At that time, we celebrated "75 Years of Channel 3."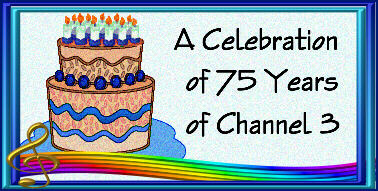 Our moderator for this event was former KYW-TV news anchor Dick Sheeran. On our panel, we had:
Pat Ciarrocchi, CBS3's Current Noontime News Anchor
Florence Hanford, who did cooking shows on Channel 3 in the 40s, 50s and 60s!
Bob Jawer, former producer in the 40s & 50s and then moved into sales!
Al Meltzer, former Channel 3 prime-time sportscaster!
Tom Lamaine, CBS3 Meteorologist and former KYW-TV Sportscaster
Al Primo, Creator of the Eyewitness News format and former news director!

We were delighted that introductory remarks were made by Michael Colleran, the current President and General Manager of KYW-TV, Channel 3! It was a thrill to have him (and a table of CBS3 folks with us).
Plus, we had a special musical tribute sung by Broadcast Pioneers member Peggy King, former girl singer on "The George Gobel Show" from the fifties, a network show which aired in Philadelphia over Channel 3. And at the piano was Broadcast Pioneers member Bucky Clark, who as a child sang on Channel 3's "All Eyes on Gimbels" show during the "Uncle WIP" segment.
It all took place on Wednesday, June 20th at the beautiful and historic Bala Golf Club, 2200 Belmont Avenue (across the street from the State Police) in the Wynnefield section of Philadelphia.
27 more photos of the luncheon!
Complete audio of the event!
The event started with Broadcast Pioneers member Pat Ciarrocchi introducing the president and general manager of CBS3, Michael Colleran. The audio runs about an hour. In order for fast loading, the audio rolls. That is, it's in three segments. When one segment is done, the next one will start automatically. Your computer will do it automatically. For those on broadband, it will be almost immediate. For those using dial-up to connect to the Internet, there may be a 10 to 20 second pause between segments. This is normal.
SOME CHANNEL 3 VIDEO!
Last Year's Nest (1942)
Hansel & Gretel (1947)
Ernie Kovacs (1952)
Let Scott Do It (1954)
Florence Hanford, Pete Boyle & Alan Scott (1955-color)
Rex Trailer (1955-color)
Gary Geers on "Farm, Home & Garden" (1959)
SOME CHANNEL 3 HISTORY!
Writings of Channel 3's Roy Neal
Channel 3 coverage of the 1940 GOP Convention
Harold Pannepacker Speech (1951) on the history of Channel 3
Memories of Channel 3 in the 40s & 50s by William Craig Smith
Story about Virginia Peelor, Channel 3's Music & Sound Librarian (1955)
George Skinner & the first Color Broadcast
Early History of Channel 3
1941 article about W3XE, Channel 3
Taylor Grant's Days at Channel 3
1947 article about Channel 3's Roy Neal
"The Handy Man TV Show" with Jack Creamer on Channel 3

From the official archives of the Broadcast Pioneers of Philadelphia
Photo originally donated by Broadcast Pioneers member Bob Kravitz
Researched and compiled by Broadcast Pioneers historian Gerry Wilkinson
Additional research by Tim Lones of the Cleveland Classic Media website
© 2008, Broadcast Pioneers of Philadelphia
All Rights Reserved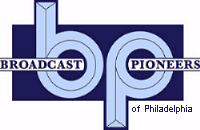 The e-mail address of the Broadcast Pioneers of Philadelphia is pioneers@broadcastpioneers.com