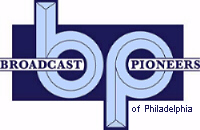 At the time of this recording, WIP Radio was at 9th and Chestnut Streets in the Gimbel Brothers Department Store. Broadcast Pioneers member Ed Davies was the Station Manager and the General Manager was Ben Gimbel.
Just three blocks away at Broad and Chestnut Streets, WIP Radio did a local remote broadcast from the Arcadia Cafe featuring bandleader "Buddy Rogers and his Famous Californians." It was usual at that time when nationally known bands came to the Quaker City for radio stations to broadcast the orchestras live. The time was 11:30 pm on Wednesday, March 23, 1938.
This recording which comes from the original 78 rpm transcription disc was recorded at that time by the "Sound Amplification Company."
The previous program was also a big band remote (by an unidentified orchestra) which originated live from "The Rendezvous," 915 Walnut Street in Center City Philadelphia where the first "floorshow" started at 11 pm. The station identification, "Philadelphia's Pioneer Voice, WIP" was done right over the tail end of the Rendezvous broadcast which then faded out and then the remote from the Arcadia started with nothin in between.
The announcer on the "Buddy Rogers" broadcast was John (not John Facenda who also worked at WIP at that time in 1938). His last name is not yet known. The opening announcement was:
Good evening, ladies and gentlemen. For the next half-hour, we bring you the music of Buddy Rogers and his Famous Californians broadcasting from the equally famous Arcadia, the international restaurant at Broad and Chestnut Streets in Philadelphia where you may dine and dance and see the international revue at prices so moderate, they will surprise you. And in a very few moments, we'll hear from our host for the evening Buddy Rogers himself who will introduce tonight's entertainment. Here he is, Buddy Rogers.
By the way, Buddy's engagement here in Philadelphia ran for awhile for just a few days before, on March 17, 1938, he and Tommy Dorsey along with Jan Savitt, the local KYW house band did an impromptu session in front of KYW Radio microphones. They were testing the set-up for the grand opening of the KYW Building (1619 Walnut Street) just two days later on March 19th, 1938.
These two short excerpts are from March 23, 1938.............
Hear Buddy open the broadcast!
Listen to Buddy after the first song!

From the official archives of the Broadcast Pioneers of Philadelphia
Photo originally donated by Broadcast Pioneers member Gerry Wilkinson
Audio originally donated by Dan Krystkiewicz
© 2007, Broadcast Pioneers of Philadelphia
All Rights Reserved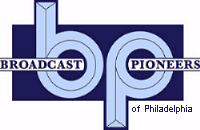 The e-mail address of the Broadcast Pioneers of Philadelphia is pioneers@broadcastpioneers.com