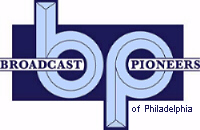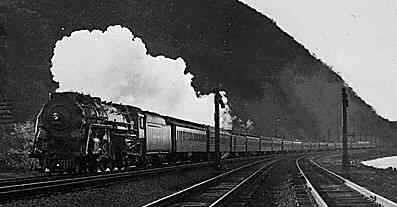 President Franklin Roosevelt's funeral train enroute to New York State
April 1945
As the Second World War drew to a close, Franklin Roosevelt's health deteriorated, and on April 12, 1945, while at Warm Springs, Georgia, he died of a cerebral hemorrhage. The nation was stunned and shocked.

The President's body was transported via train from Georgia to Washington, D.C. Later from the Capitol to New York, again our fallen leader's body traveled via the railroad. About midnight, about 10 hours before the funeral in New York, the funderal train rolled through Philadelphia's 30th Street Station.

Local Philadelphia radio station, WCAU, owned by the Levy Brothers, provided listeners with live remote coverage from the train station. First, listen to the Congressional Special rolling in, carrying many dignitaries including area U.S. Senators and Congressmen. Glenn Adams was on the platform along with Katharine Clark. She cornered one of Pennsylvania's Senators, Democrat Francis J. Myers and spoke live with him.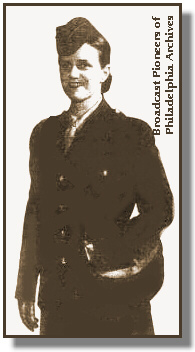 WCAU Radio News reporter Katharine Clark
1945
The broadcast was thrown back to the studios. Shortly thereafter, FDR's funeral train entered 30th Street Station. Glenn Adams and Katharine Clark were joined this time by Carroll Alcott. This 18 minute clip came from a first generation dub of the original 16" transcription disc. The disc was destroyed in the 1980's by the University that was archiving it. This first generation tape, copied in 1967, may be, until this time, the only copy of this broadcast in existence in any format.

FYI (For your information), Katharine L. Clark was one of only 127 female journalists who had secured official United States military accreditation as a war news correspondent. She was the only woman from a local U.S. radio station and that broadcaster was WCAU.

From the official archives of the Broadcast Pioneers of Philadelphia
Text compiled and researched by Broadcast Pioneers member Gerry Wilkinson
Audio used with the permission and authority of WPHT, which used to be WCAU Radio
Train photo courtesy of the Franklin D. Roosevelt Library
© 2009, Broadcast Pioneers of Philadelphia
All Rights Reserved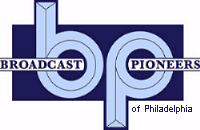 The e-mail address of the Broadcast Pioneers of Philadelphia is pioneers@broadcastpioneers.com