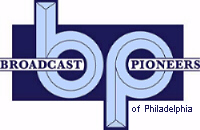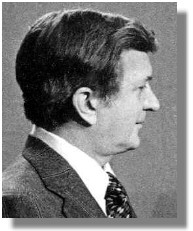 Vince Leonard
1974
In the 1960's, local Philadelphia television news was dominated by three news anchors. There was Broadcast Pioneers member John Facenda at WCAU-TV, Gunnar Back at WFIL-TV and Broadcast Pioneers member Vince Leonard at WRCV-TV/KYW-TV. All three have been inducted into our Hall of Fame. The Broadcast Pioneers of Philadelphia has in its archives, six audio clips of the Leonard television newscast. While it was a TV broadcast, we only have audio. Note the length of the stories were longer than the usual 20 to 30 seconds aired today.

This excerpt is from Friday, January 7, 1972, the 11 pm newscast. The cut is 6:51 in length and deals with several news stories including: bombs in safe deposit boxes, possible explosives on an airplane, robbery of the Hotel Pierre, Flyers-Blues hockey fight (reported by Wes Sarginson), President Nixon announces he will seek re-election, the situation at WHYY and the Indian-Pakistan situation.
Our next excerpt is from Monday, February 21, 1972, again the 11 pm report. The cut is 6:32 in length and covers news stories dealing with: an airplane hijacking and President Nixon's visit to China.
We have another excerpt from the next day, Tuesday, February 22, 1972, also the 11 pm news. The cut is 1:28 in length and covers President Nixon's visit to China.
The next day, Wednesday, February 23, 1972, again from the 11 pm news, we have a 2:02 cut. Again, this clip deals totally with President Nixon's visit to China.
On Saturday, February 26, 1972, KYW-TV's Wes Sarginson anchored the late night news and had more information about President Nixon's Trip to China.
Our next excerpt is from Monday, May 15, 1972. This is also the 11 pm newscast and it runs 4:37 in length. The entire clip deals with the shooting of Alabama Governor George Wallace.
The next morning, Eyewitness News 8:25 report with Gary Geers had some reaction about the Wallace shooting.
Our last cut is from Monday, July 31, 1972. It's 11 pm and time for the news. Running 1:51 in length, this deals with Senator Thomas Eagleton being replaced on the Democratic ticket for Vice-President. Note that there is a change in the opening theme from the February 23rd cut.

From the official archives of the Broadcast Pioneers of Philadelphia
Photo originally donated by Broadcast Pioneers member Bill Webber
Audio originally donated by Broadcast Pioneers historian Gerry Wilkinson
© 2010, Broadcast Pioneers of Philadelphia
All Rights Reserved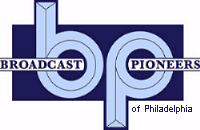 The e-mail address of the Broadcast Pioneers of Philadelphia is pioneers@broadcastpioneers.com