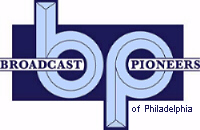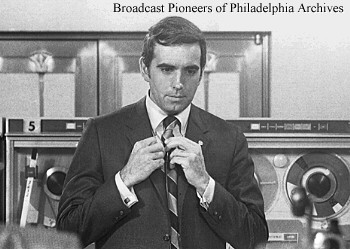 KYW-TV's Tom Snyder
at the Sunoco Computer Center
Tuesday, November 5, 1968
Website visitor Tom Kredatus who took all three photographs on this page gave us this caption:
Tom Snyder composing his thoughts and adjusting his lavalier mic prior to going on air. Photographed in November 1968 at KYW-TV3 Election Night coverage from Sunoco Computer Center at 1616 Walnut Street, Philadelphia, PA. Notice the bank of UNIVAC computers behind him used to tabulate and predict election results.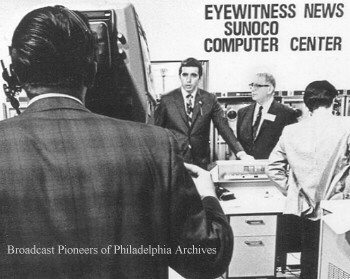 KYW-TV's Tom Snyder (at left) with a political analyst
at the Sunoco Computer Center
Tuesday, November 5, 1968
He also e-mailed:
KYW made arrangements to use Sun Oil Company's computer center across the street from their studios at 1619 Walnut. This was 1968 and most computer systems were comprised of massive mainframes and banks of tape drives in big, cold rooms to keep them running. Channel 3 had at least two full size Norelco studio cameras on pedestals on site with one focused on the paper printout from the computers because they had no other way showing output at the time. I remember election night being noisy and chaotic at the computer center and at the station. The Presidential election was a 3-way race that year among Richard Nixon, Hubert Humphrey. and George Wallace. It was extremely close in the popular vote between Nixon and Humphey with less than 1% separating them and Wallace with 13.5%. Electoral vote with 270 needed to win was Nixon 301, Humphrey 191, Wallace 46.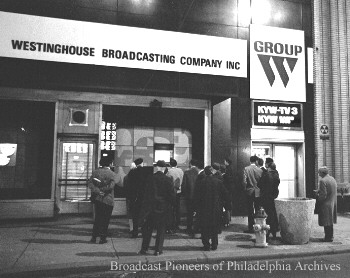 Small crowd outside the KYW-TV Building
1619 Walnut Street, Center City Philadelphia
Tuesday, November 5, 1968
This group of people were outside the station in Center City Philly. They were there to watch and hear the latest returns. It was 8 pm and polling places in Pennsylvania had just closed.

From the official archives of the Broadcast Pioneers of Philadelphia
All 3 Photos originally donated by Tom Kredatus who took these pictures
© 2007, Broadcast Pioneers of Philadelphia
All Rights Reserved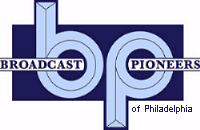 The e-mail address of the Broadcast Pioneers of Philadelphia is pioneers@broadcastpioneers.com