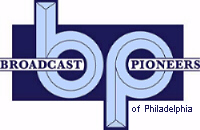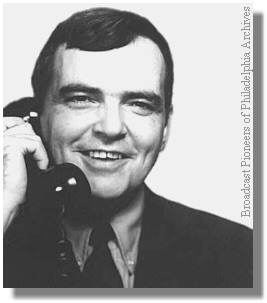 Jack McKinney
WCAU Radio Official Photo
circa 1965
Jack McKinney was a very popular radio personality at WCAU Radio in the sixties. He was also a sports writer for the Philadelphia Daily News, which was owned by Walter Annenberg, who also owned WFIL-TV and radio.

However, he was also knowledgeable about other things. Boxing was one and grand opera was another, and he was an avid supporter of the Irish and the IRA to re-establish the country (including Northern Ireland) without British rule.

People who had worked with Jack said that he was a nice enough fellow. But he did have a very raspy voice. Not what you would expect from a major market radio personality. One thing that can be said is that at that time the host had real, live guests in the studio. There were major guests and the telephones. At that time, WCAU Radio was very similar to WOR, New York. It was a class operation.
We have a major find. Jack's show was four hours long daily with an encore broadcast on the weekend. The rerun was called "Encores of Night Talk." What we have is from the first 2 hours and 30 minutes of the broadcast. It is from the repeat broadcast airing November 27, 1965. We know the original airing was after November 9th because that's when Arlen Specter was elected Philadelphia's District Attorney. Arlen served on the Warren Commission as an attorney. Arlen (who was not mentioned by name) was referred to as "District Attorney Elect." Thus, it would have had to air after election day, November 2nd. So the original airing was sometime between November 2nd and November 27th of 1965.

The topic for that evening was the Assassination of John F. Kennedy. Jack's guests were Sylvan Fox, author of the book, "The Unanswered Questions About President Kennedy's Assassination." Also on the show was Charles Kramer, a noted trial lawyer and a member of the International Academy of Trail Lawyers. Plus, Curtis Crawford, an instructor at New York University. He was also author of the book, "Twenty Questions for the Warren Commission."

This is a real find. While we don't have the entire 150 minutes, we do have major sections. What we have, we have uploaded onto our site. The show starts with the open and Jack introducing the guests and then they start talking.
After a commercial break, the program continues (11:05)
Next is another part of the first hour (15:46)
Finishing up the hour is this short clip (0:51)
After the news, the program continues (20:19)
Next a commercial & the program resumes. This cut starts shortly after the commercial was over (19:28)
Here, we have the whole segment that starts with Jack doing a commercial (11:41)
Next the news, then the show continues. This cut starts with the program already in progress (14:48)
We continue with a segment which is not complete (3:51)
Finally, we conclude with a segment that includes a couple of Public Service Announcements (7:11)
This is as much as we have. We did not edit or select segments. It seems that when this tape was recorded, it was tuned to another station during commercials and did not necessarily get tuned back to WCAU Radio when the show restarted. Thus, the segments are not complete. However, when everything is added up, we do have approx. two hours of material.



From the official archives of the Broadcast Pioneers of Philadelphia
Photo originally donated by Charlie Higgins
Audio originally donated by Broadcast Pioneers historian Gerry Wilkinson
© 2008 & 2012, Broadcast Pioneers of Philadelphia
All Rights Reserved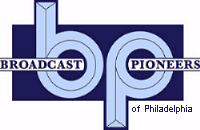 The e-mail address of the Broadcast Pioneers of Philadelphia is pioneers@broadcastpioneers.com